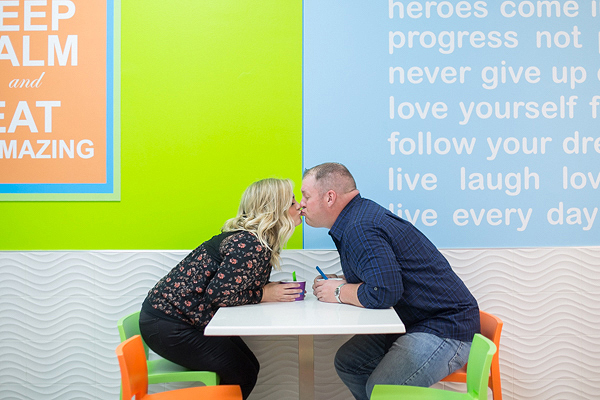 Engagement sessions are often observed as an opportunity to celebrate a new chapter in a couple's relationship. All eyes are on the future, as wedding plans start in full force. While it's important to think about the future, we should also consider that engagement sessions are also a chance to reflect. They're a time to look back on your time together leading up to the current moment, and remember how you got to where you are this very day. For Tess and Josh's engagement session, this is exactly what they had in mind.
For Tess and Josh, the plan was to reenact their very first date! We were to visit every spot they shared their time together on that date, reliving those pivotal moments that got them where they are today. For our first stop, which actually happened to be their last stop on the actual date, we made our way to Ogden Gardens of Valparaiso!
After Ogden Gardens, we took a ride over to Yomazing of Valpo. This was their first stop on their date, and what a sweet choice, if I do say so myself! Solid move, Josh.  😉
And how appropriate…Yomazing serves the BEST gummy bears in the world, which just so happen to be from Tess' family's candy factory, Albanese Candy Factory! Load em' up!
And one more for good measure!!
Our next spot was a hoot, and definitely requires a bit of back story. On their first date, once they finished up with Yomazing, Josh was trying to come up with something to keep the ball rolling. Turns out he was in the market for some new compression sleeves, and figured…what the heck…let's go to Dicks Sporting Goods and see what happens! Just as you'd expect, as any couple that's meant to be together, it really didn't matter what they were doing — they simply made it work.
Oooo…caught yourself a keeper there, ay, Tess?? Hardy har har….   🙂
Our last stop on the date day reenactment wasn't a part of their real first date, but it's something we couldn't pass up while we were in the area. We made a quick stop over to the incredible Dagger Mountain Roastery for a delicious cup-o-joe before wrapping up for the day. PS…if you haven't been there yet, you MUST give it a try. Great stuff, and even more amazing staff.
Can't wait for the big day you two! Thank you so much for allowing me to be a part of this special time in your lives!!
Looking to book YOUR engagement session? Head over to our CONTACT page and drop us a line! We'd love to hear from you!