Close to 24 hours of traveling — about 18 hours in two plans and a five hour layover — and we've finally arrived!
Today was our first full day here in Tanzania. We started off with a quick little buffet breakfast at our hotel to fuel up. Of course, traveling anywhere, especially overseas, you're never quite sure what to expect. Today's breakfast was a prime example. When's the last time you had this kind of lineup at your local pancake house?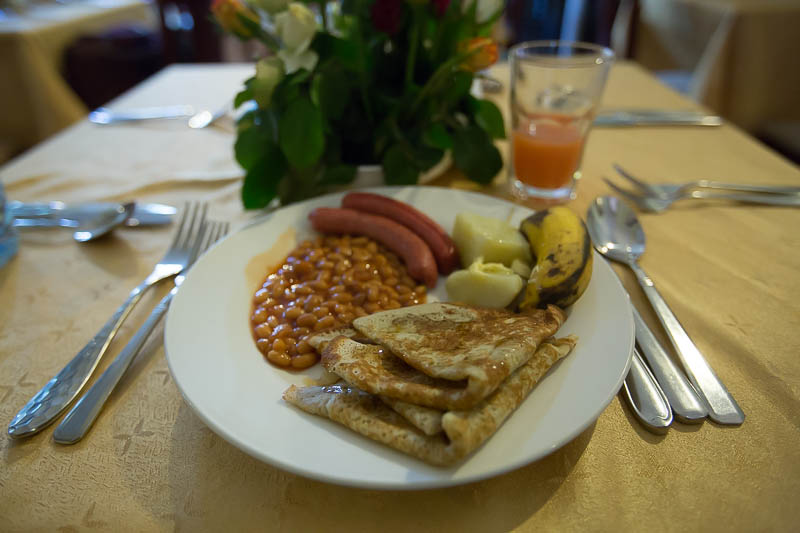 Surprisingly enough, these hotdog/sausage thing-a-ma-bobs were actually pretty good! Paired well with the beans, of course. Who doesn't love frank and beans?? 😉 And of course you can't beat a glass of fresh mango juice…
After breakfast, we took a short walk into town. The plan was to check out a few local spots for some coffee, get a local cell phone loaded up with minutes and start making some contacts for our gem hunting! Here are a few goodies we found on our way.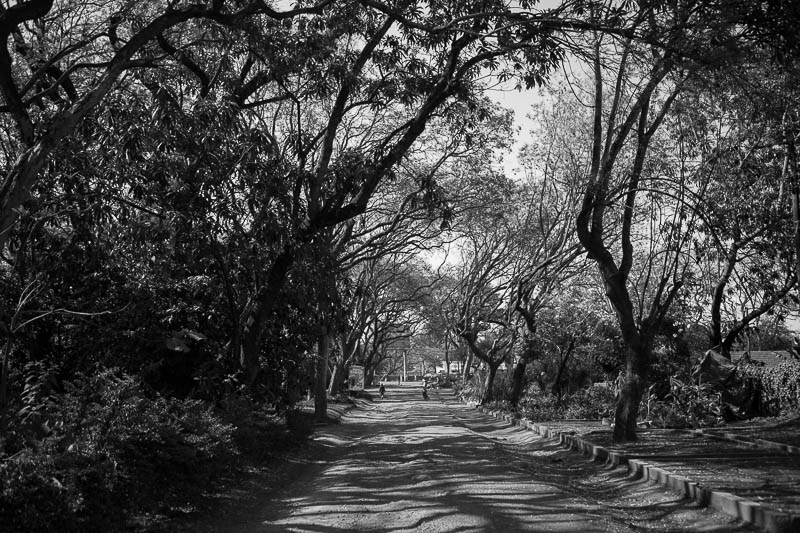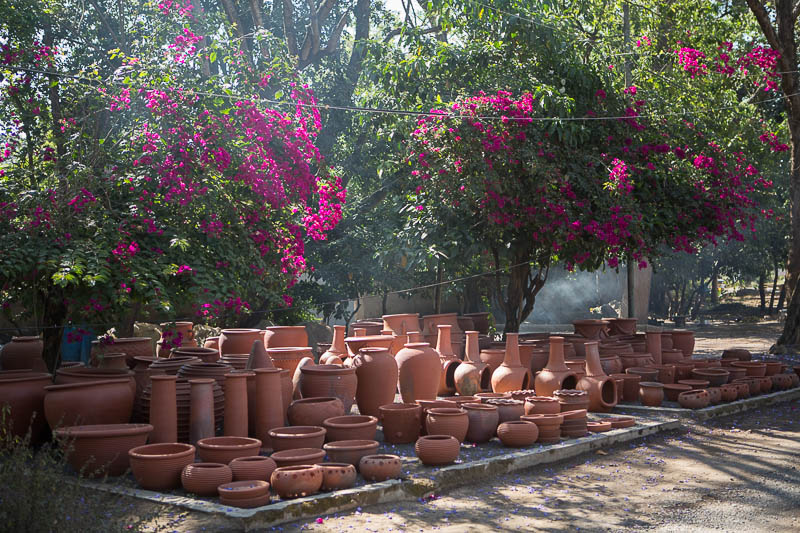 We are lucky enough to be here in their spring season, which provides some gorgeous purple flowers on many of the trees.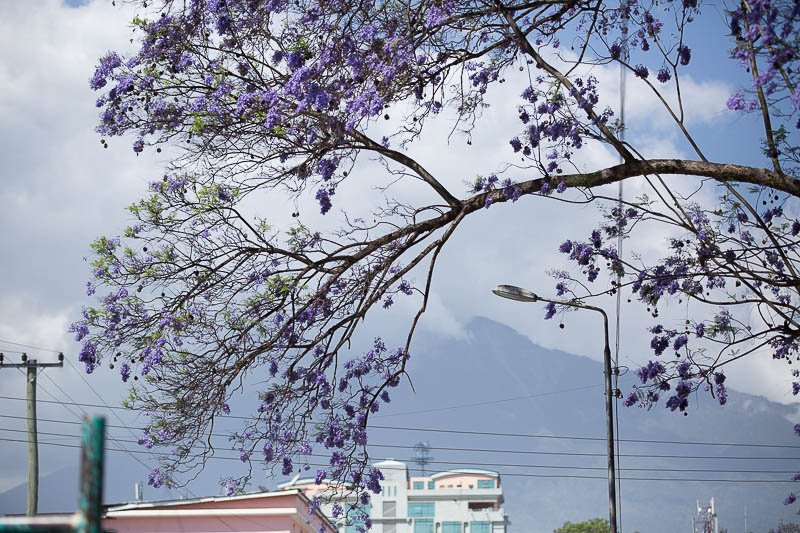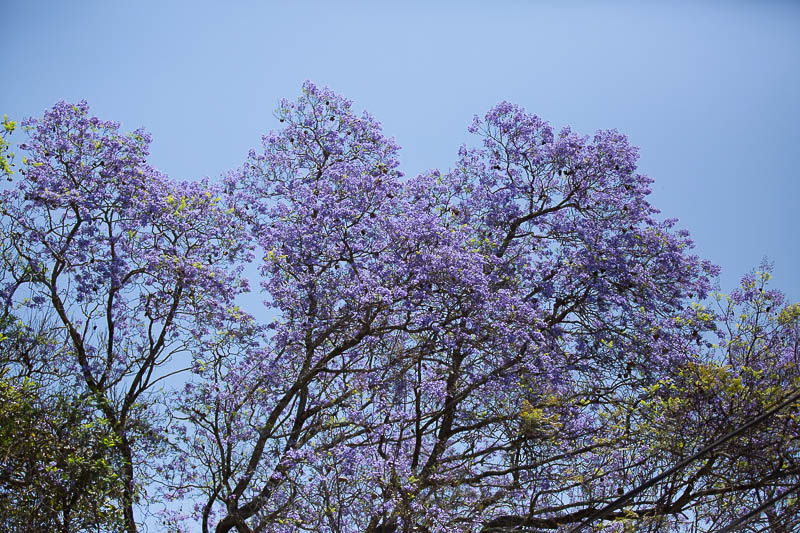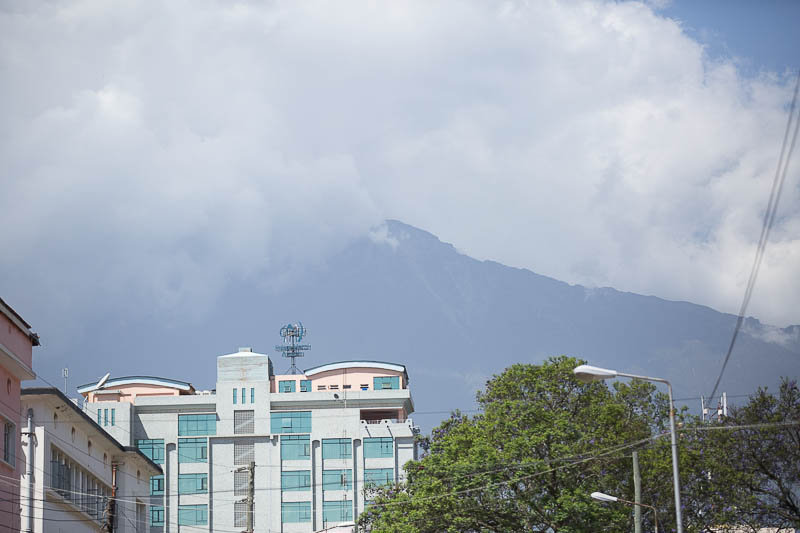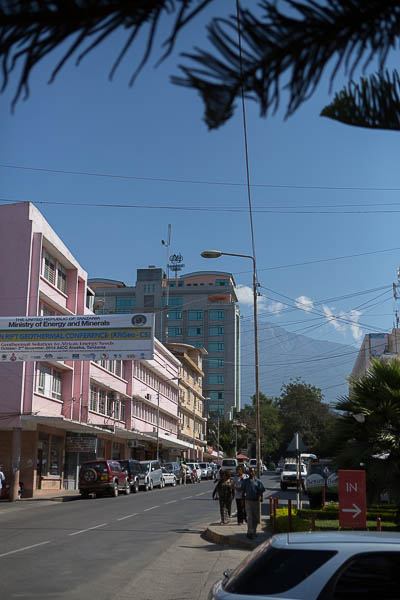 We made quite a few "friends" on the way. You have guys coming up to you all day long, chatting with you, eventually trying to sell you one thing or another. Many of them try to sell safaris, but we heard everything from paintings to shoes, and even people simply promoting the markets.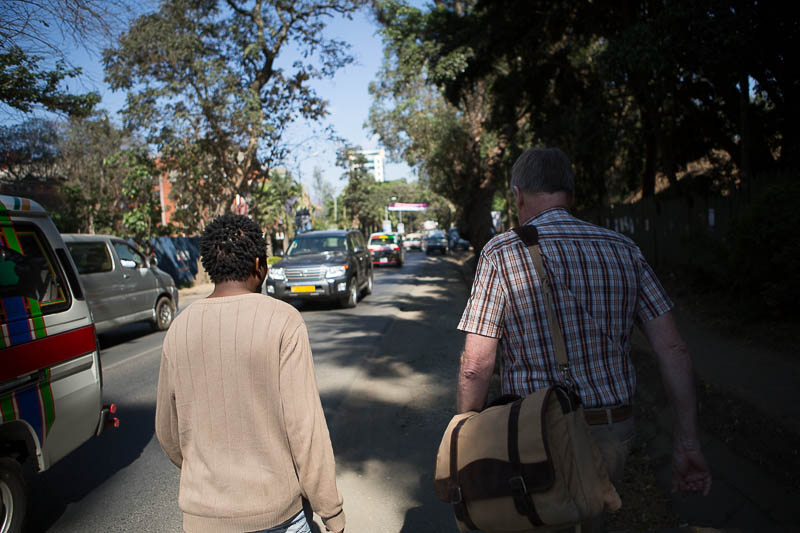 Landed a few lattes and some wifi! Awesome coffee here…and these two together were only about 8,000 Shillings…which comes out to less than $5. Can't beat it.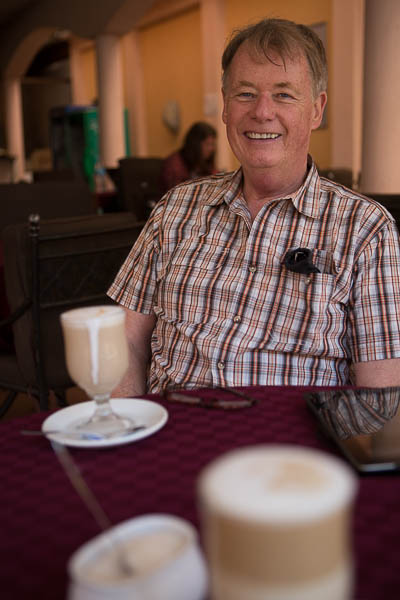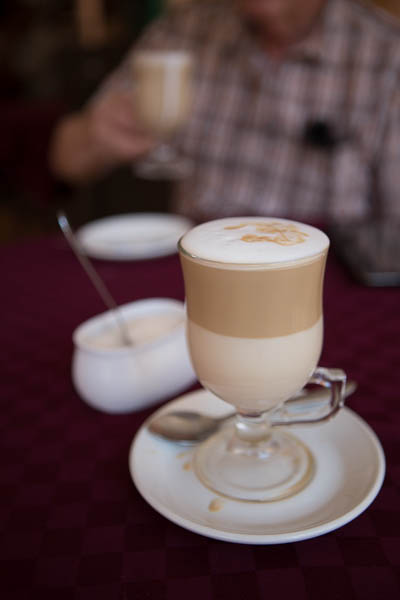 After having a chance to get in touch with everyone on Steve's call list, it turned out that we weren't going to have a chance to meet with anyone today. Plan B? Time to hit the market!
This guy was super cool (as were all of the people here). He (supposedly) makes these carvings right here in his booth. He proceeded to get down and show us how its done and started chopping away!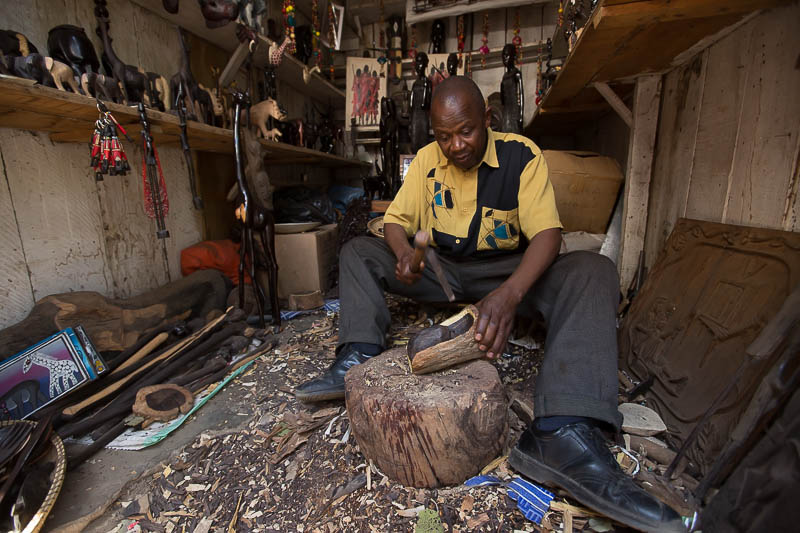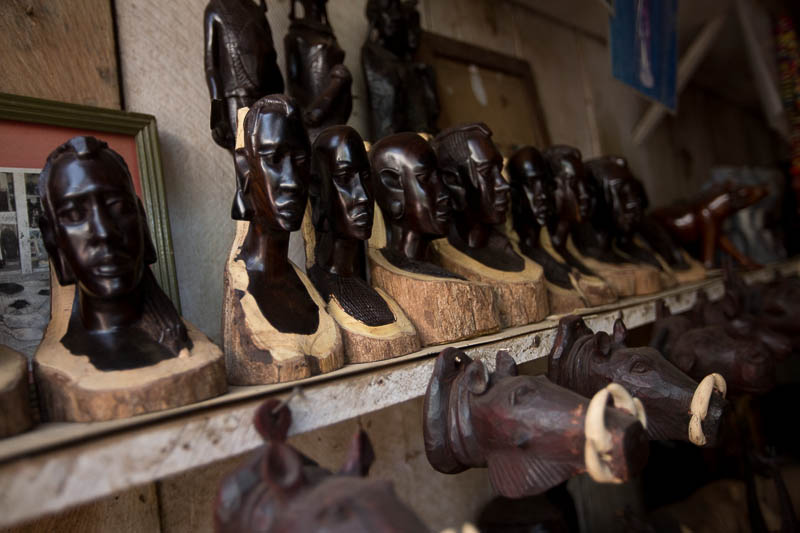 The narrow rows of the market seemed to go on forever. No sooner did you step out of one booth than did another booth operator step in front of you for "their turn" in line.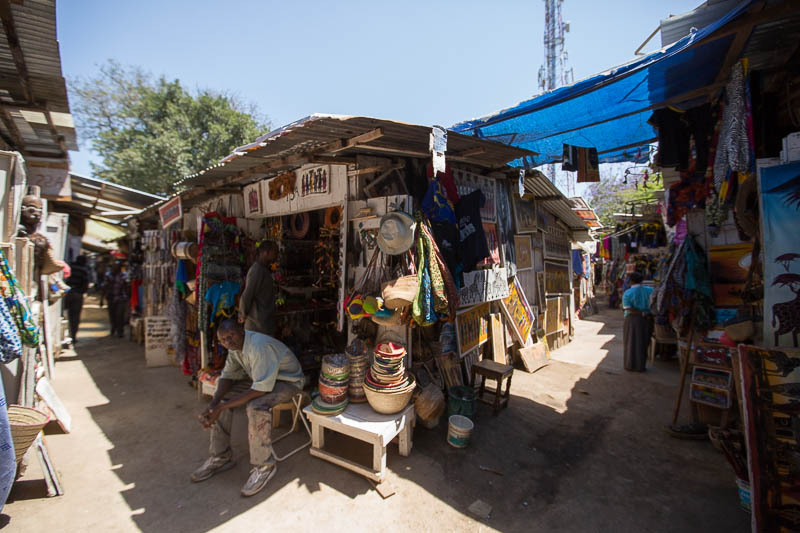 Steve made another new friend…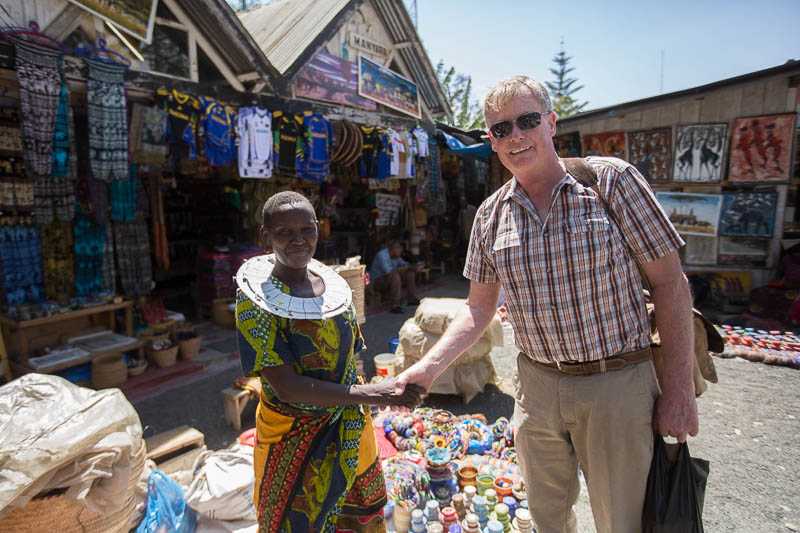 Once we finally got back to our hotel after a long, tiring day, I decided to go do a bit of exploring and see if I couldn't find something, or someone, interesting.
This guy was just across the street from our hotel, cutting down bamboo with his machete. I hopped over and used some of my newly acquired language of Swahili and asked if I could take a few shots. As everyone else in the area has been, he was extremely receptive and was happy to strike a pose.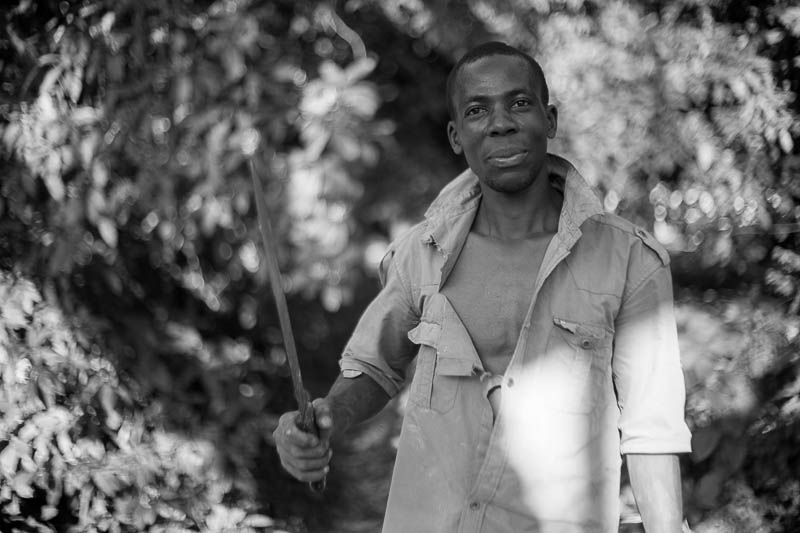 After snapping a few of Mr. Machete, I turned around to find this young lad walking down the street, on his way home from school.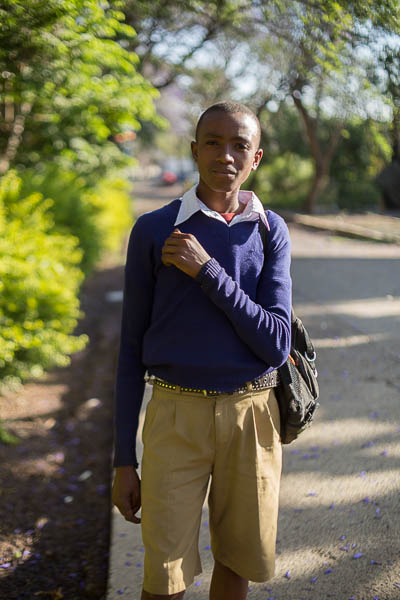 This lady was a hoot. I noticed her working on something and decided to approach her. She didn't speak a lick of English and all I could seem to get through to here was "photo…?" She gave me the international sign for "money" by raising her eyebrows and rubbing her fingers together. She then said "2,000?" Considering 2,000 shilling is BARELY over 1 US dollar…I was happy to oblige. 🙂 Quite possibly my best dollar and some change ever spent.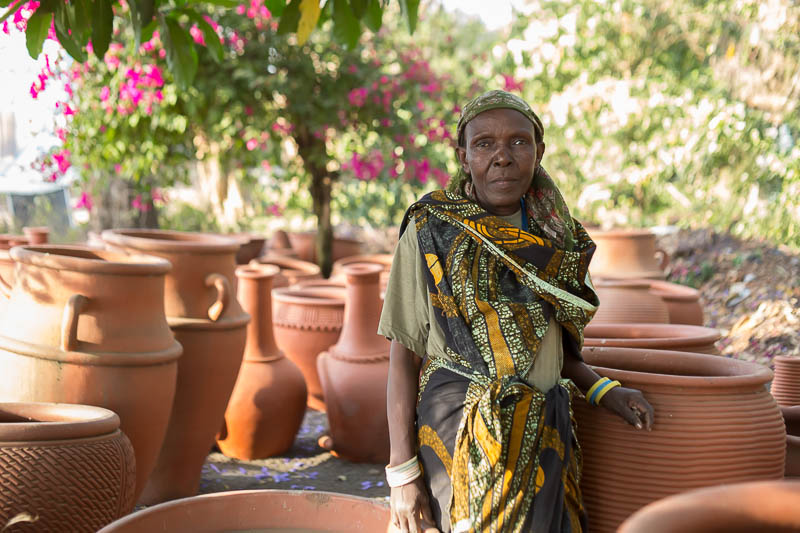 Tomorrow (or probably today, by the time this posts) we will finally get to work! We will be heading out to one of the mines to do some gem mining! We'll be going down into the mines and will even be picking up some charges (explosives) to excavate inside the mine walls. Should be an amazing experience — can't wait to share the photos and VIDEO!
Click here to continue to Day 2!