Wicker Park Wedding, Highland, IN – Brianna and Andy
Brianna and Andy are such an amazing couple. They're super sweet, fun loving, endlessly in love, and as you'll see…a couple of super models, to boot.  😉  After working with Brianna on one of our themed shoots, The Viking, and then with the two of them for their winter engagement session, I knew their wedding was going to be one to remember.
We started our day with the bride and her entourage at the Hamptom Inn & Suites in Hammond, IN. I must have been feeling extra inspired with details that morning, as we wound up with a few more ring shots than normal! 🙂
Once everyone was prepped and ready, Brianna surprised her bridesmaids with a gift — a gorgeous set of jewelry for the big day!

Turns out Andy had a little surprise in store as well…
First looks with Dad are always tear jerkers. I absolutely adore these moments…
Our Lady of Grace in Highland, IN is a gorgeous church. Such a beautiful place for a wedding ceremony.
Those moments directly after the ceremony are often some of the best moments of the day. All the emotions and anticipation built up can finally be let out. This is it…we're married!!!
For our wedding portraits, we decided to head over to Gary, IN to shoot in some of the abandoned buildings. These buildings offer such a unique contrast and provide something a little less traditional than what you're used to seeing from wedding photos.
Once we finished up in Gary, we made our way to their wedding reception venue — Wicker Park of Highland, IN. This lush, green golf course makes for a beautiful setting for bridal portraits.
I have to give a shout out to Jane Male of Flowers with Jazz for the BEAUTIFUL floral and wedding bouquets!
Look at that cheesin!! Gotta love these two!!  🙂
As dinner started, we couldn't help but sneak away for a few more portraits of our lovely couple, just before dusk.
PHOTOBOMB! 😛
Such a pleasant surprise to run into these two lovely faces! I had the pleasure of working with Angela and Kyle for their engagement session in LA, and their wedding day downtown Chicago! Always a pleasure seeing you two again!  **MUAH!**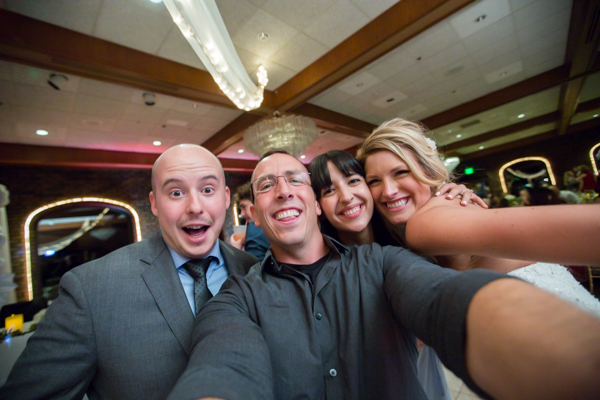 Thank you so much, Brianna and Andy, for allowing me the opportunity to spend the day with you two! I wish you two nothing but love and laughter until the end of time!
Interested in chatting about YOUR big day? Drop me a line. I'd love to hear from you!