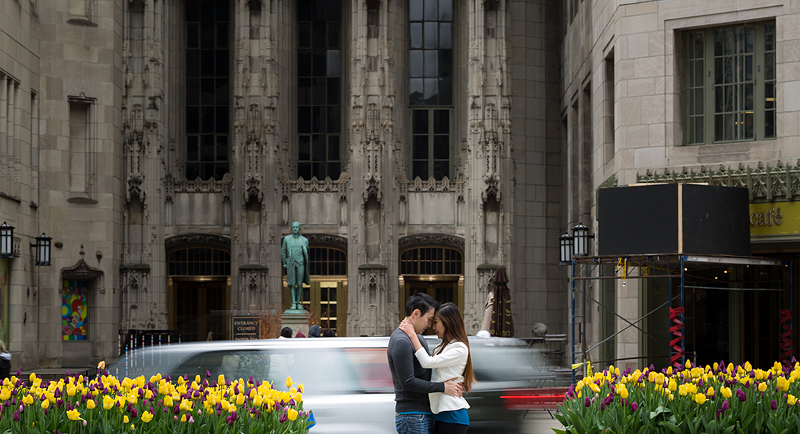 Engagement sessions are a time to celebrate. They're a time to document one of the most joyous moments in your life while you prepare for your journey together with your partner. The feelings you share during this time are strong, real and exciting. When you choose a wedding and engagement photographer, its important that your photographer is able to enrich and enhance those feelings and convey them through your photos — all without feeling forced.
To help create a natural, relaxed feel, I always urge couples to focus more on each than on the camera. Enjoy your time together and think of the engagement session as more of a "date day," as opposed to a photoshoot. When you're able to connect with your partner instead of the camera, the camera becomes secondary. Real emotions start to shine through, developing the truth in the images we create.
This is exactly how we broke the ice with Cindy and Jack at the start of their session outside the Wrigley Building on Michigan Avenue. As most couples tend to be, Cindy and Jack were a bit shy getting started. With a little bit of coaching, some good vibes between the two of them, and some bad jokes from their photographer (yes, I'll fess up to that one)…we were off and running in no time.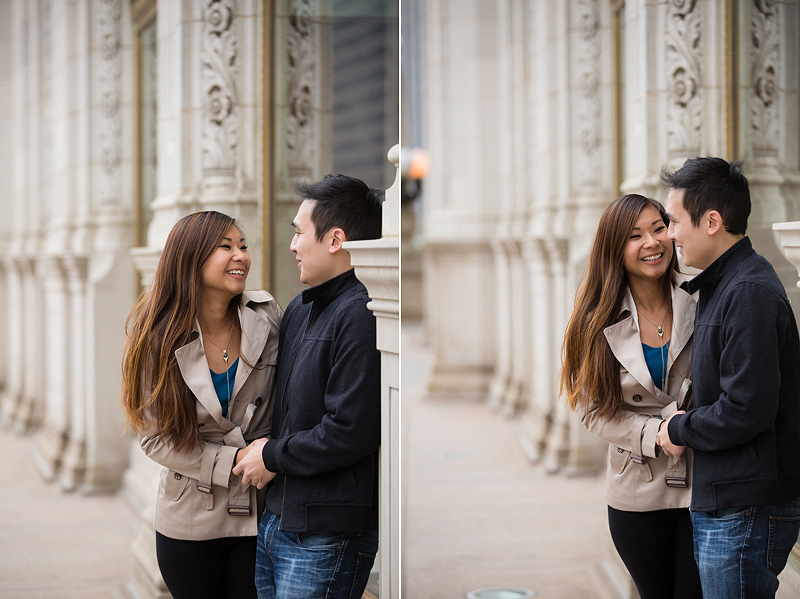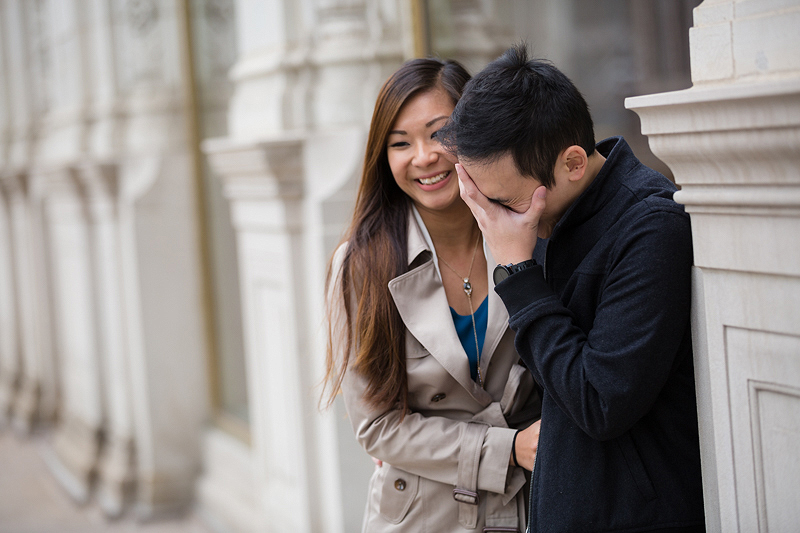 After a few quick shots outside of the Wrigley Building to help get Cindy and Jack warmed up to the camera, we slid over to another spot right outside the same building. The balcony outside of the Wrigley Building offers a beautiful view of the Chicago River and its surrounding architecture.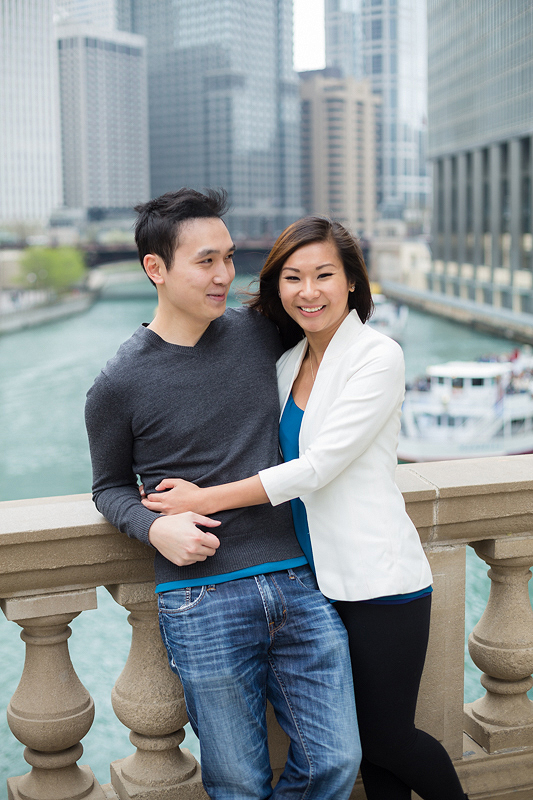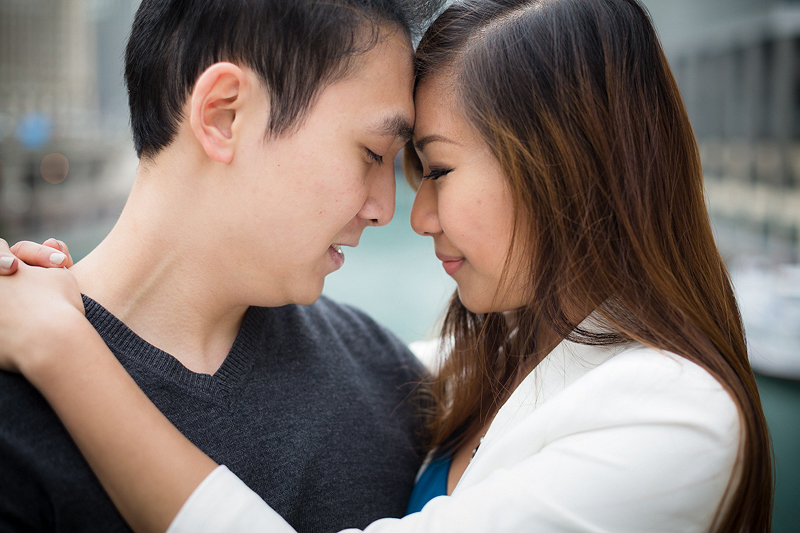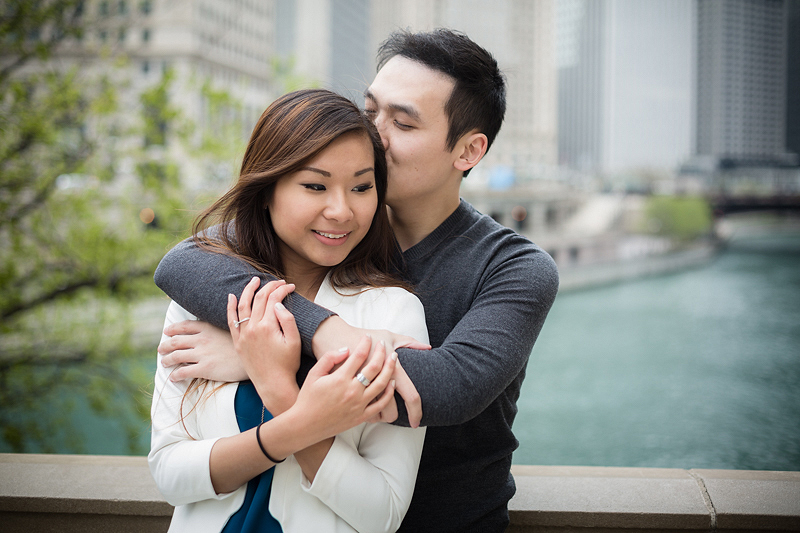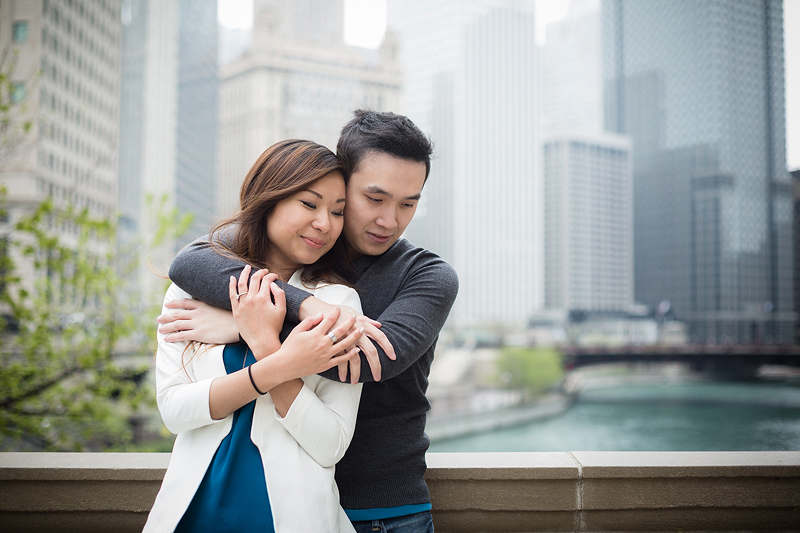 Directly behind our previous spot are a set of stairs that lead down to the Chicago Riverwalk, right off of Michigan Avenue. Heading about halfway down towards the Riverwalk, we were able to get a slightly different perspective on the river and the buildings behind.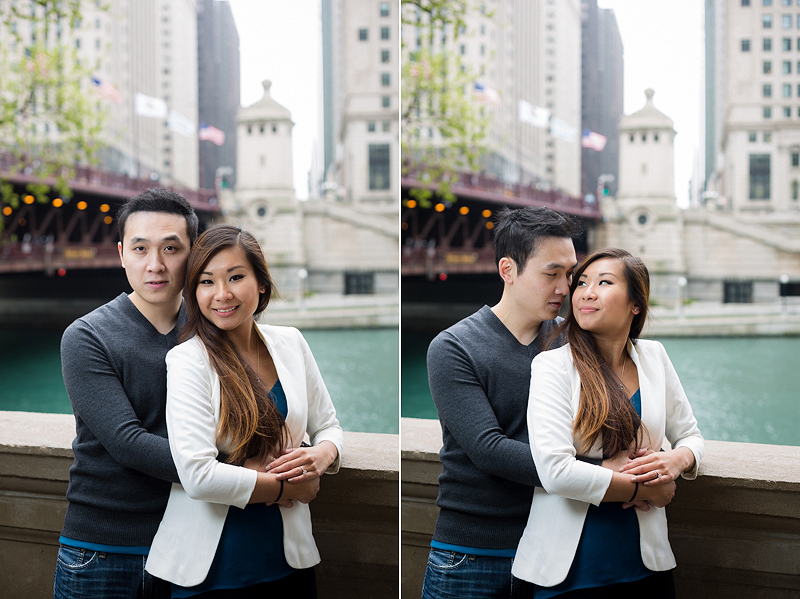 And right back up to the Michigan Avenue Bridge for a few more before moving out!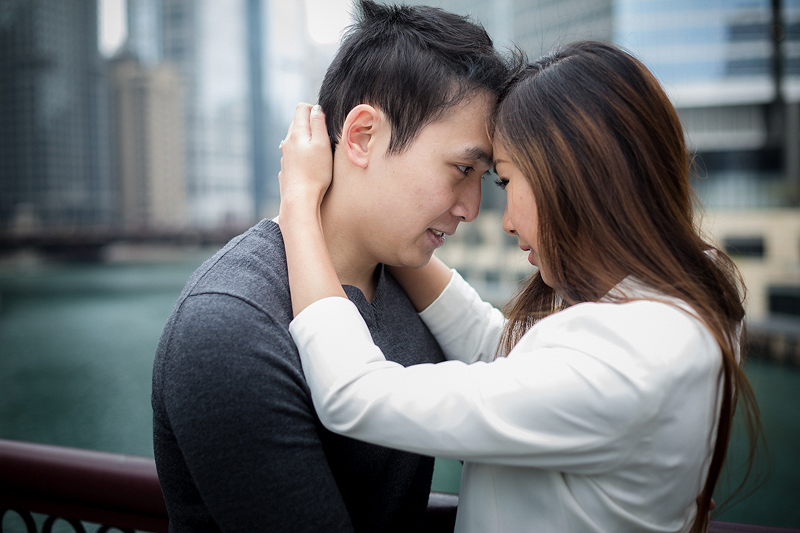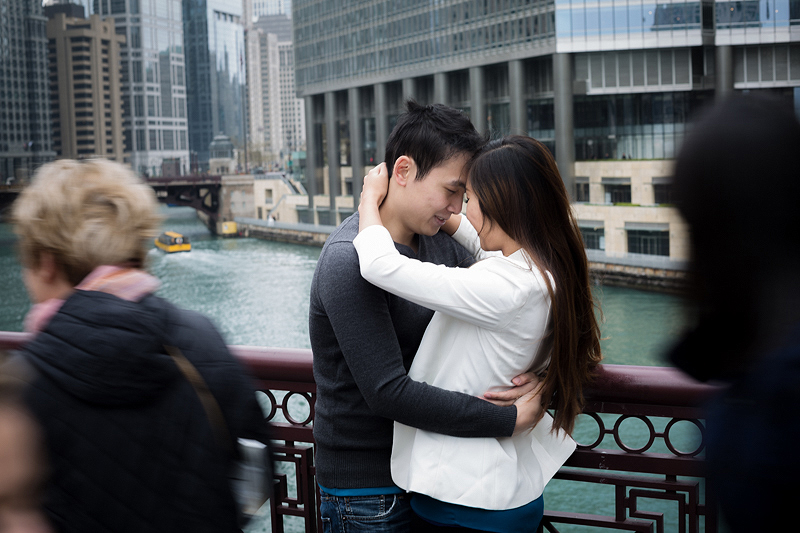 One thing I love about shooting engagements and weddings downtown Chicago is that Chicago is always full of surprises. With Cindy and Jack's engagement session, that surprise came in the form of an incredible array of spring flowers — tulips, to be exact. For many years now, each spring, the Chicago Parks Department has been planting a huge array of tulips along the Magnificent Mile. This is always a welcomed breath of fresh air for the city of Chicago, signifying the end of its grueling winters. We lucked out and made it just in time while the tulips were in full bloom!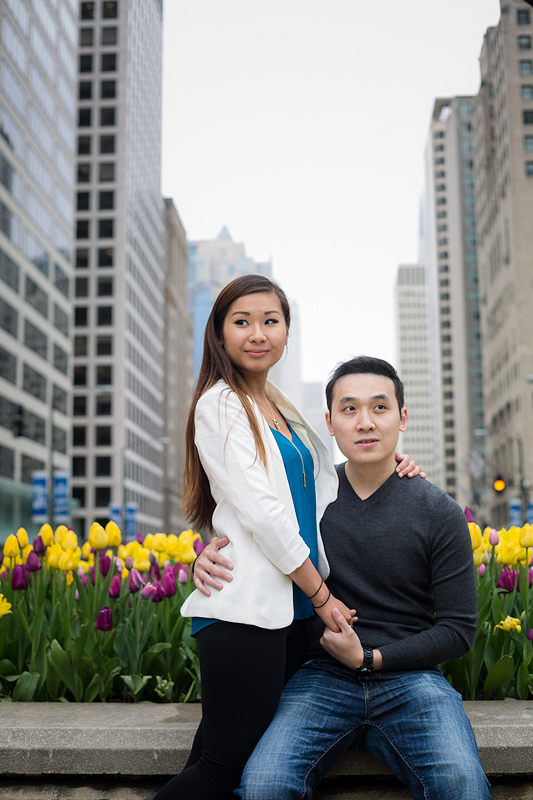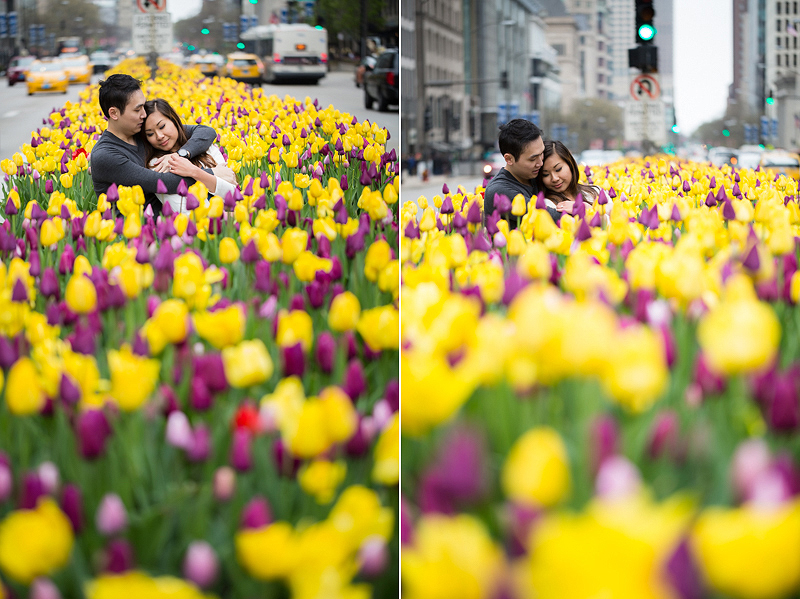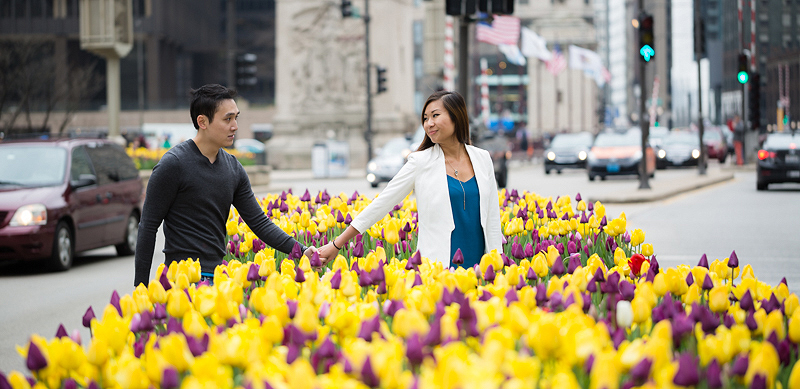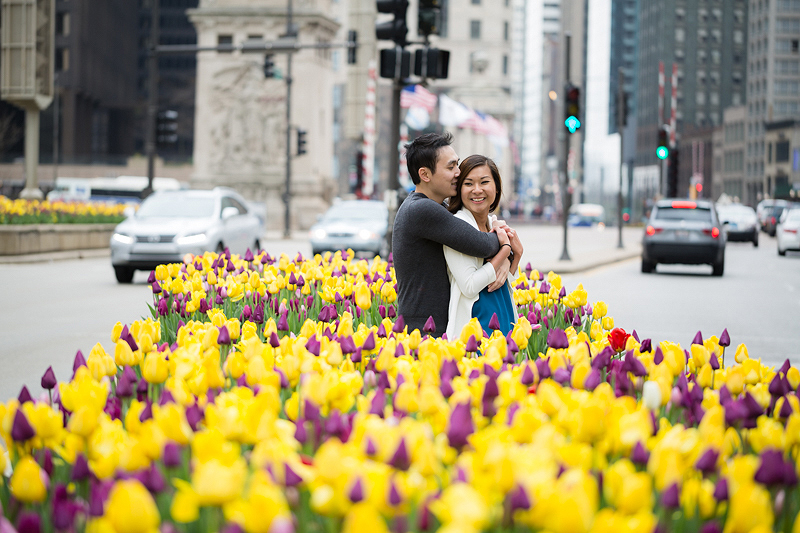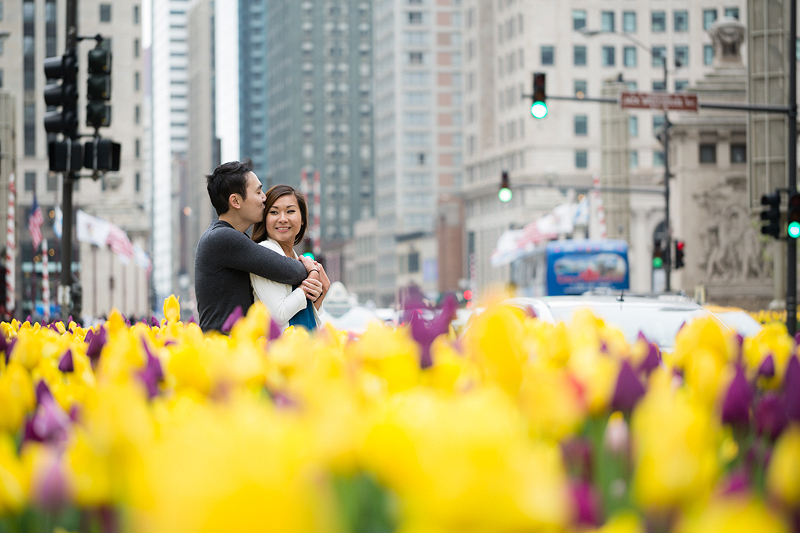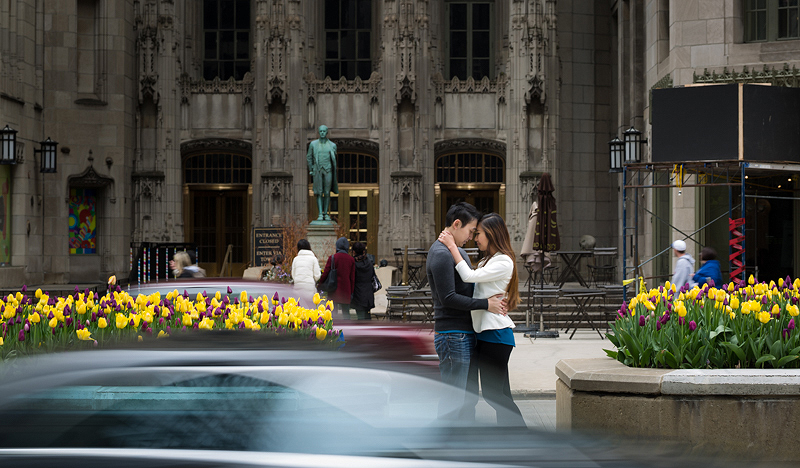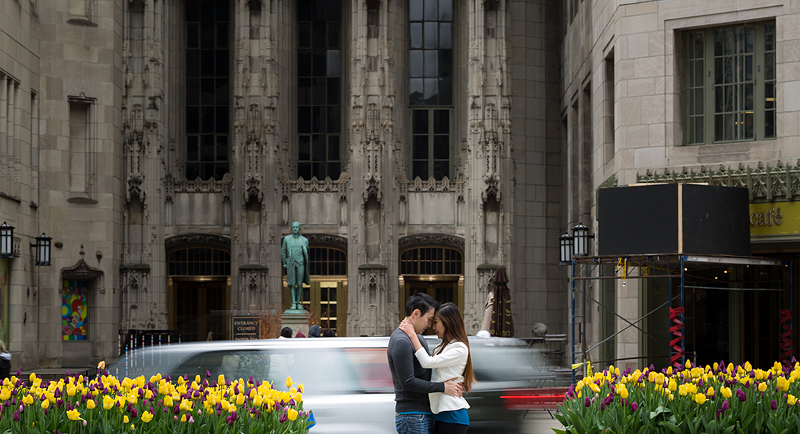 After wrapping up on Michigan Avenue, we made our way over to the Adler Planetarium. On a clear day, this iconic landmark offers a beautiful skyline view of Chicago. Even with fog and low clouds rolling through, the view from the Planetarium didn't let us down.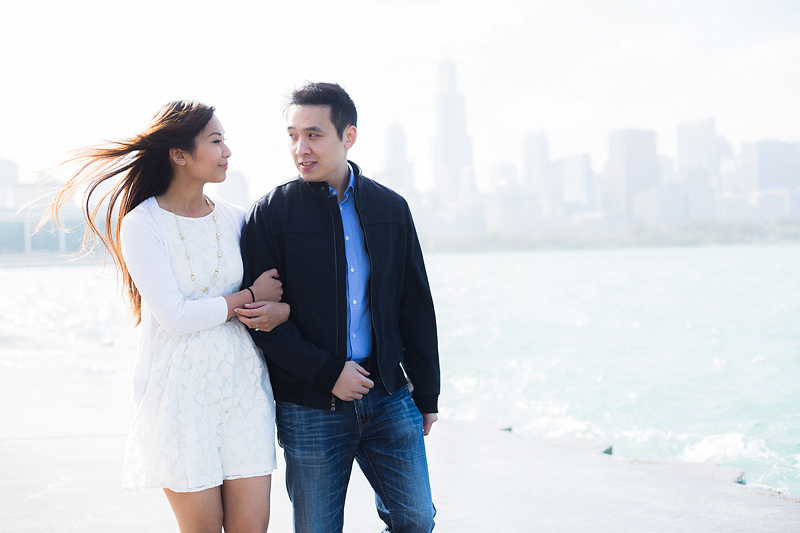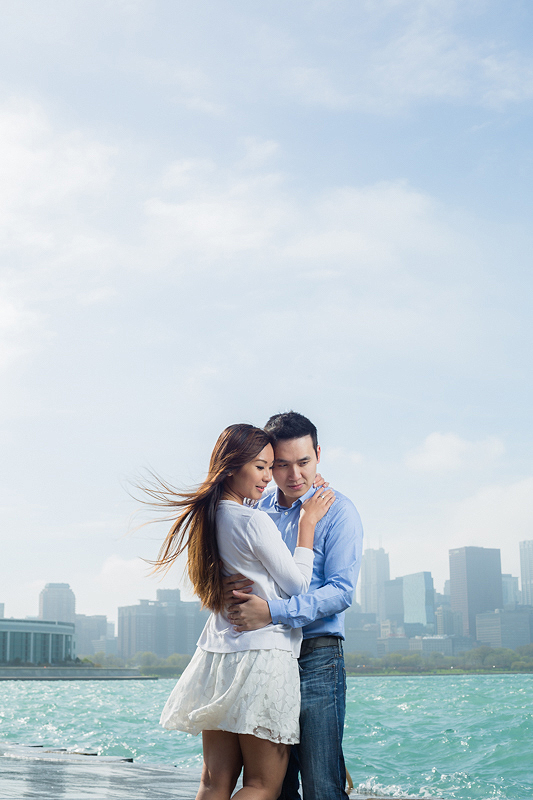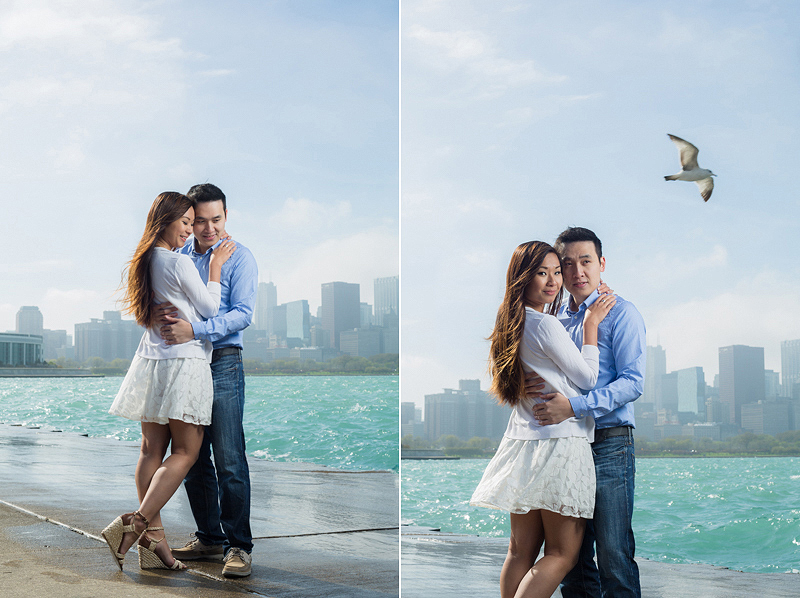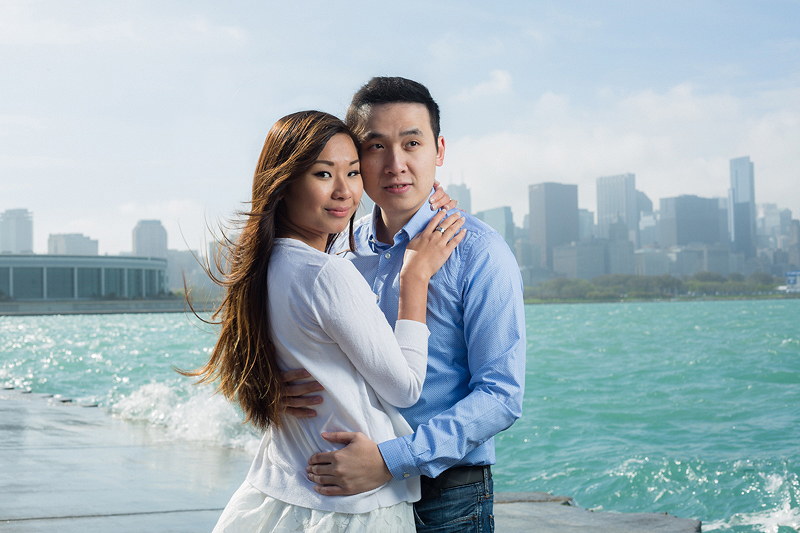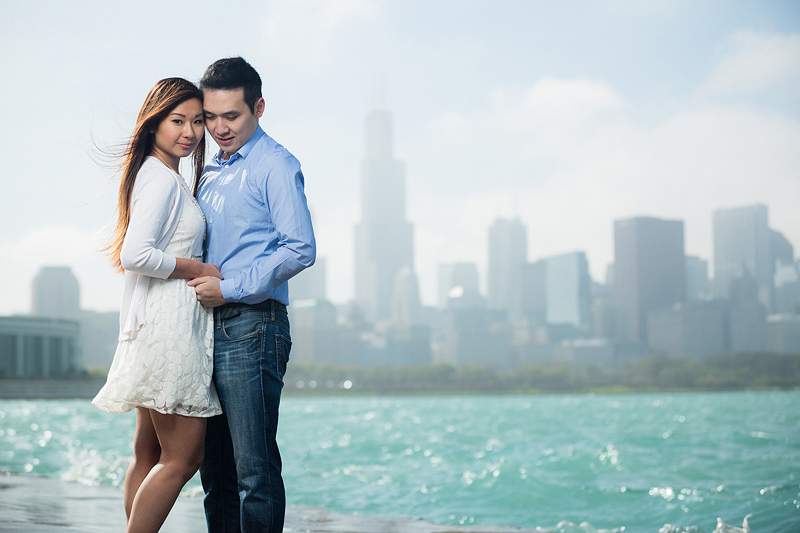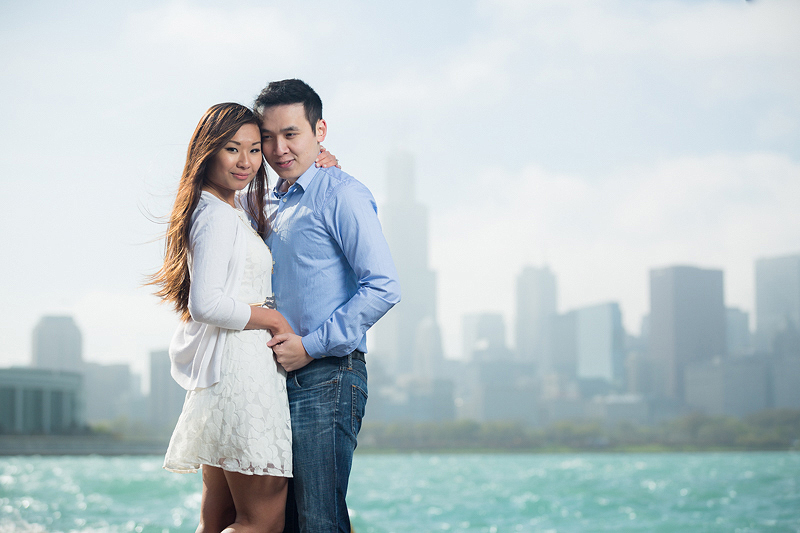 The Museum of Science and Industry is another beautiful architectural wonder of Chicago. The courtyard, the grand columns surrounding the building, and the front entrance all make for gorgeous photos opportunities.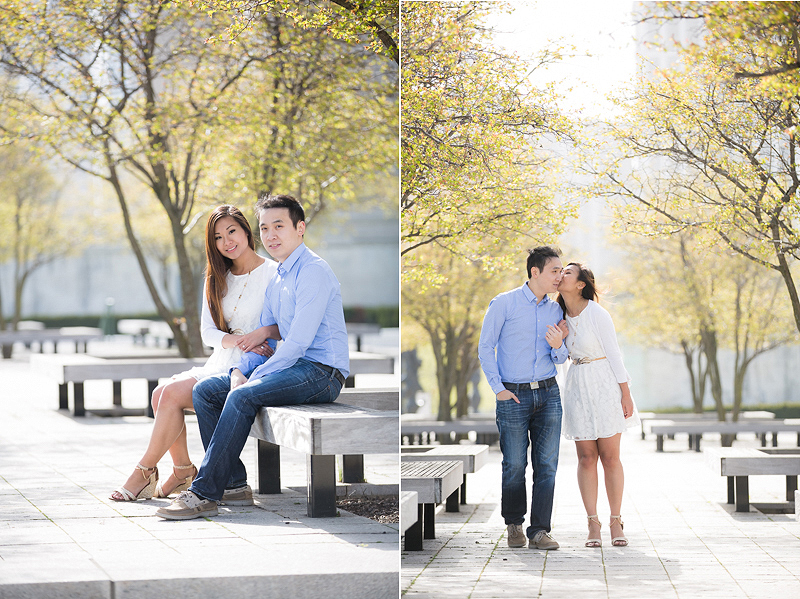 BOING!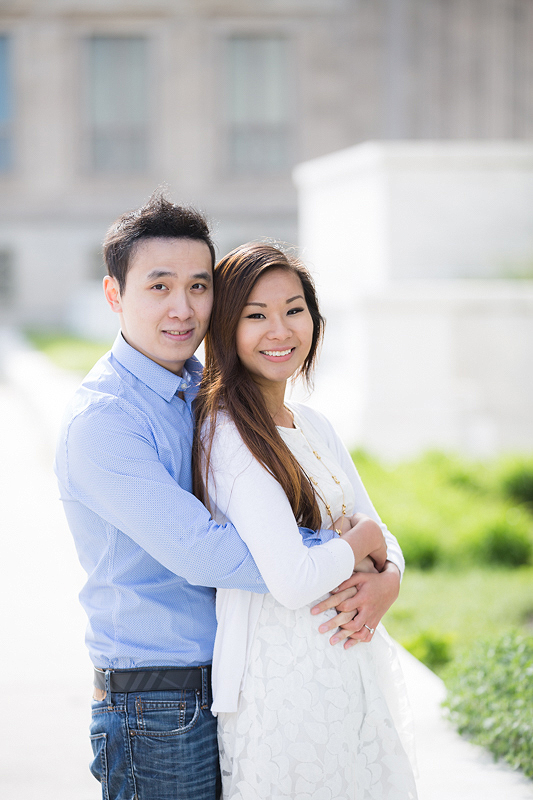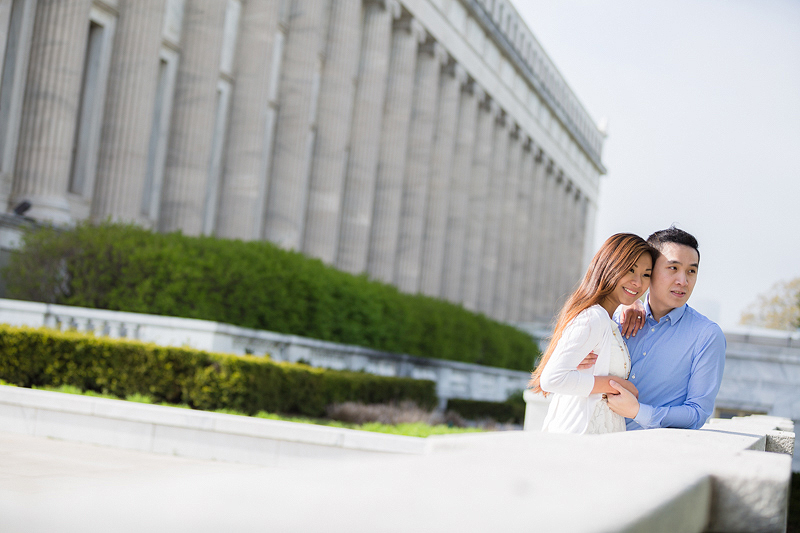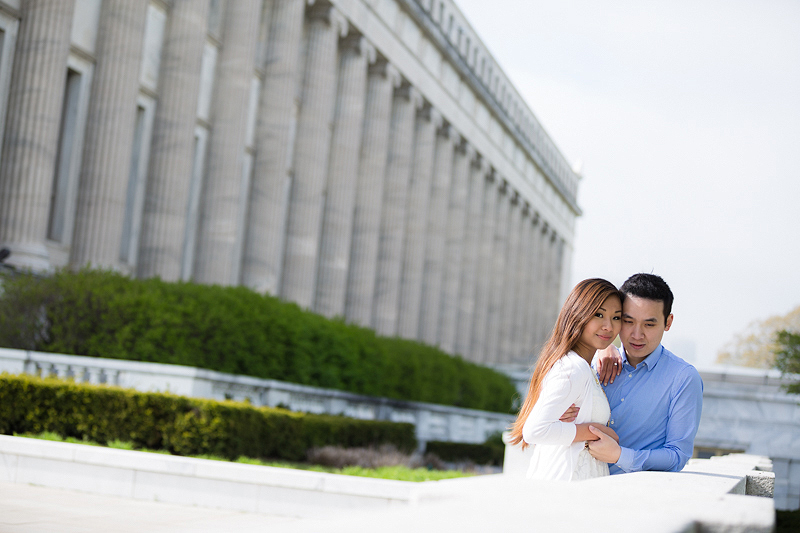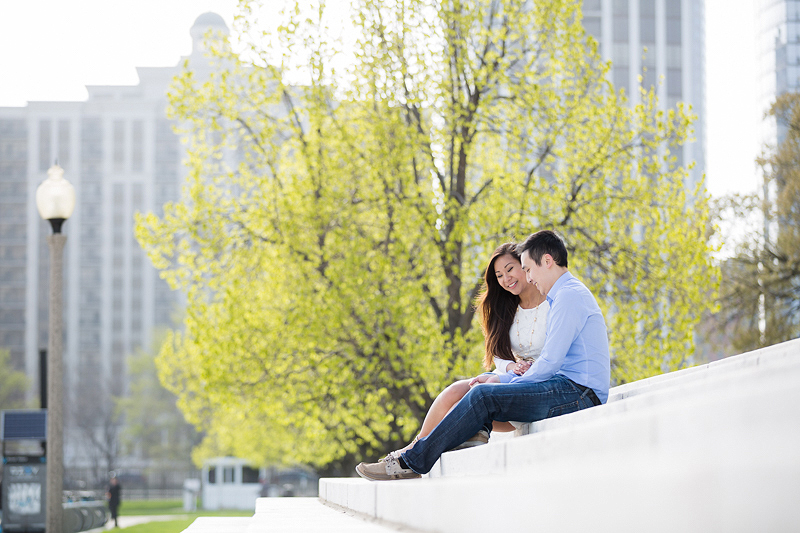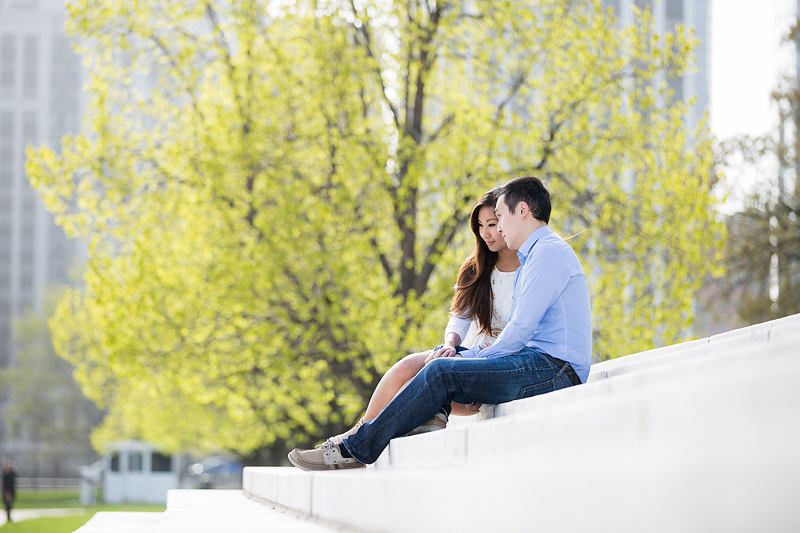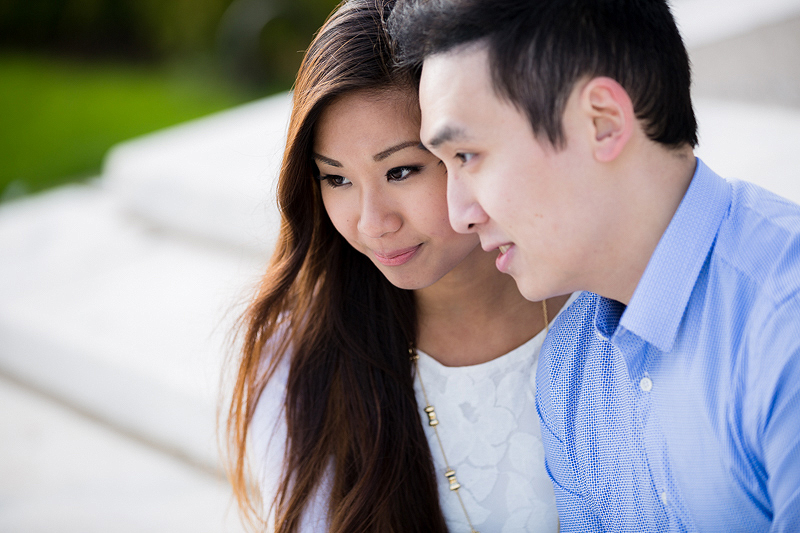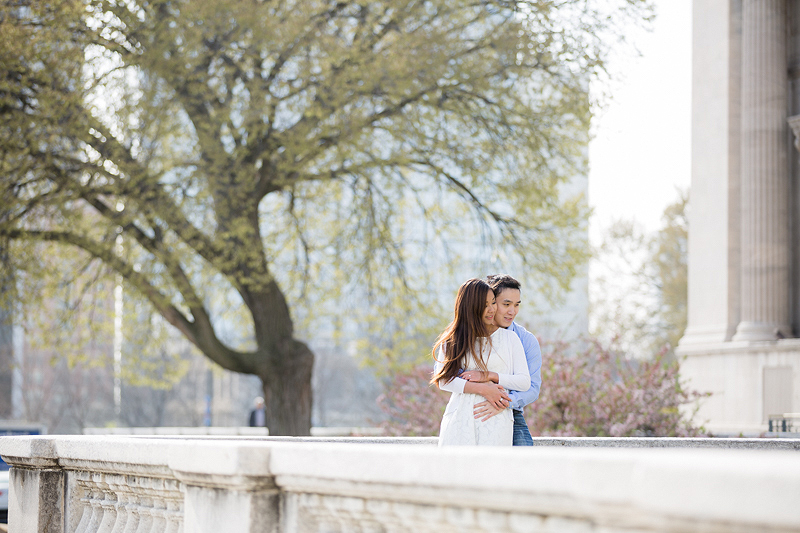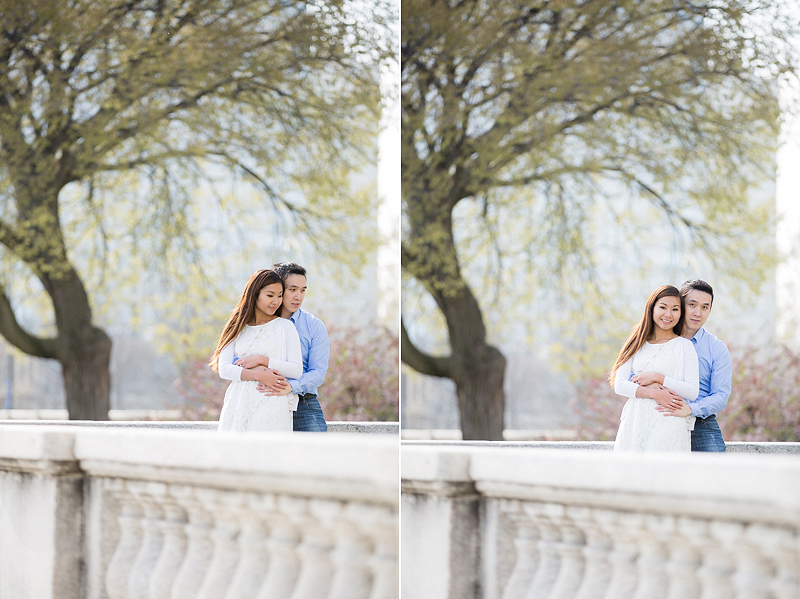 When planning engagement sessions, I always talk with couples about their personal interests, hobbies, or activities they do together on their free time. If possible, its great to try and pull in some of those interests into their session, helping to personalize the photos a bit more. After chatting with Cindy and Jack, I found out that Jack was quite the car enthusiast. So of course, we had to find a way to work this in! For our final location, Jack took us to a "secret spot" of his, which wound up being quite the gem.
For all the photographers out there, here's a behind-the-scenes look at our lighting setup. We're running an Elinchrom Ranger Quadra inside an octabox, all mounted to a simple painter's pole and a Kacey pole adapter. If you're working with an assistant, this is a great lightweight, portable option to have in your bag of tricks.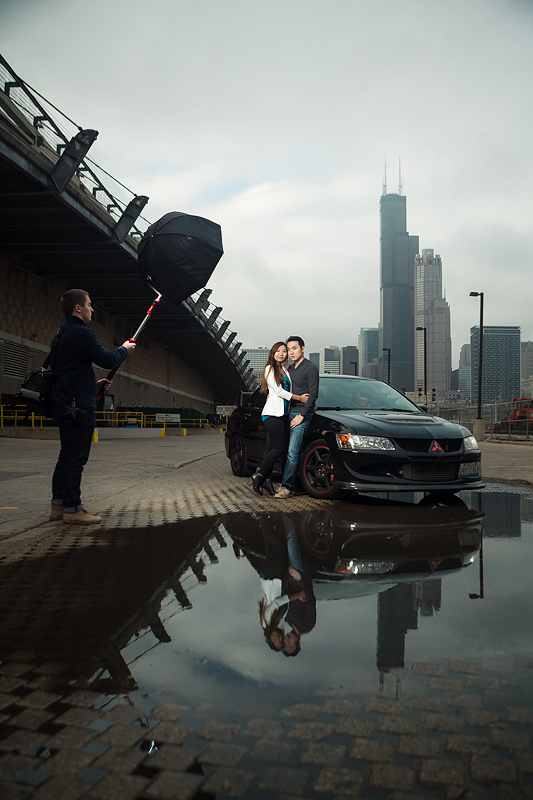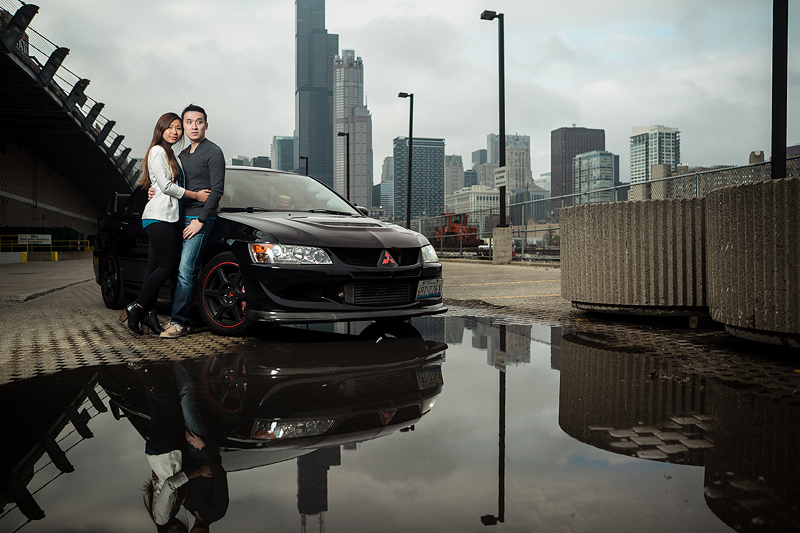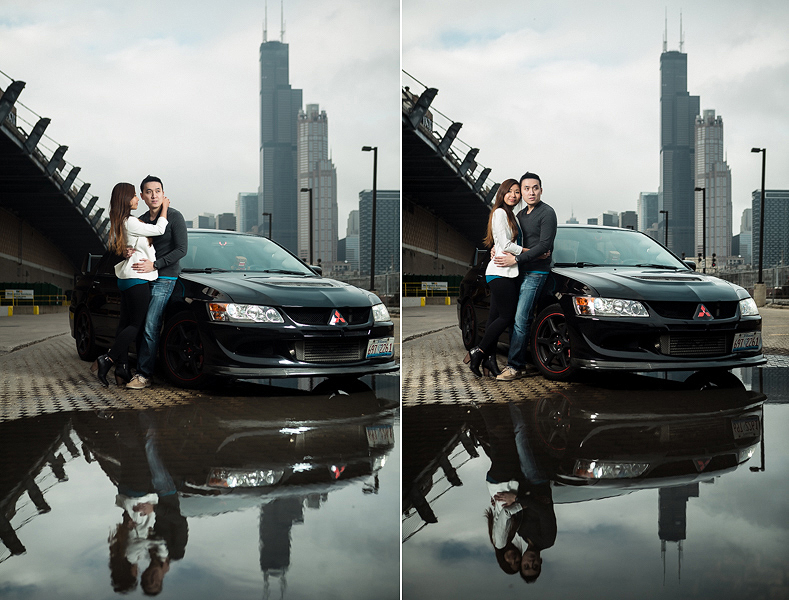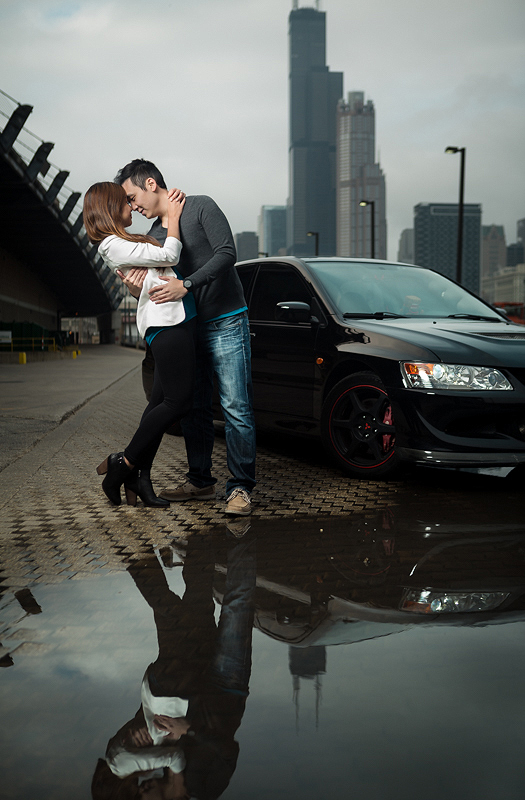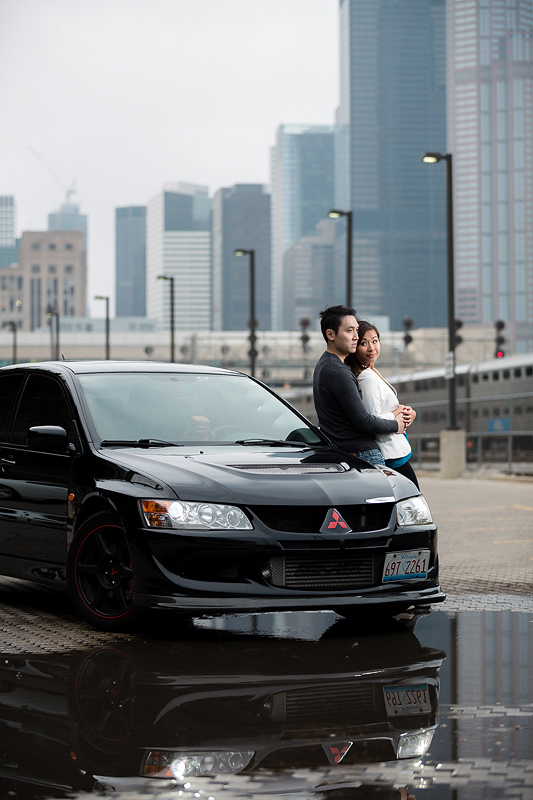 And that's a wrap!
After breaking down, Cindy and Jack treated us to an amazing dinner at their family's restaurant, Furama, of Chinatown. Some of the best Chinese food I've ever eaten, hands down. If you're ever in the area and have a craving for some incredible crab rangoons and Mongolian beef, you MUST stop.
Thanks again, Cindy and Jack! Looking forward to the big day, coming soon!!
Ready to plan YOUR engagement session? Head over to our CONTACT page and drop us a line. We'd love to hear from you!