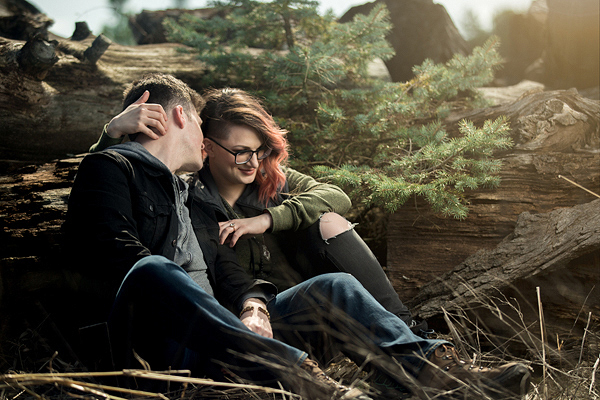 One of the greatest joys of photography is the opportunity to meet new, amazing people, and to build the life long friendships that come along with them. Sharing in such a special time in people's lives, we're there to witness belt-busting laughs, heart-fluttering cries, and all the beautiful moments in between. With most, this relationship begins with the decision to hire us as their photographer. We meet, greet, plan the engagement, and grow from there. However, on some very special occasions, we're graced with the incredible opportunity to work with familiar faces. Faces that were a part of our daily lives long before any engagement planning, or wedding chat…faces that we've grown to know and love…faces that we just can't flippin' WAIT to get in front of the camera. If you haven't guessed by now…Jes and Eric are two of those faces.
We've been lucky enough to call Jes and Eric our great friends for quite some time now. They are seriously one of the sweetest couples we know, and we absolutely can't get enough time with them. So much so that when we ran into permit complications on our first scheduled shoot date, we all got excited that we now had the entire day to run around downtown together, exploring some of Jes and Eric's favorite hangouts!
The original plan for Jes and Eric's engagement session was to shoot in one of the greenhouses downtown Chicago. Unfortunately, as mentioned above, we ran into quite a few complications with the permit process, so we decided to steer clear and aim for something a bit different. Being that Jes and Eric will be getting married in Estes Park, Colorado (can't wait to join them and shoot there!!!), we thought it might be nice to give a similar feel to the engagement photos. Without the scenic mountain landscapes of Colorado to work with here in Northwest Indiana, I knew it would be up to me to work some photo magic!
First stop…Christmas tree farm!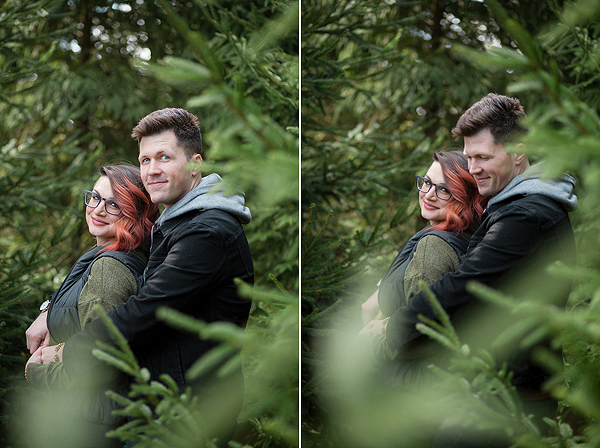 Off to a great start! How could you not love these two???
Eric's got that "fake laugh" all figured out. What a schmoozer…. 😉
Absolutely GORGEOUS engagement ring. One of my favorites ever.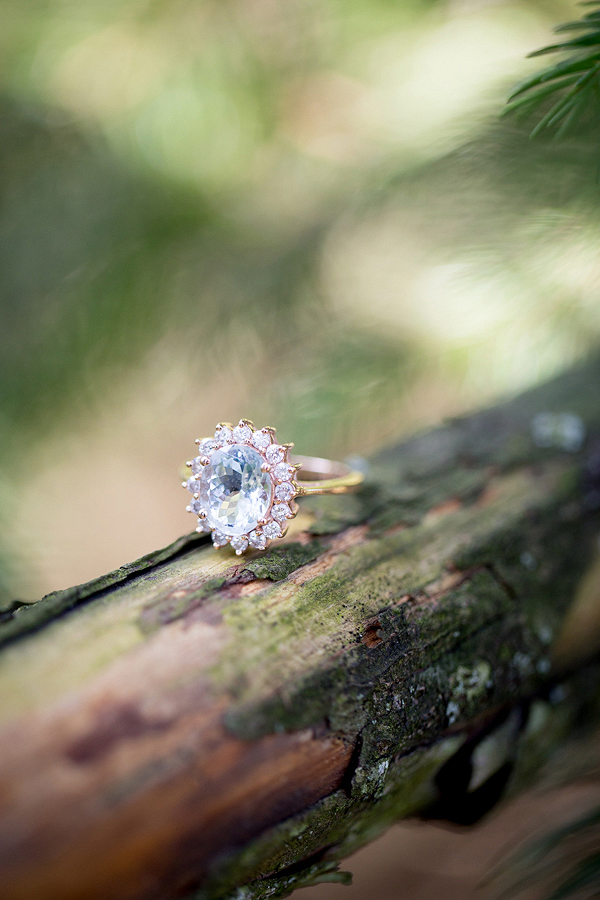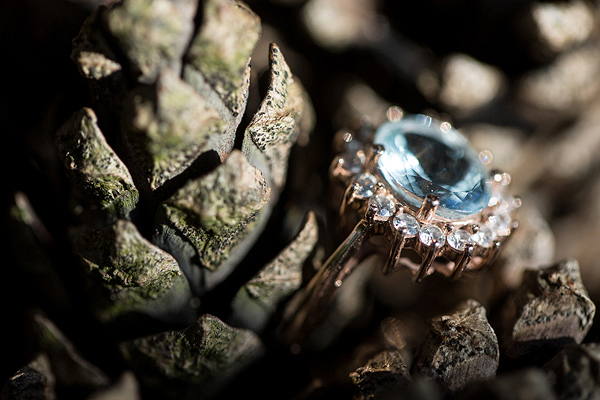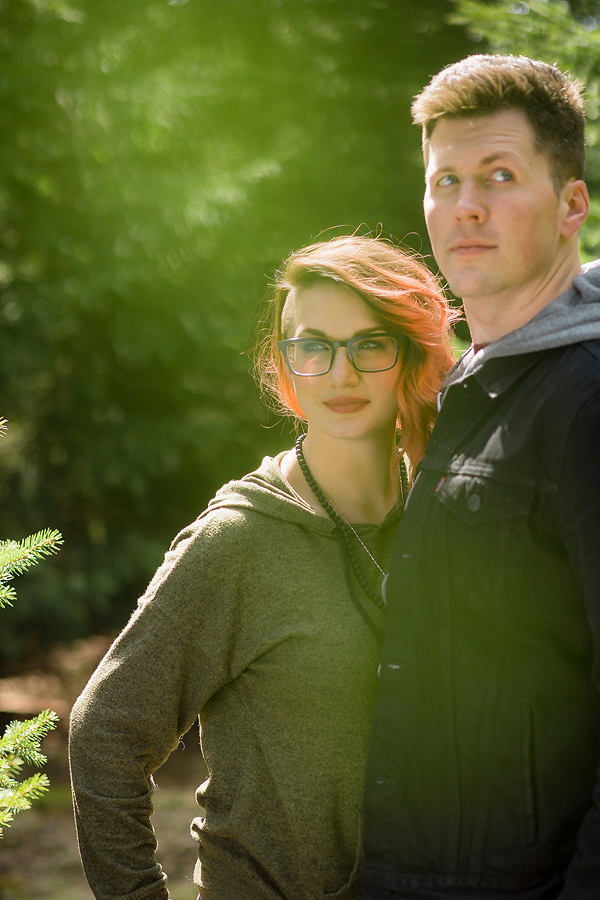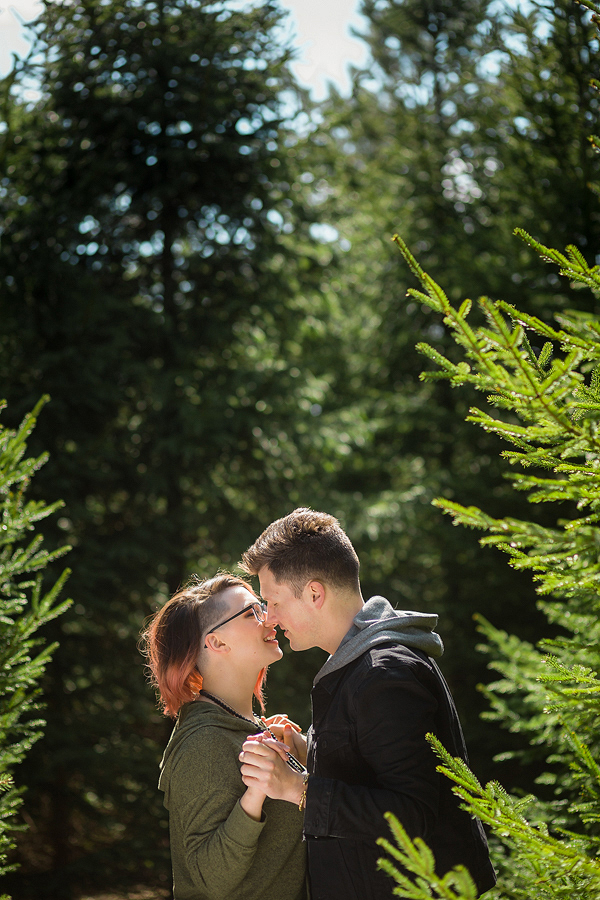 On our way out of the tree farm, we drove past a huge ring of tree stumps. They were all tossed in a giant circle, with a clearing in the middle, and an entrance that lead to the clearing. While on any other day I would have likely driven right by and considered it to be a hot mess, my photo mind took over and we put on the brakes to give it a closer look.
This spot was a great example of using selective cropping when shooting on location. As a whole, it looks pretty darn messy. But by narrowing down on a few select spots, we were able to come away with something pretty cool! In my opinion, this is almost a scene you could expect to see out in Colorado, as we mentioned before! Mission accomplished!
You guys are so epic…
Once we wrapped up at the tree farm, it was time to make our way to our second location — the Gary Indiana Aquatorium. I tend to shoot here fairly often, but with such a classy and elegant look, it's really hard to stay away from this gorgeous landmark.
The wind can be brutal by the lake, and this day was no exception! We ran down to one of the dunes for a few more quick ones before freezing our tushies off and wrapping up!
She'll probably shoot me for posting this, but I have to give a huge shout-out to my amazing, beautiful wife, Haley. Even on the coldest days, she's there by my side. Cone head and all.  😉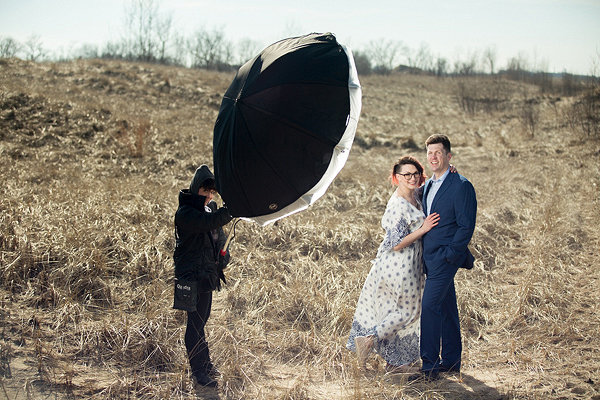 Stay tuned later this year for Jes and Eric's wedding in Colorado! Can't WAIT to get out there with you two! Love you guys!
Interested in booking YOUR engagement session? Head on over to our CONTACT page and drop us a line. We'd love to hear from you!