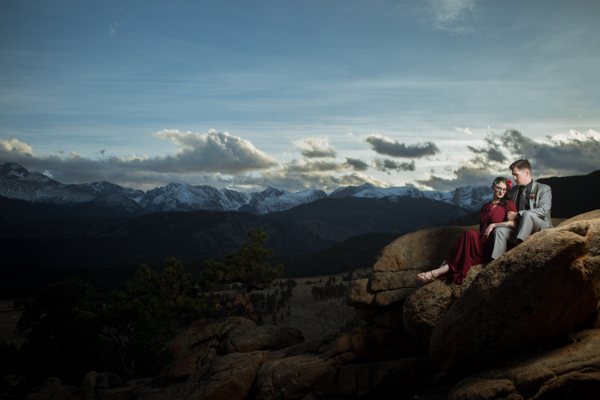 If you've ever been out to Rocky Mountain National Park, you know how vast and incredible the park is. As you can imagine, from a photographer's point of view, one could literally spend days, upon weeks, upon months, shooting in all the nooks and crannies, and then likely still not even cover all the available ground. So when Jes and Eric were as hyped as I was to go out exploring for a second day after their wedding, you can bet I was beyond thrilled for the opportunity.
(If you haven't seen Part 1 of their wedding, you can check that out, here!)
With Trail Ridge Road still closed for ice and snow, we decided we would simply make our way up as far as we could, and see what we could find. With the help of our hotel front desk attendant Jordan, turned tour guide, turned lighting assistant (yep, that happened!)…we came upon an awesome trail that made it's way up the ridge of a mountain. Perfect spot to start!
I have to give Jes and Eric three cheers for putting up with me. I envisioned them in the location below, which happened to be on quite an elevation from our trail. Even though they were only armed with flip flips and dress shoes, these troopers made it happen!! You guys ROCK.
Birch trees are my fav!!! Couldn't pass up a few in this little set.
Seriously…are they not the most adorable couple you've ever seen??
We knew we wanted to get some killer sunset shots from a good vantage point, so we decided to make our way back up to their wedding ceremony site — 3M Curve. I couldn't help but notice another beauty on the way, so we stopped off for a few moody shots in this sun kissed field of grasses.
And finally, we made it full circle back to our final location of the trip — back up Trail Ridge Road to 3M Curve, where they were married the day before. We couldn't have asked for a better evening. Wind was low, the sky was clear, and the clouds were perfect. Amazing way to wrap up the shoot!
I can't thank you two enough, Jes and Eric, for flying me out to Estes Park, Colorado for your destination wedding! I had an AMAZING time celebrating with you two and your families! Thank you for making my first trip to Rocky Mountain National Park such a memorable one!!
Considering a photographer for YOUR destination wedding? Drop me a line, I'd love to hear from you!
To view PART 1 of Jes and Eric's destination wedding in Rocky Mountain National Park, click here!