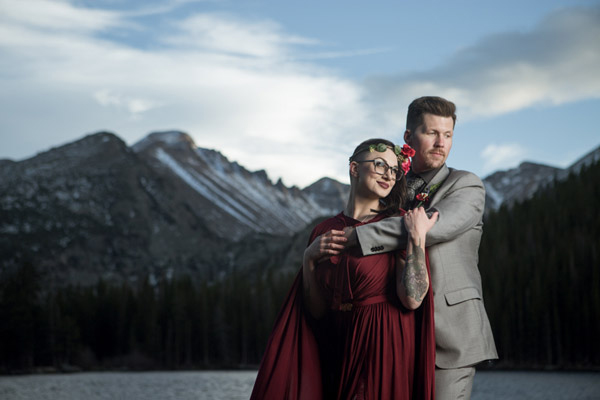 Even though I live in the Midwest, right outside of the busy city of Chicago, there's always been something about the west that seems to call my name. The mountains and the forests have always been my happy place. The very thought of walking through the woods with nothing but the sounds of nature singing its songs, puts my mind, body and soul at ease. If that's not enough, as a destination wedding photographer, you can imagine how much my heart flutters with the idea of shooting a wedding out west. When Jes and Eric honored me with the proposition of shooting their wedding in Estes Park and Rocky Mountain National Park, Colorado, my heart about exploded with excitement.
Filled with anticipation, it felt as though the day would never arrive. Low and behold, we finally found ourselves in the heart of the west, settled in the quiet city of Estes Park, Colorado. Once we arrived, we got started right away with a little bit of pre-wedding scouting! With so many options to choose from in Rocky Mountain National Park, we wanted to make sure that we were making the best use of our time. Plus, who doesn't love a little extra time exploring anyways, right?
When we first entered Rocky Mountain National Park, we decided to head up and check out Jes and Eric's ceremony location. Their plan was to be married on 3M Curve along Trail Ridge Road. 3M Curve was a perfect option, as the lookout point was very easily accessible for their guests, and offered a GORGEOUS view of Rocky Mountain National Park for their wedding ceremony. The photo below and to the right was from 3M Curve. Thanks for the studly test shot, Eric!  😉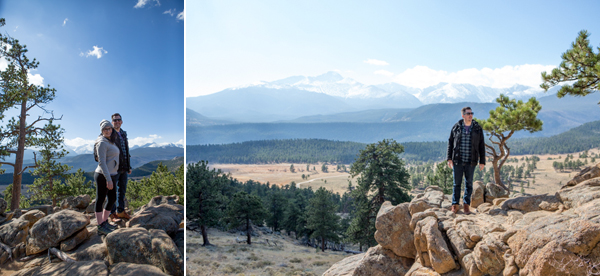 We continued our journey up Trail Ridge Road to a few of the higher lookout points. These, too, offered some absolutely spectacular panoramic views of the park. One thing that the photos don't do justice about being up there is the incredible power of the wind. At times, you were literally forced to lean your entire body sideways and dig your feat into the earth to avoid being knocked clear on your butt. Truly a humbling experience to feel such a power.
**Spoiler Alert** — Unfortunately, we weren't able to make it up to some of these locations on the wedding day, as the upper portion of Trail Ridge Road wound up being closed for the season due to ice and snow. We literally missed it by one day! Bummer! But surely, all was not lost. But we continue onward!
After soaking in the views, we decided to head the opposite direction, back down Trail Ridge Road, and over to Dream Lake. From our research, this was said to be a very modest hike offering gorgeous views, so we figured this would be a great option in their wedding attire. And as expected, Dream Lake did not disappoint.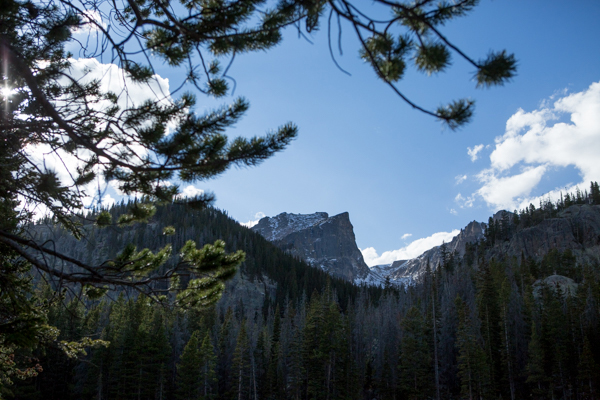 We ran into all sorts of fun wildlife on our journey. I think this little guy wanted to come home with me.  😉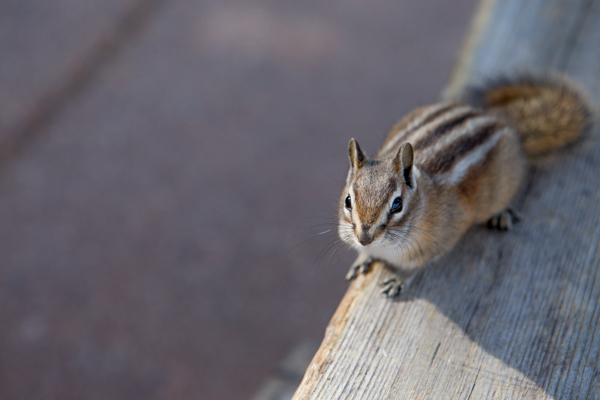 And here we have a rare sighting of a midwest wedding photographer in his natural habitat. We're not sure if he's spooked, or happy to see the camera. But he seemed friendly…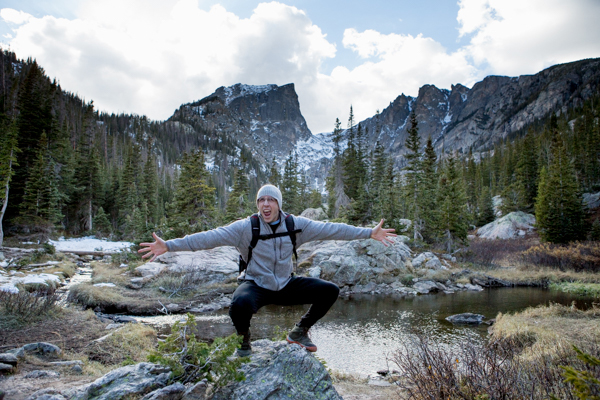 And we saw MOOSE! Another humbling experience. It's baffling how huge these creatures are. A full grown moose averages around 5-7 foot tall at their shoulder. And just imagine on their hind legs! Knowing how aggressive moose can be, especially when accompanied by their young, we definitely kept our distance. None the less, they seemed surprisingly comfortable around humans, as there were many other hikers much closer than we were.
Fast forward to the next morning, and it's finally go time for the big day!
To make the most of our time, Jes and Eric decided to do a first look. By seeing each other before the ceremony, this would give us much more time exploring Rocky Mountain National Park, allowing us to come away with a lot more from the day (photographically).
Eager to see his bride, Eric started bright and early with his prep. What a dapper fellow he is…
Unbeknownst to Eric, there was a gift waiting for him the morning of the wedding! Jes decided to surprise him with a super classy and fun boudoir album that she had created a month or two before the wedding. Such an awesome gift!

Gotta love Eric's ring, too. One of the most unique men's wedding bands I've seen. It has a band of deer antler in the center!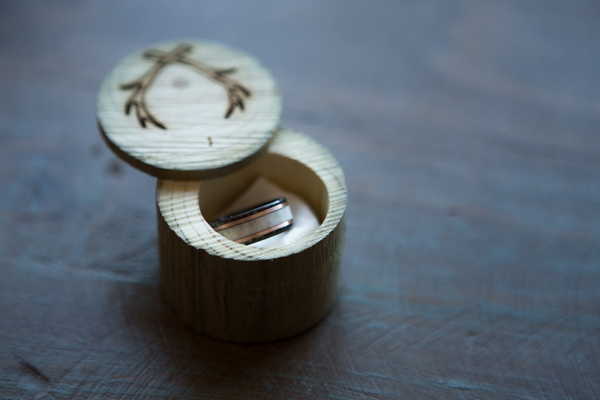 Time to meet up with our beautiful bride!
I seriously can't get enough of this red wedding dress. Such an amazingly unique look for their destination wedding in the mountains. And if the dress itself wasn't enough, it was complete with a "red riding hood" cloak! Eeek!! <3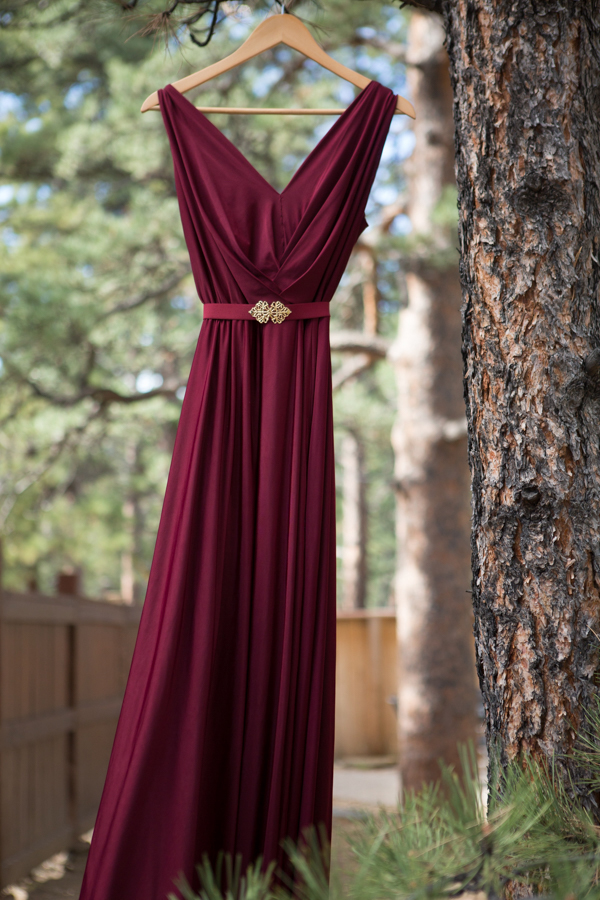 Anyone who knows Jes, knows of her affinity for crystals. Her look wouldn't be complete without a beautiful custom wrapped pendant, perfectly matched with her STUNNING engagement ring.
And Jes, looking stunning, as always.  🙂
After a bit of scouting the day before, I suggested a spot for their first look that was just outside the Rocky Mountain National Park entrance. This allowed for a convenient meeting point, and offered another spectacular view in the distance. I loved the idea of Jes approaching Eric through the golden field, too!
I flippin' love these two…you guys are awesome.  🙂
As we started our journey through the park, we found a spot near one of the rest stops! Rocky Mountain National Park is such an incredible place for a wedding. There are opportunities everywhere you look.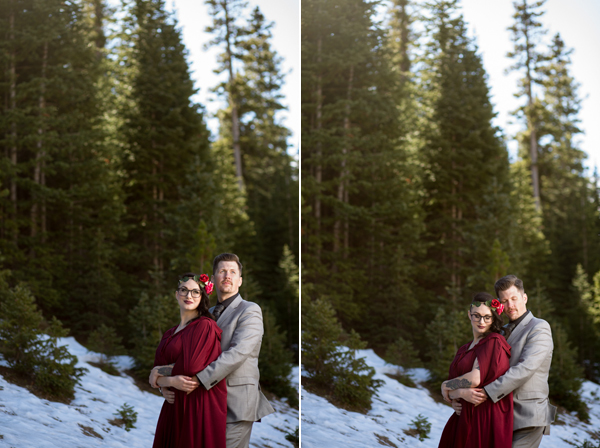 On our way back up Trail Ridge Road towards their ceremony site, we stopped off at another lookout point.
And it's CEREMONY TIME!!
Just as the day before, the wind up here was INSANE! But just as you'd expect, Jes and Eric embraced it with open arms. Gotta love it.
After tying the knot, it was time to head out for more exploring around the park! As we made our way down towards one of our destinations, I noticed a few spots along the side of the road that caught my eye. We slammed on the breaks, parked on the side of the road, and hopped out to snag a few! Turned out to be one of my favorite spots of the trip. Just goes to show you to always keep your eyes peeled, even when you're least expecting it.  🙂
A bit further down the road, and we made it to Dream Lake. Dream Lake has a very mellow trail surrounding the entire lake, all of which offers beautiful views of the park. Perfect hike in their wedding attire!
Huge shout-out to Lori for your help assisting with lights that day!! Couldn't have done it without you!
As the sun began to set, it was time to call it a night and make our way to their reception dinner at the Stanley Hotel of Estes Park. With only a handful of close family members attending the wedding, they hosted a very intimate dinner in a private back room. Wonderful way to wind down the evening and toast to the newlyweds!
An of course, we couldn't pass up the opportunity to shoot a few photos in such a historic venue!
With so much ground to cover in Rocky Mountain National Park, we decided that we couldn't leave without doing a second day of shooting out in the park! The following day, Jes and Eric got dressed back their wedding attire and we made our way out for another day of adventures!
Check out DAY 2 of their wedding, here!!