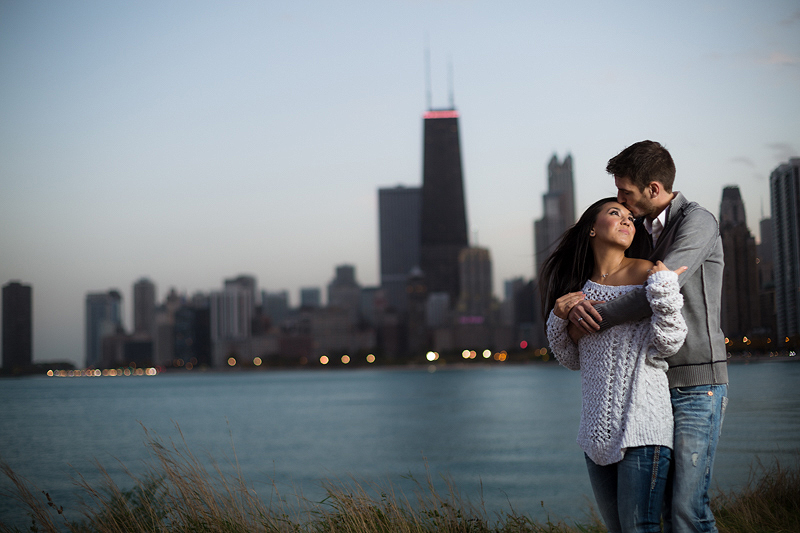 Chicago is one of my favorite cities – hands down. Maybe I'm biased because I live here. Or, maybe its just because Chicago really is that great of a city. But to me, its like someone hand-picked the absolute best qualities of the top cities around the world and wrapped them all into one…then called it Chicago. I mean, what's not to love — delectable food, beautiful architecture, wonderful people and culture, nightlife, theater, live music, festivals, and of course the beautiful Lake Michigan shoreline…to name a few.
After discussing Jackie and Joe's engagement session, it seemed as though they were after my own heart when it comes to Chicago. Jackie and Joe spend quite a bit of time downtown. They knew right from the start that this was exactly where they wanted to celebrate their engagement, taking advantage of some of the beautiful spaces that downtown Chicago and the Chicago Lakeshore have to offer.
For our first location, we decided to meet Joe right down the street from his daily grind (his office building), which is located right in the heart of downtown Chicago on Michigan Avenue. The courtyard in front of the Wrigley Building boasts a gorgeous view of the early evening sun setting over the Chicago river.  If timed just right, you can catch the sun just barely peaking out around the Trump Tower, which makes for a beautiful, romantic setting. Shooting up into the buildings or down into the river gives you two great options for showing off two of Chicago's best features. Pair that with a stunning couple like Jackie and Joe…and you're golden.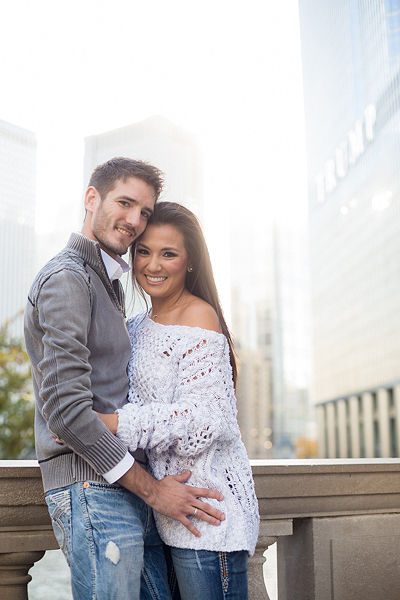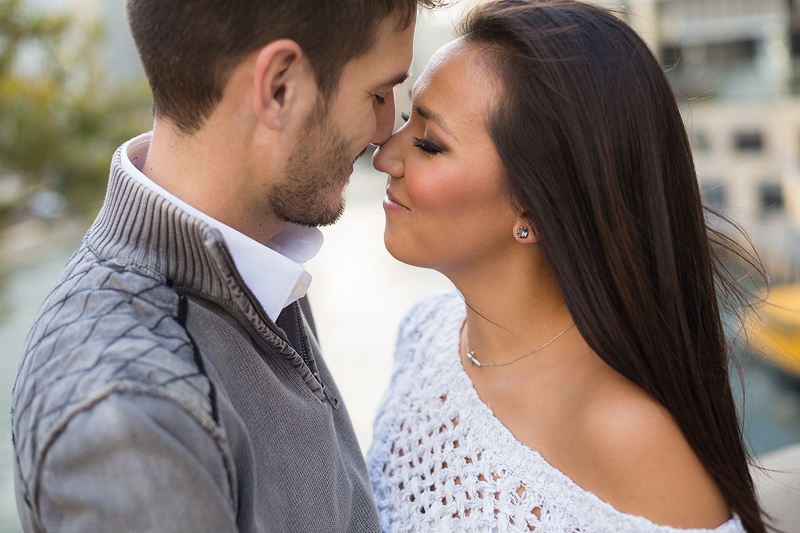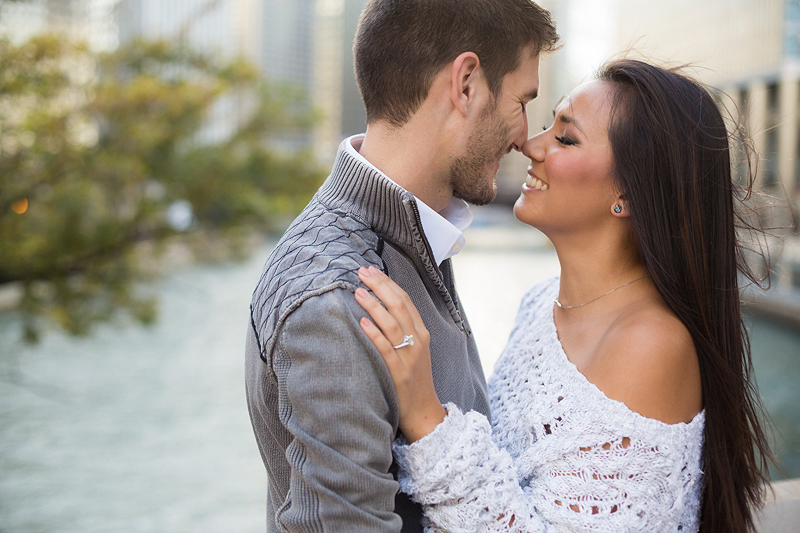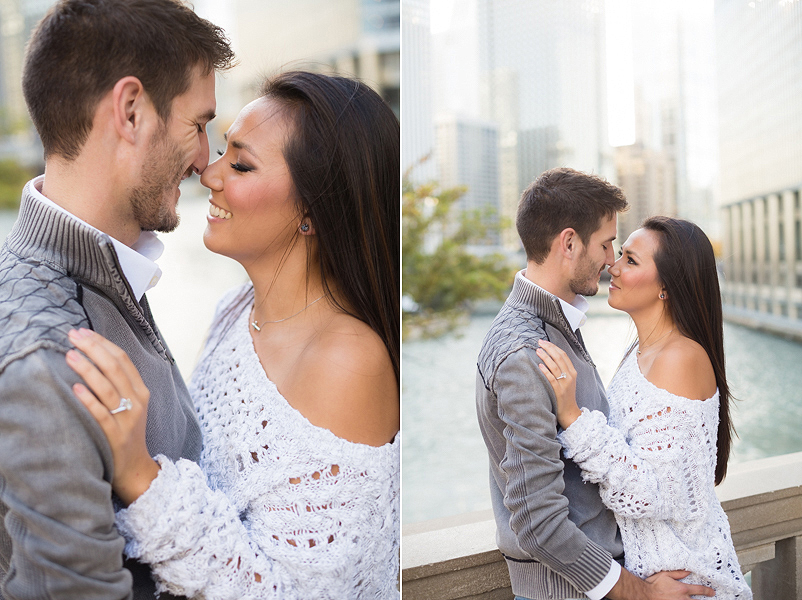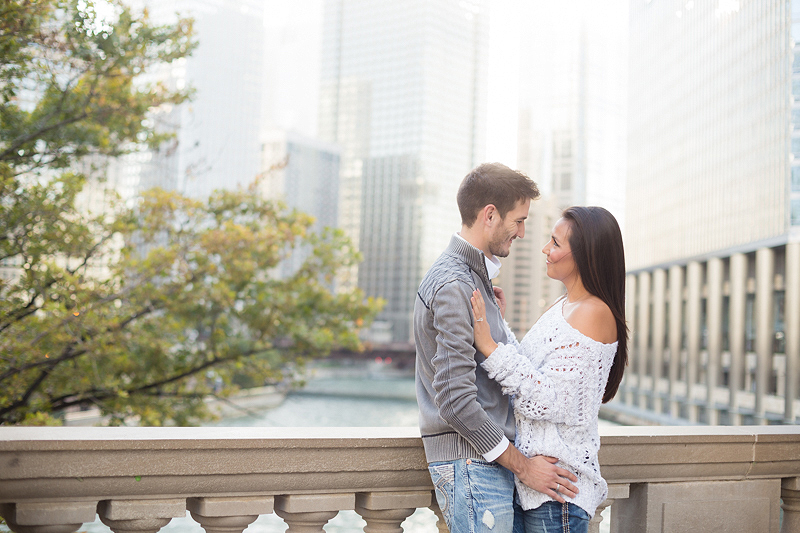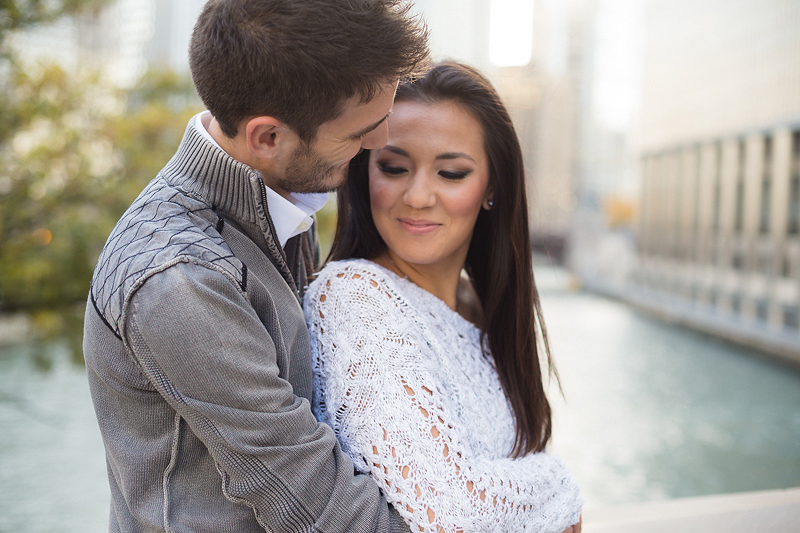 The connection between Jackie and Joe is beautiful…such a pleasure to photograph these two.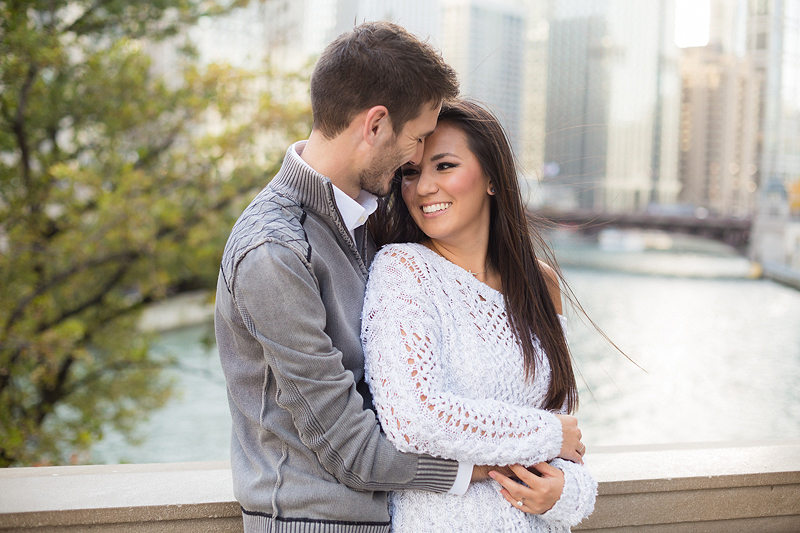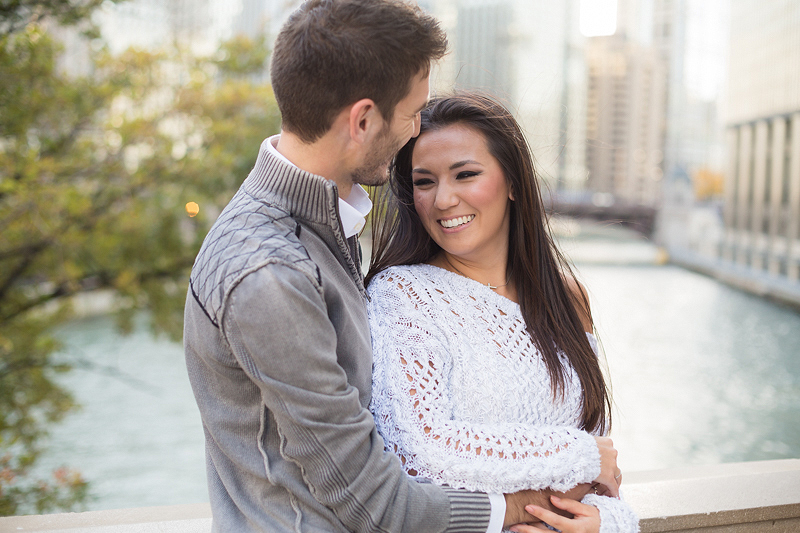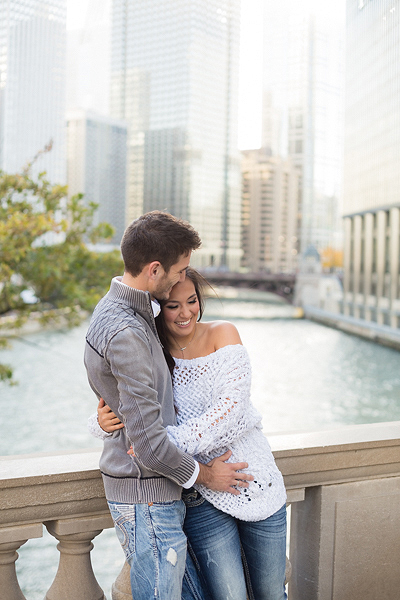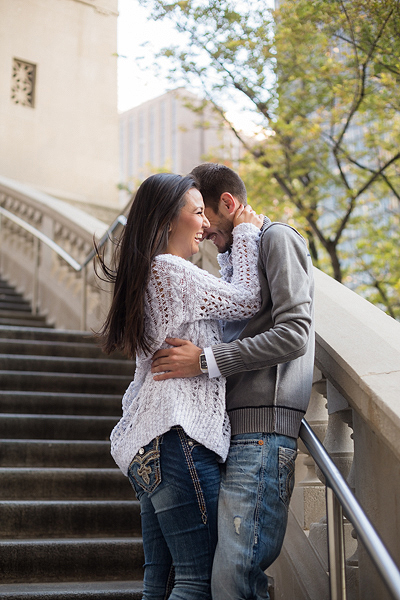 Directly south of the Wrigley building is the bridge on Michigan Avenue — yet another iconic style setting for downtown Chicago.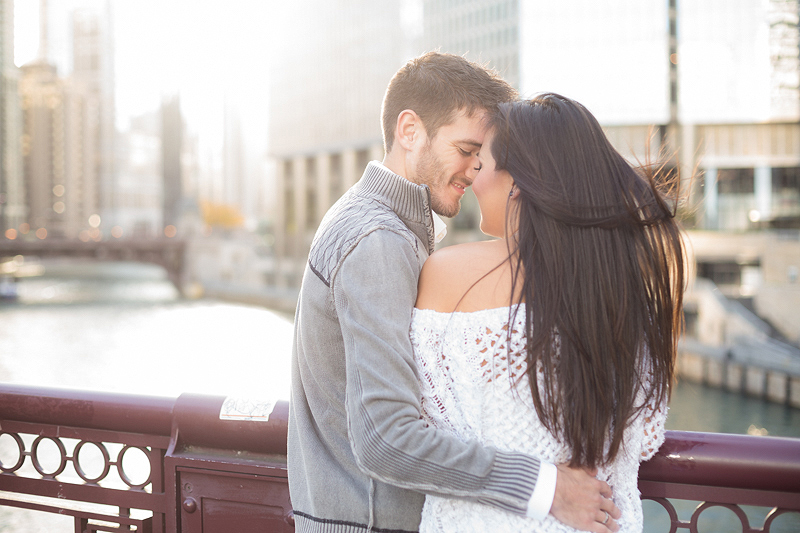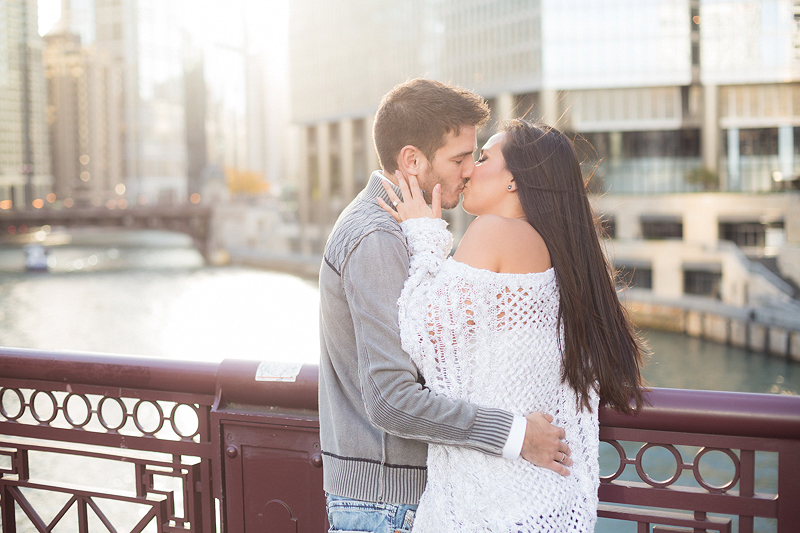 Its hard to imagine shooting an engagement session downtown and not grabbing at least a few quick shots in front of the Chicago Theater on State Street.
After a few quick ones in front of the sign, I decided we'd try to get something a little more intimate. To me, theater is all about getting dressed up and getting out for a nice date night with your better half…maybe a little bit of romance thrown into that mix as well. In a world where time seems to vanish in a heartbeat, treat every moment together as an opportunity to let time stand still, while the rest of the world around you continues to fly by around you.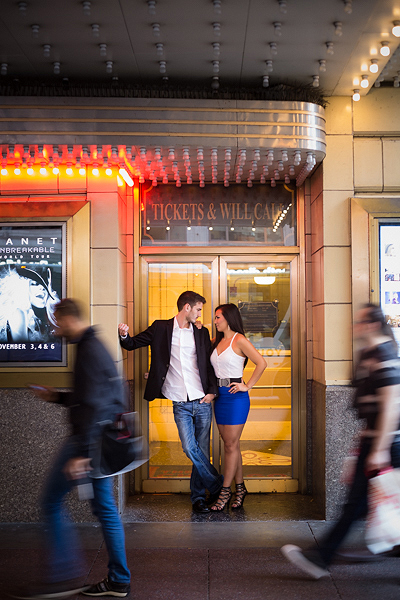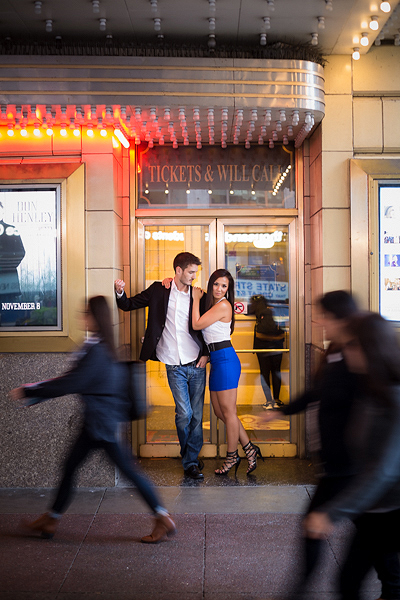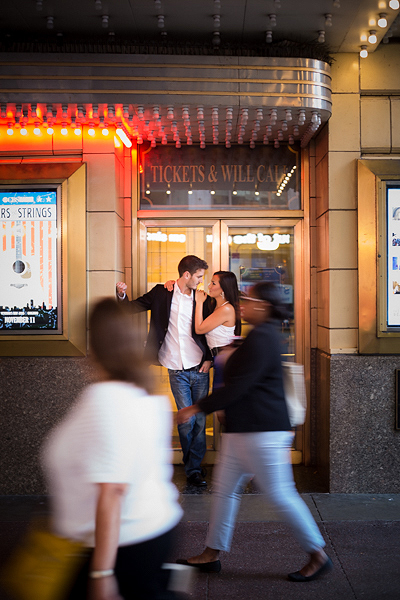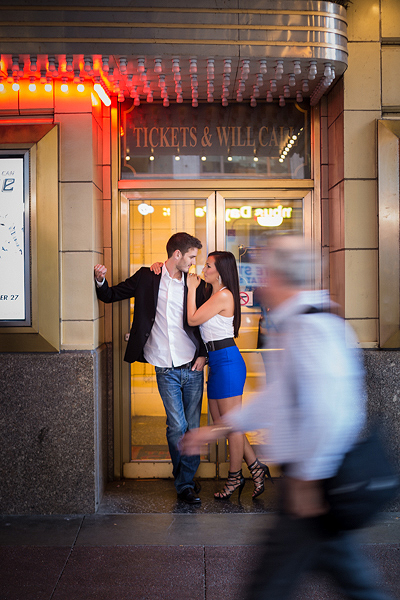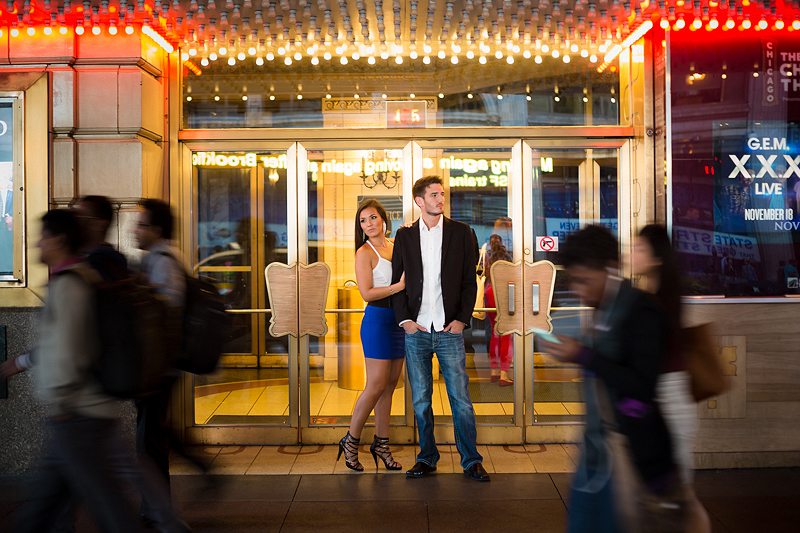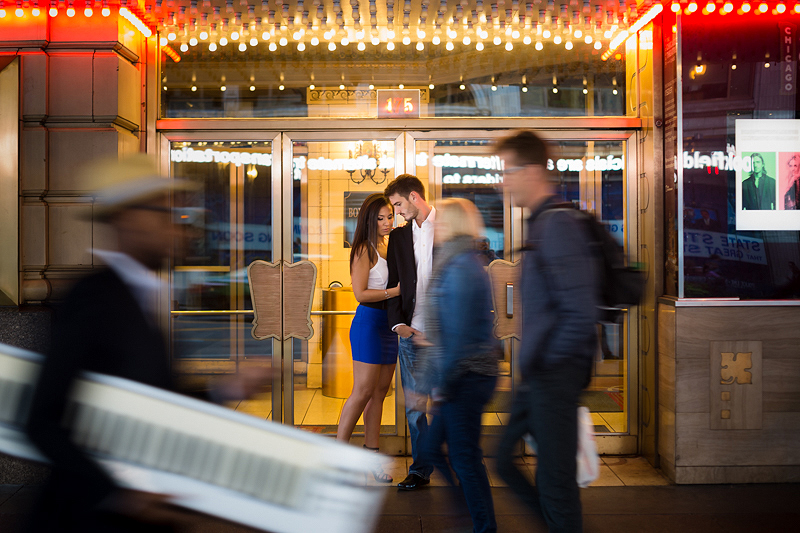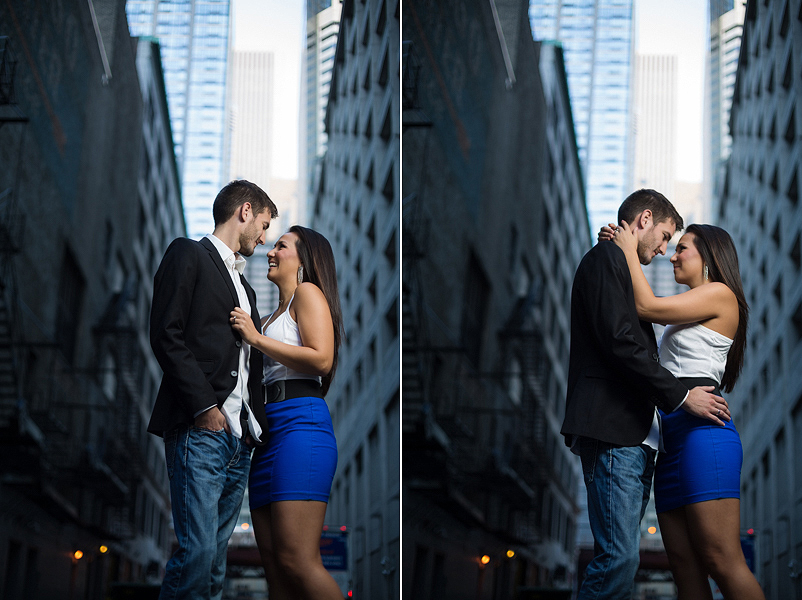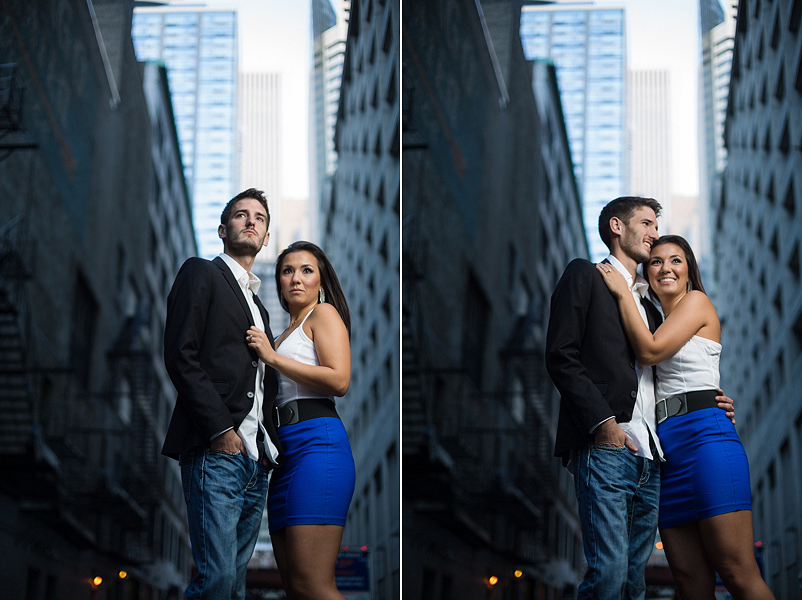 For our final stop of the night, we knew we wanted a great skyline view of the city. For this, we made our way to North Avenue Beach. Here, we encountered a prime example of why they call Chicago the "windy city!" This evening was likely the most wind I've even encountered on a shoot. Luckily, my incredible (and STRONG) wife, Haley, was along with us for the session. Even with our softbox pointed directly into the wind and nearly turning inside-out, she was somehow still able to keep it spot on. Laying on the ground with my face in the sand, I felt like we were in a desert storm. Worth every grain of sand that I'm still cleaning out of my ears yet today. 🙂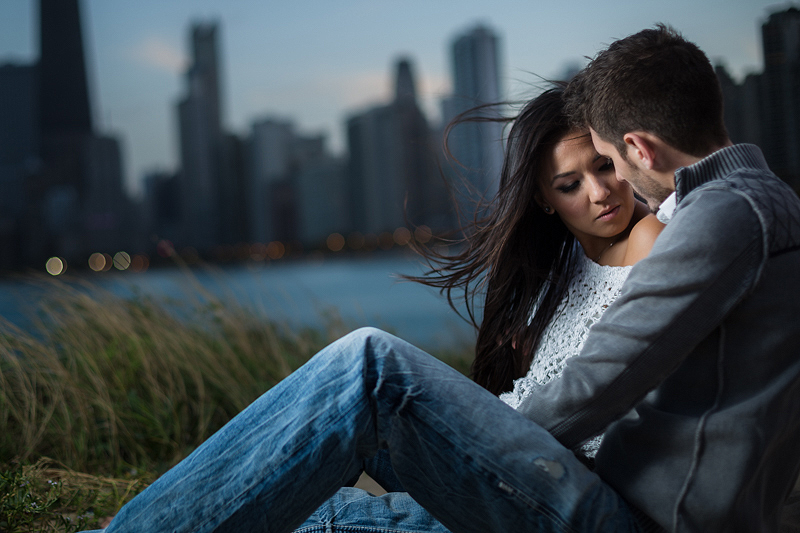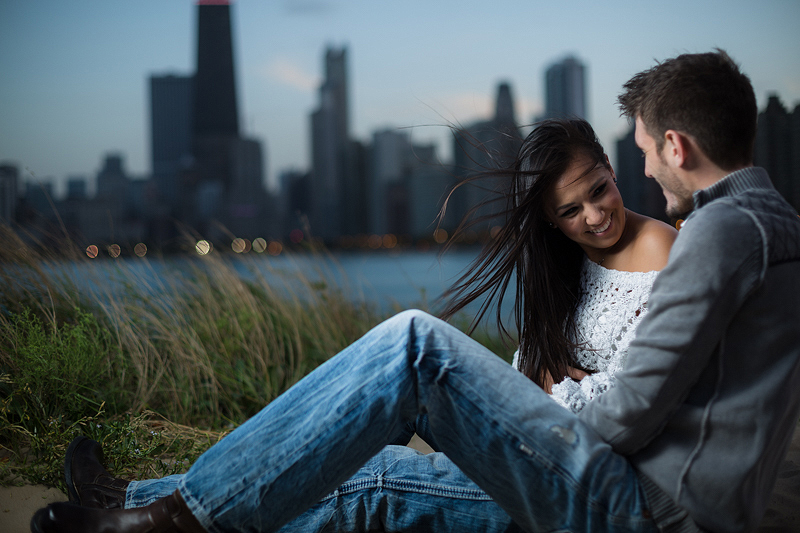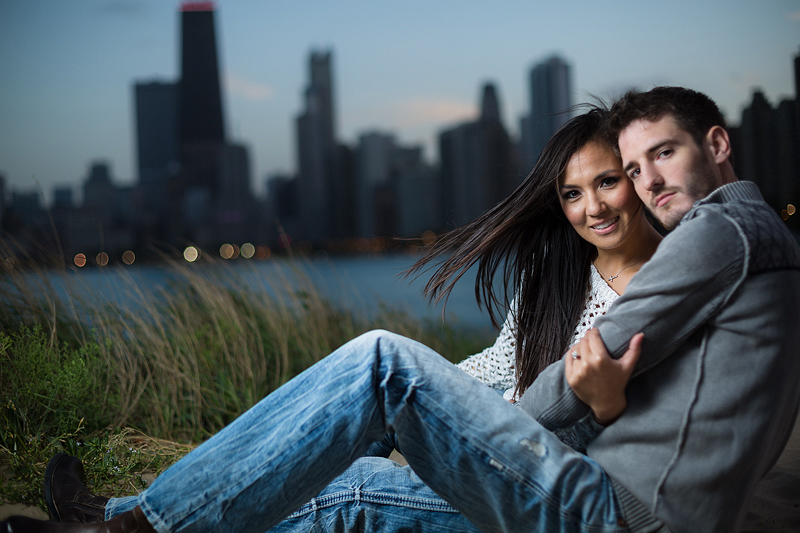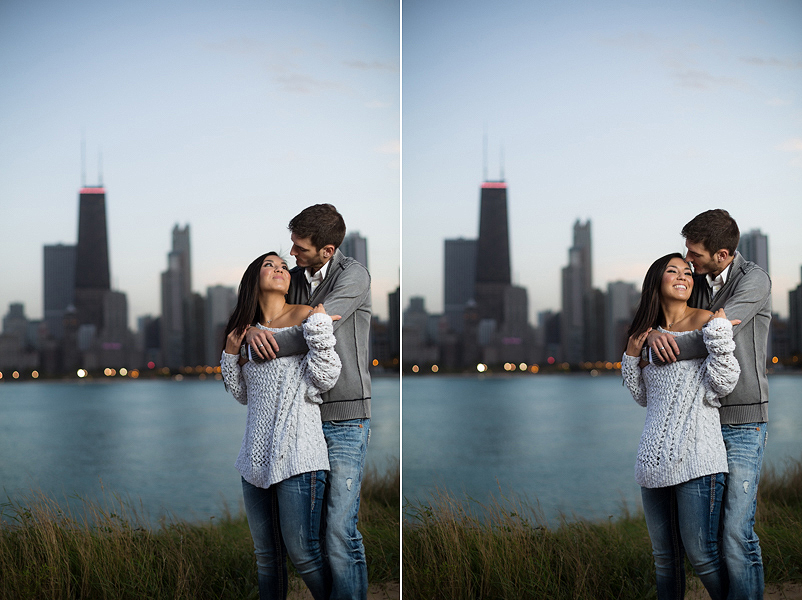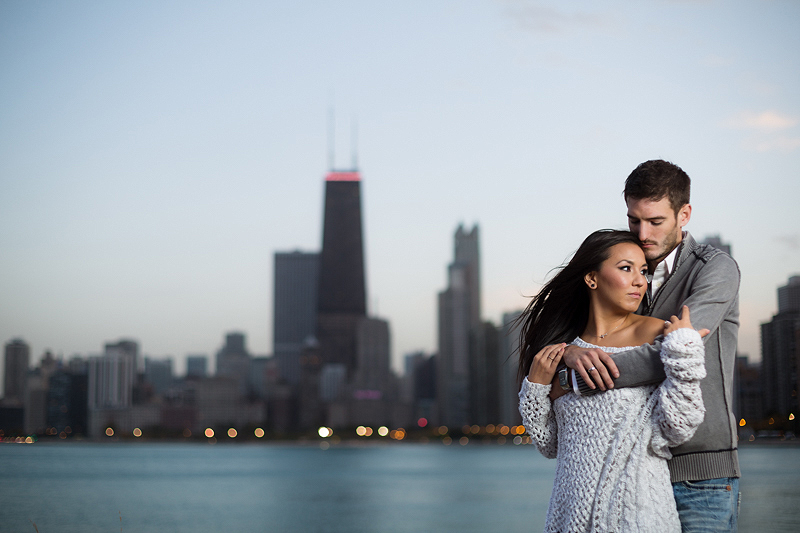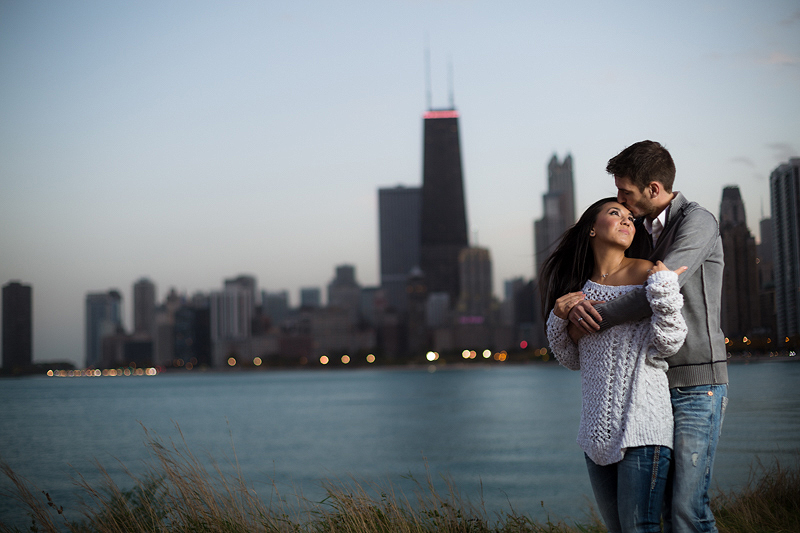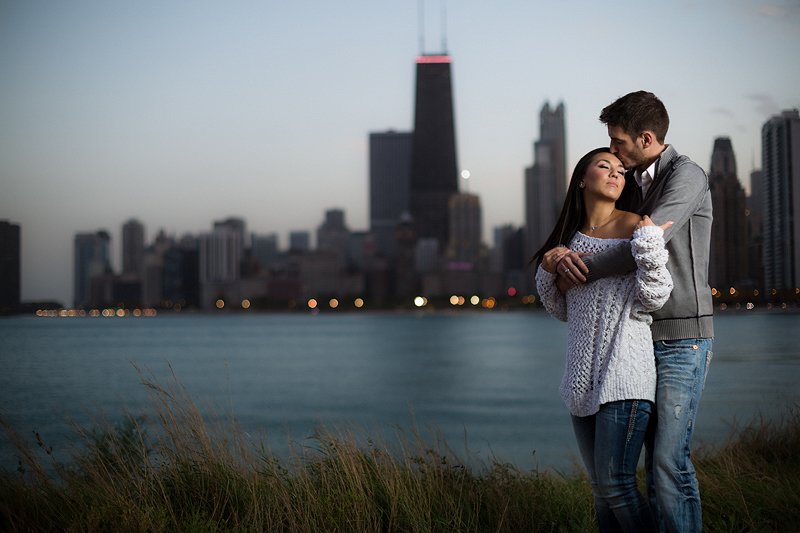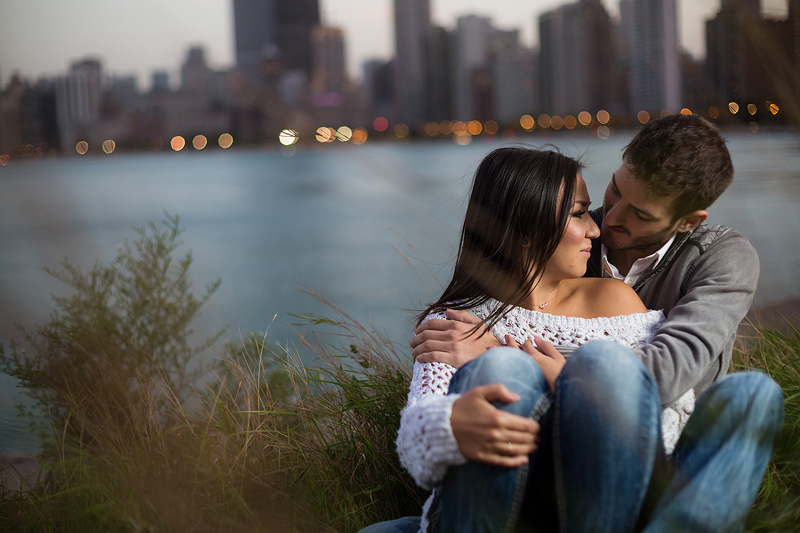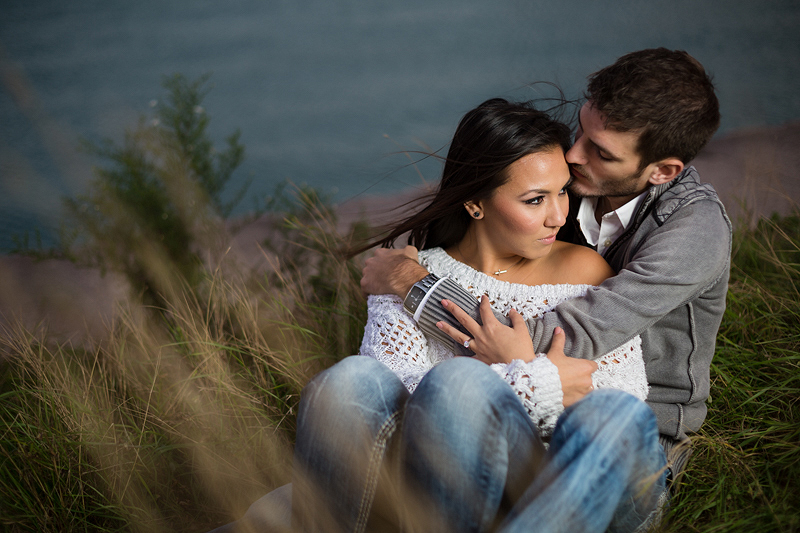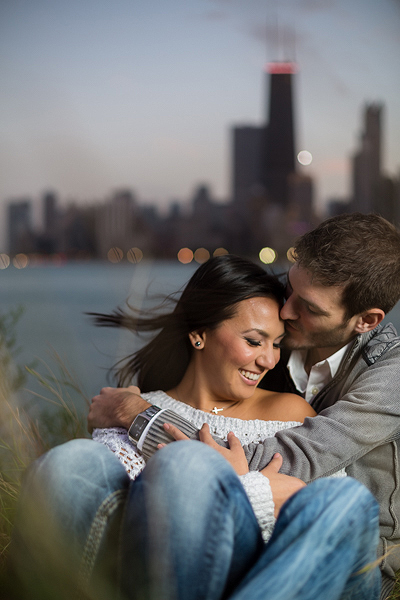 Another huge thanks to Jackie and Joe for such an awesome session! You two rocked it!
Ready to plan YOUR engagement session?  Visit our CONTACT page and shoot us a line.  We'd love to hear from you!
Care to hear about Jackie and Joe's experience straight from the source?  Click HERE to read their review on Wedding Wire!