On Day 10, we had the chance to explore one of the bomas of the Maasai.  After this experience, the last major item to check off of our list was to head out on a few safaris!
As it turns out, Sune's wife, Pia, is actually a travel agent.  With her help, we were able to plan out our last leg of the trip and include a few different safaris along the way.  Our plan was to drive up to Lake Manyara for our first safari, drive from Lake Manyara to a lodge on the top of Ngorongoro Crater that evening, head down into the crater the next morning for our second safari, drive back out to Karatu for the next evening and then head back to Arusha the next morning (shew…that was a long sentence!).  Turns out that Lake Manyara is actually right on the way to Ngorongoro Crater, so we figured we might as well hit them both!
When doing a safari in Tanzania, there are a few ways you can go about getting there — either with a group, or with a private transport.  Pia was able to hook us up with our own private transport for the next three days, which turned out to be an awesome way to go.  Although I've never taken a group trip for a safari, I can without a doubt say that taking a private transport is the way to go, hands down.  Not only do you have more customization of your trip (ie. to Lake Manyara, then Ngorongoro, etc. etc.), but you also have more of an opportunity to make your own requested stops along the way — something that might be a bit more difficult to do when traveling with a group.  This includes stops you might find along your journey to the safari locations, as well as on the safari itself.  Being that we had a lot of interest in things along the way, it was a wonderful opportunity to make a few fun stops along the way.
And so…the journey begins….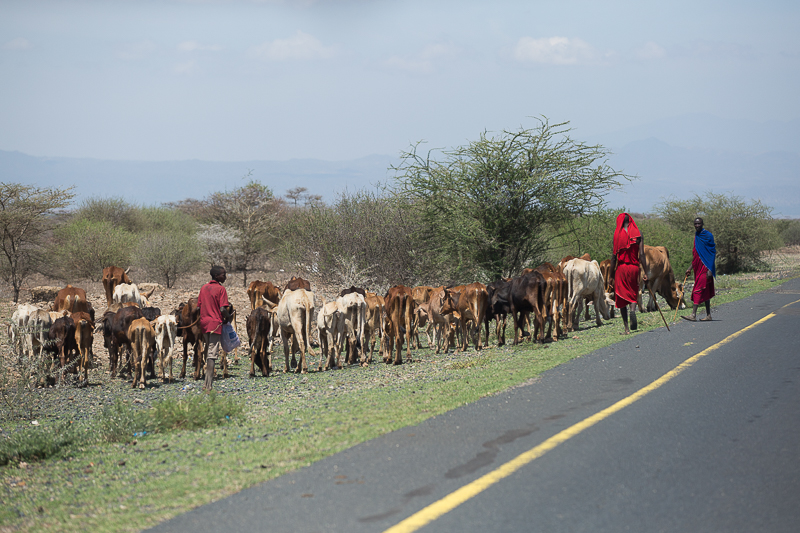 Our driver, Chediel (or Chad, as people call him), told us that we absolutely HAD to stop for some red bananas.  He pulled over at a stand on the way and picked up a bunch for us to snack on during our ride.  Steve loved them…and so did I.   🙂
As we arrived at Lake Manyara check-in, we were greeted by this little guy.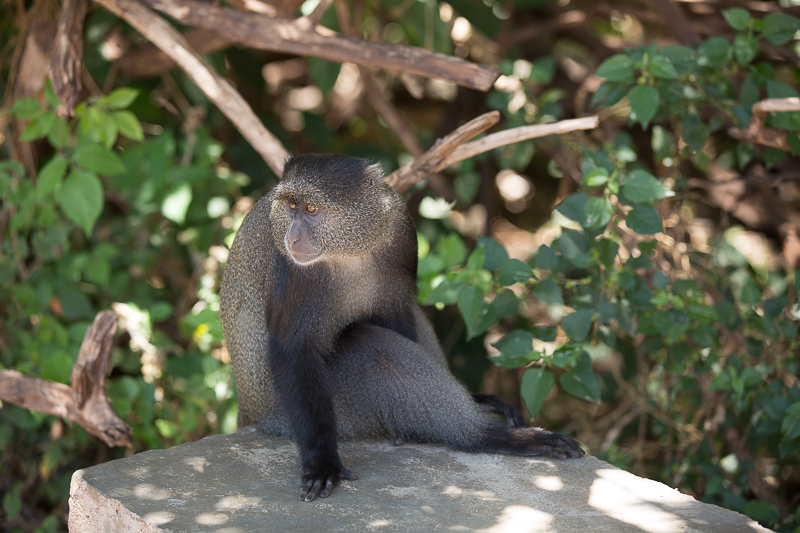 Steve tried to make friends, but he wasn't monkeyin' around…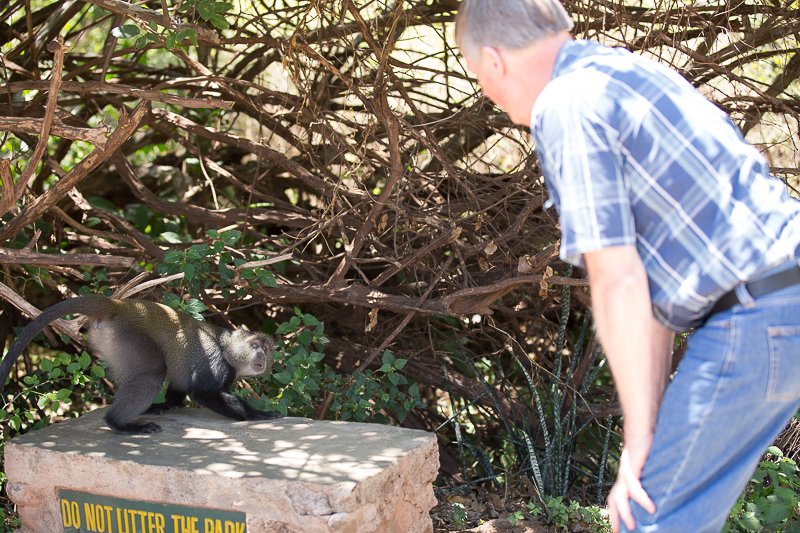 Steve and I striking a pose by our safari-mobile
We set out on our first path into Manyara!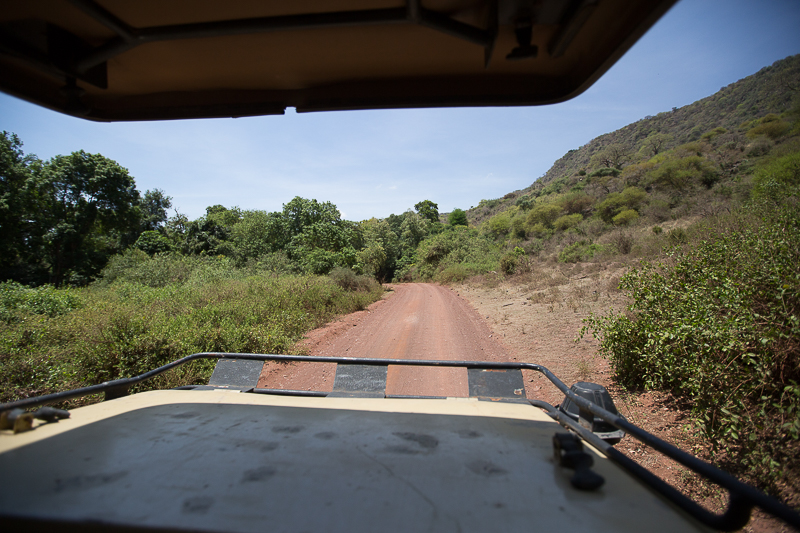 Weeeeee!!!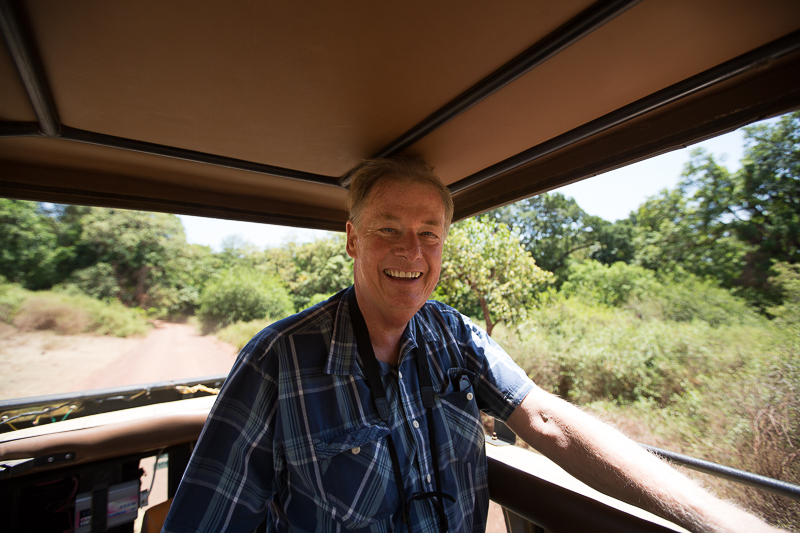 We had a contest to see who could spot the first animal.  The Mark III won.
Giant termite mounds could be spotted along the entire park.  Some of these stood as as tall as me!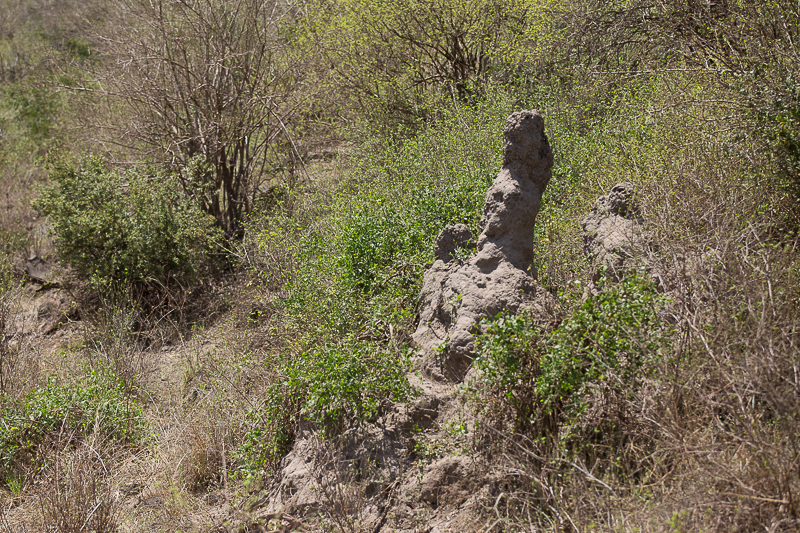 Baboons, baboons and more baboons!  These guys were literally EVERYWHERE throughout the park.  Hopefully you like these little guys, because you'll be seeing quite a few more of them.  🙂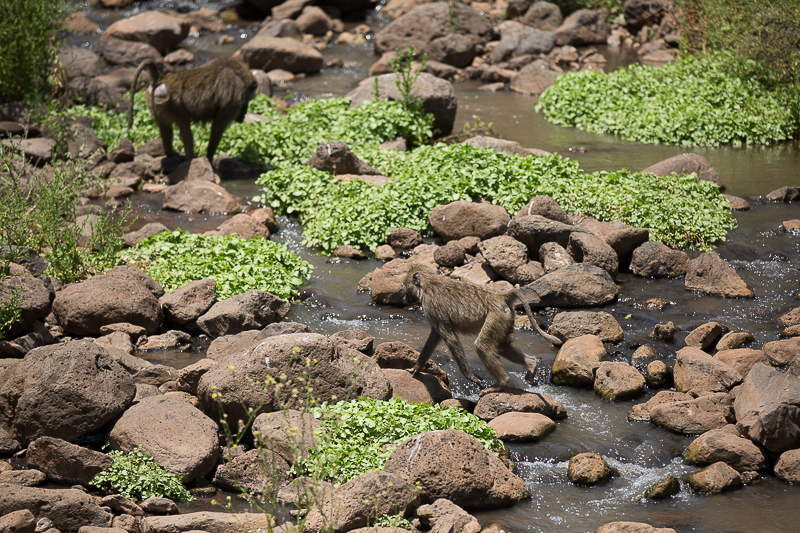 Go, baby, go!
Steve lookin' studly.
Even the paths in this park looked amazing.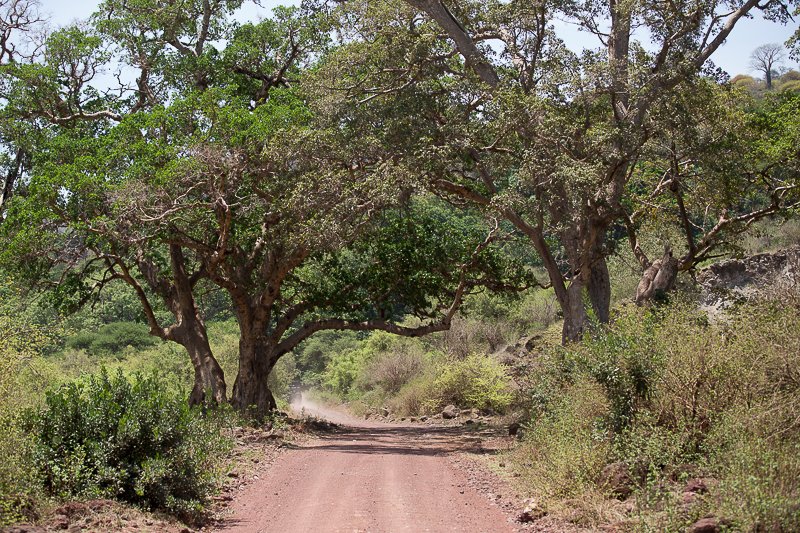 These acacia trees are incredibly unique, and are everything I imagine when I think of Africa.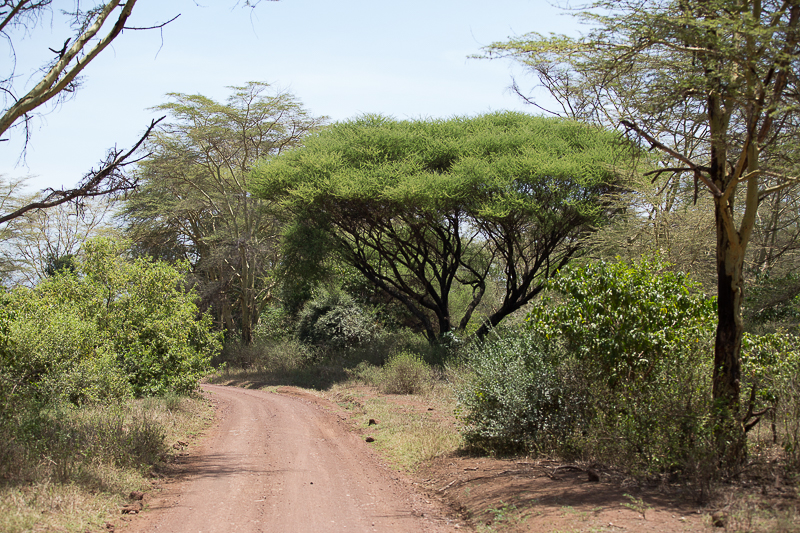 We spotted our first impala!  The first one I've seen that doesn't have a Chevy symbol on its nose.   🙂
This little guy is a Vervet Monkey.  Aside from his gorgeous coat color, as you can probably see, he as some pretty interesting colored….."goods."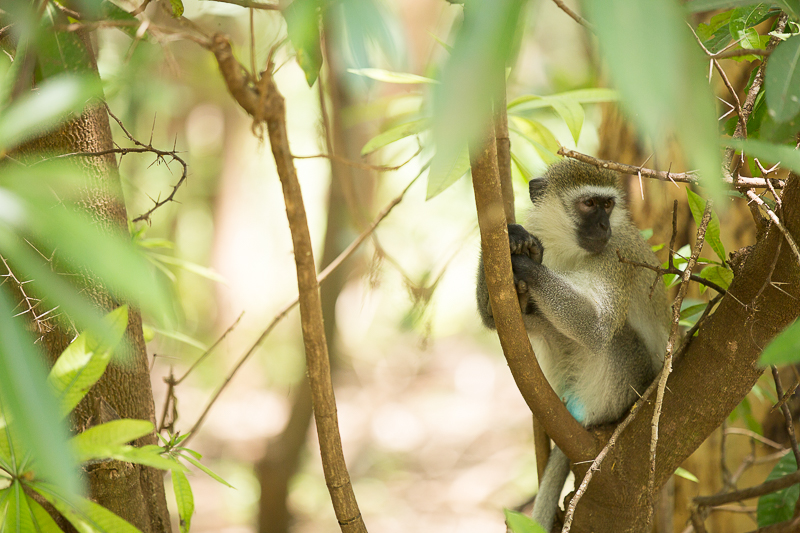 And a baby Vervet hangin out.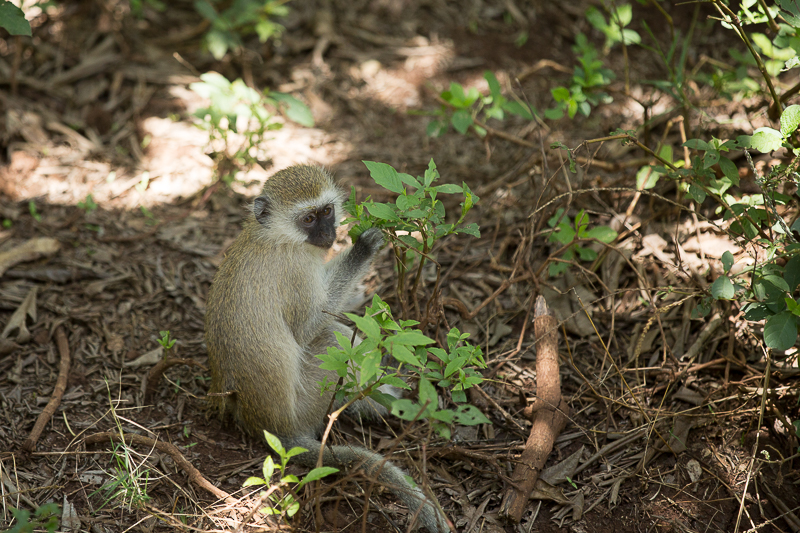 Laaaazy daaaay….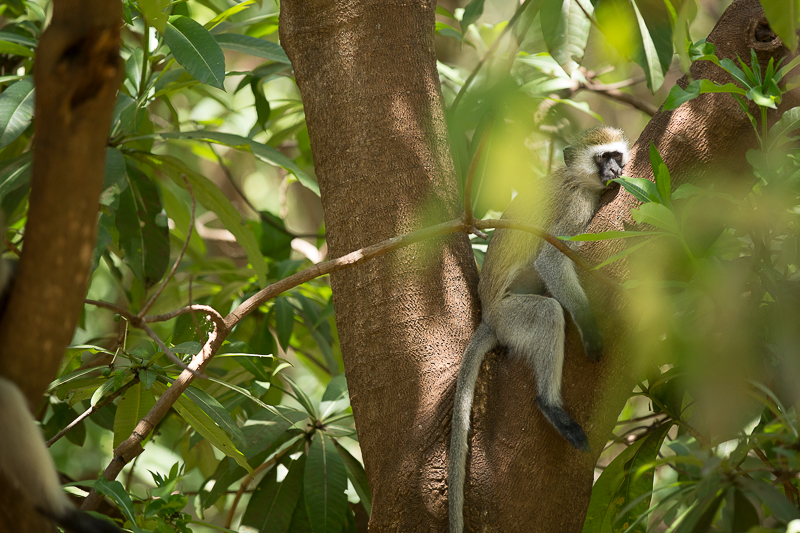 Showing the little guy the ropes…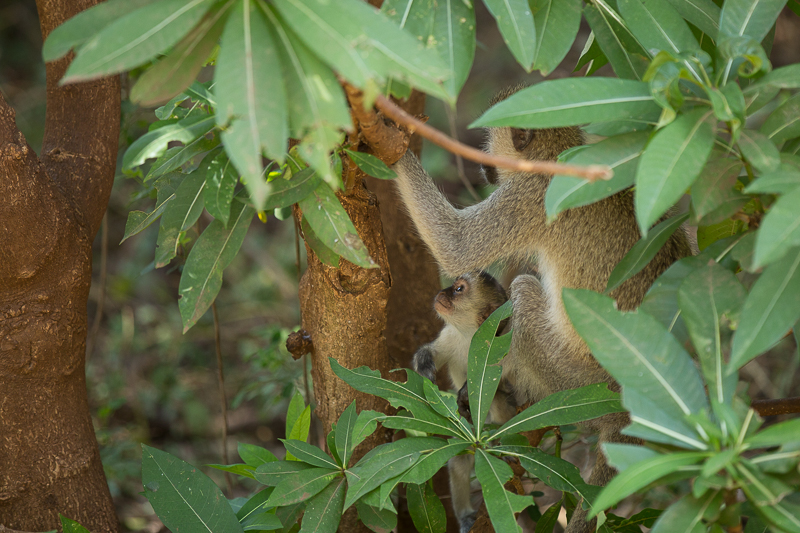 Ahoy!!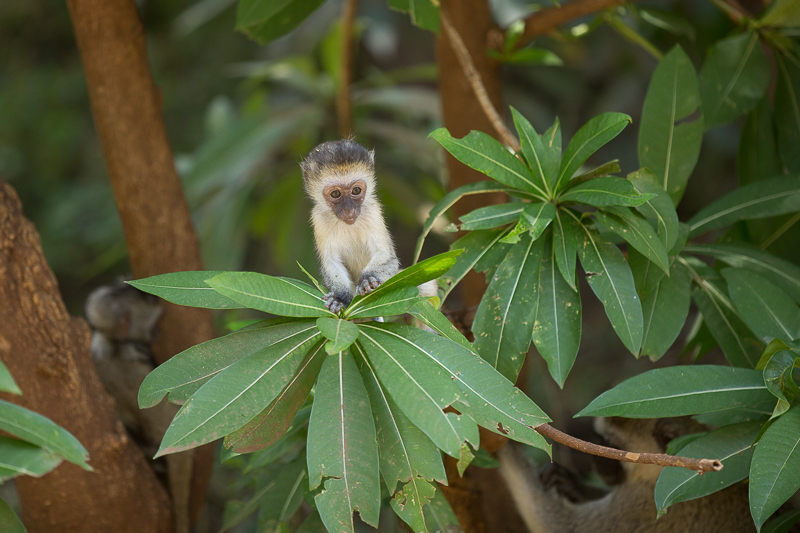 ….you can't see me you can't see me….
Baboons grooming the little guy (or girl).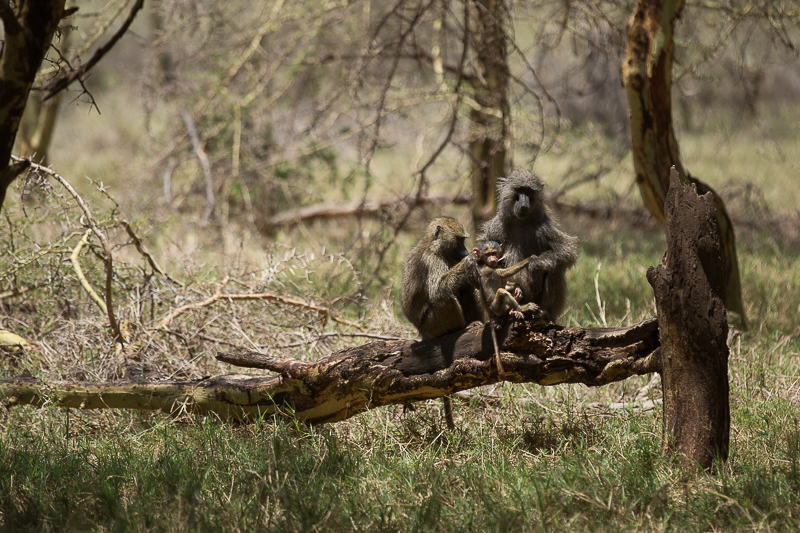 This big guy seeks refuge behind the safety of the thorny acacia tree.
As we make it out to the plains, we finally see our first zebra!  Its absolutely amazing to see these creatures in their natural habitats.  Even now, it still doesn't seem real to me.
These trucks/jeeps/whatevers, are awesome.  The tops on these things allow you to stand completely straight up while you drive.
Where we found zebra, we typically found wildebeest.  It was very common to see these two animals grazing and coexisting together.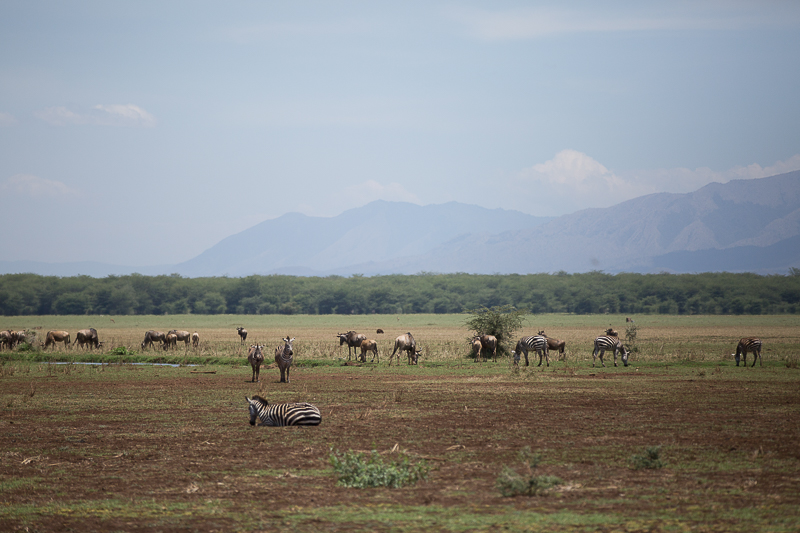 Steve looking sassy at the hippo pool viewing bridge.  Unfortunately, you couldn't really see them too well, as it was pretty far from the pool.
Welcome to the rest stop!
This was the view from where we stopped for lunch.  Someone did a nice job of selecting this location….stunning view.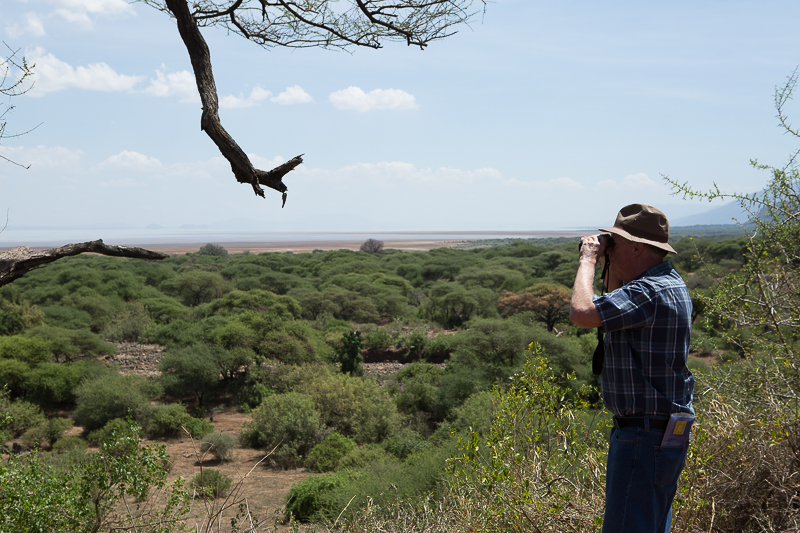 Thats right…I wore a safari hat….what….
I wish I could have this view from lunch EVERY day.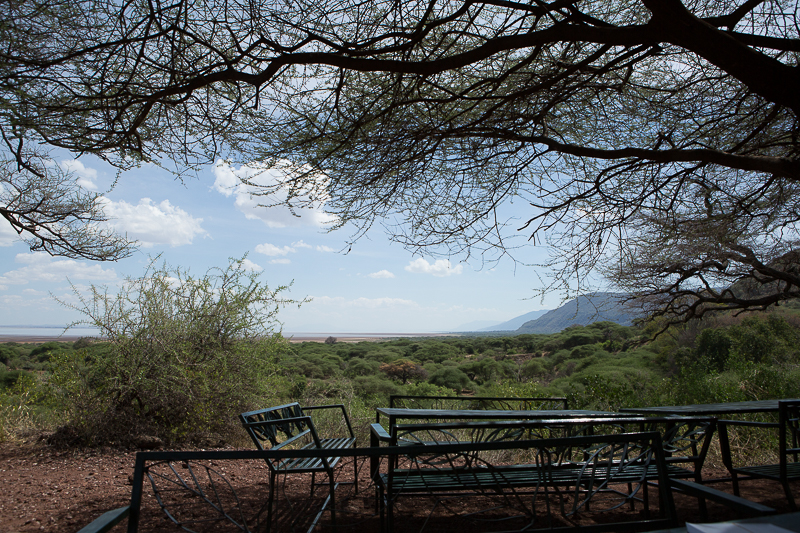 At home we have gulls begging for food.  Here at Lake Manyara, we had these beautiful blue and yellow birds.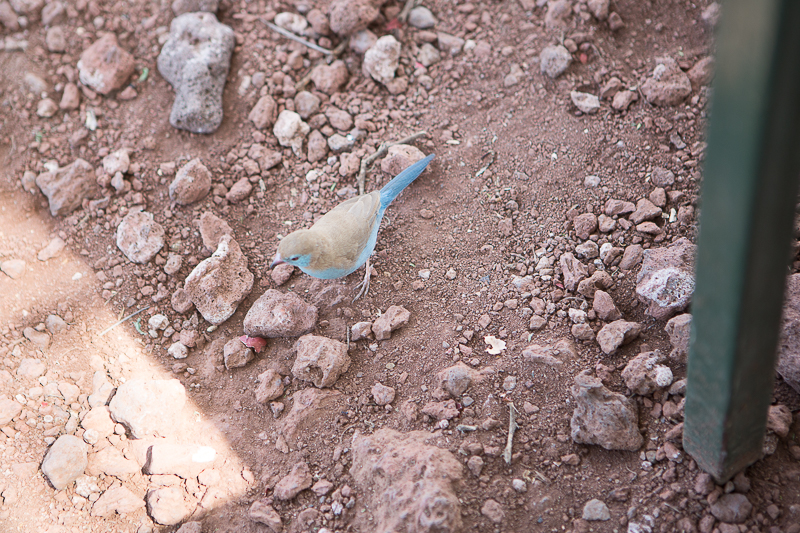 Its hard to see, but if you look closely near the water line, you can see thousands of flamingo, way out in the distance.  Those little pink spots in the middle of the frame…that's them.  🙂
This dude almost looked fake.  Such a great looking character…
As a little bonus, I wanted to upload a few videos to this blog as well.  They aren't the BEST quality (a little shaky at some points), but I thought it was so much more impactful to see the animals in motion.  Here's one of the baby baboon, seen above.  Make sure to switch it to HD by clicking the little "gear" symbol on the bottom right hand side of the player!
The haze causing a cool effect on the horizon…
Our first elephant spotting!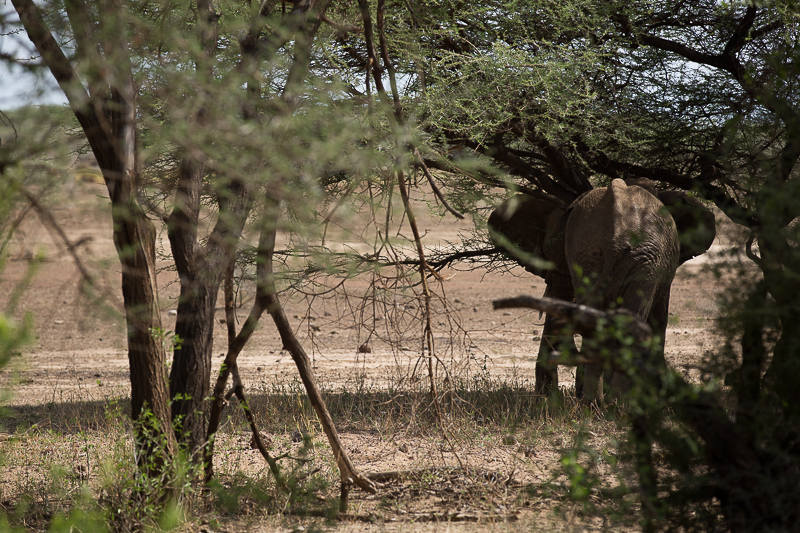 And a little ways down the path, we found another group, with a baby!  Yes!
Just look at that little smile on its face…ha!
One of the trucks actually had to move to let this guy pass.  What a gentleman.    🙂
Here's a little video clip of the elephants!  As you can see, he was more concerned about eating than actually making it up the hill.  Oh…children…  (As a reminder, for better viewing quality, make sure to switch it to HD by clicking the little "gear" symbol on the bottom right hand side of the player!)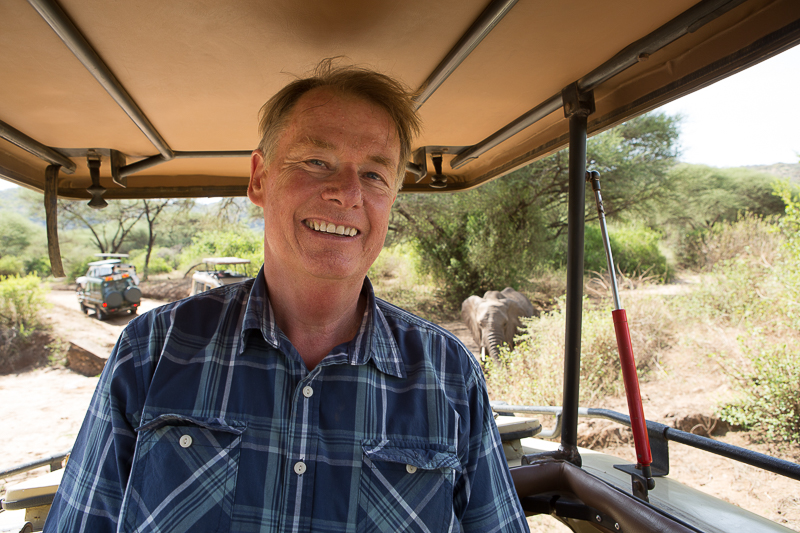 The acacia trees, that we mentioned before, happen to be one of the elephants favorite snacks!  They strip the branches bare, thorns and all!  Apparently they just chew up the thorns without a problem — crazy!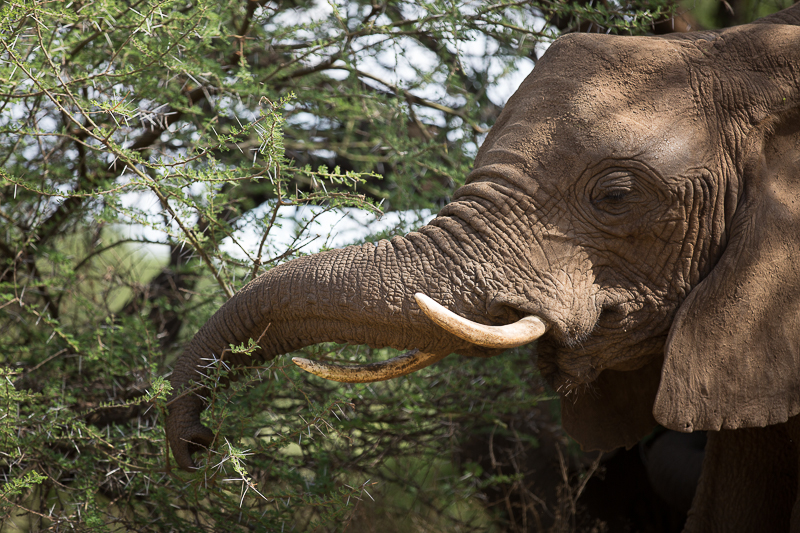 Such gentile giants.  It was a honor simply watching these beasts walk around.  Amazing amazing animals.
One more little clip.  Just awesome to see these guys in motion.
Piggie…I mean…baboon-back ride!
A male impala roaming through the bush.
We finally came up some giraffe!  Turns out that there quite a few strange names for groups of animals.  For giraffe, a group of them is actually called a "tower."  This tower of giraffe was incredible to watch.  Strangely enough, it wasn't because of what they did, but instead, what they DIDN'T do.  These giraffe stood almost COMPLETELY still — that is, all but one, who was eating from the trees.  After sitting and watching for nearly 10 minutes, these giraffe stood at attention for about 99% of the time, just as you see them in the photo.  This might as well be a video clip.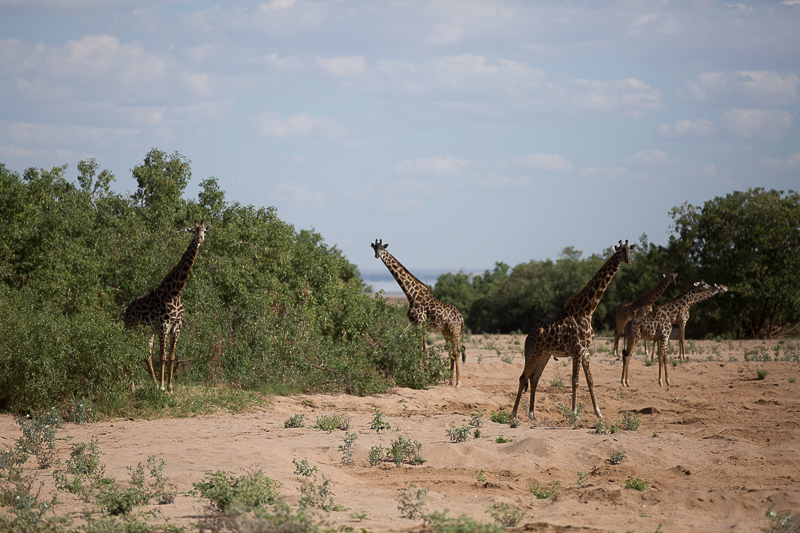 A shot of the hillside, covered in a baobab, acacia and other small trees and shrubs.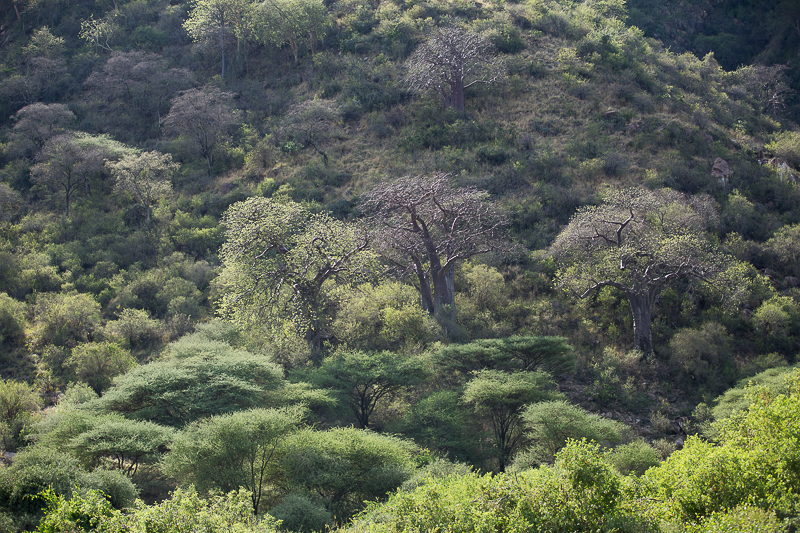 Another epic acacia, standing tall and proud along our path.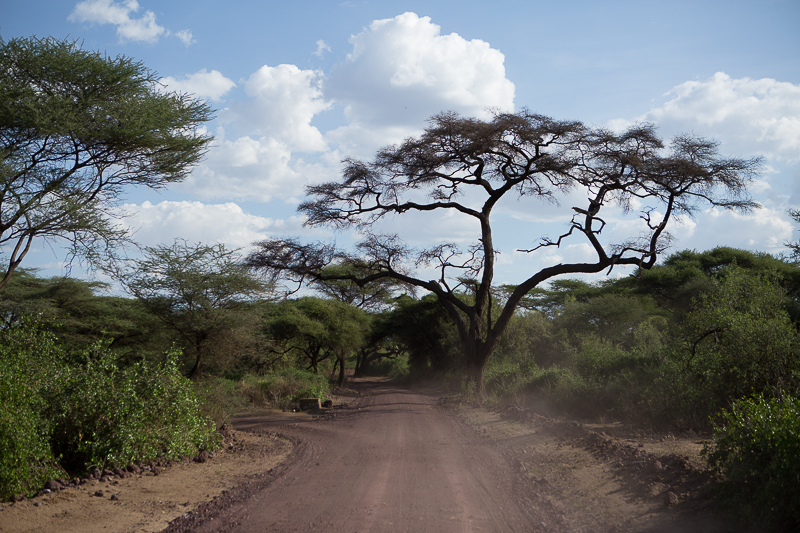 Working on his modeling career.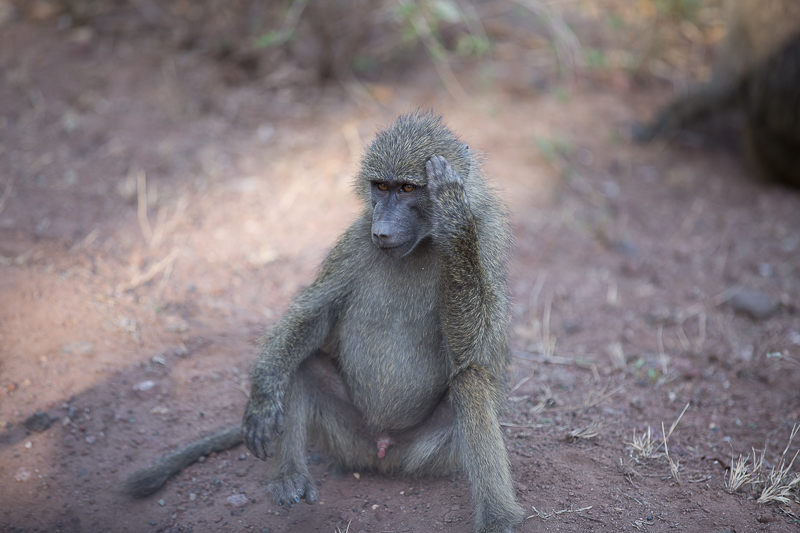 Before spotting the guy above, we actually stopped to watch a bunch of baboons jumping around in the trees.  The little ones were all knocking down fruits, while the baboons below collected and ate whatever fell.  While we watched, I think one of them actually even peed on me from above!  Its sure as heck wasn't raining…so I'm a little suspicious.    😉   Here's a little clip of one of the little rascals making his way down from the tree.   As another reminder, make sure to change it over to HD!
We came across a Kigelia tree, locally known as the sausage tree.  This tree bares a long, tubular fruit, remnant of a sausage or cucumber.  According to Wikipedia, "in African herbal medicine, the fruit is believed to be a cure for a wide range of ailments, from rheumatism, snakebites, evil spirits, syphilis, and even tornadoes."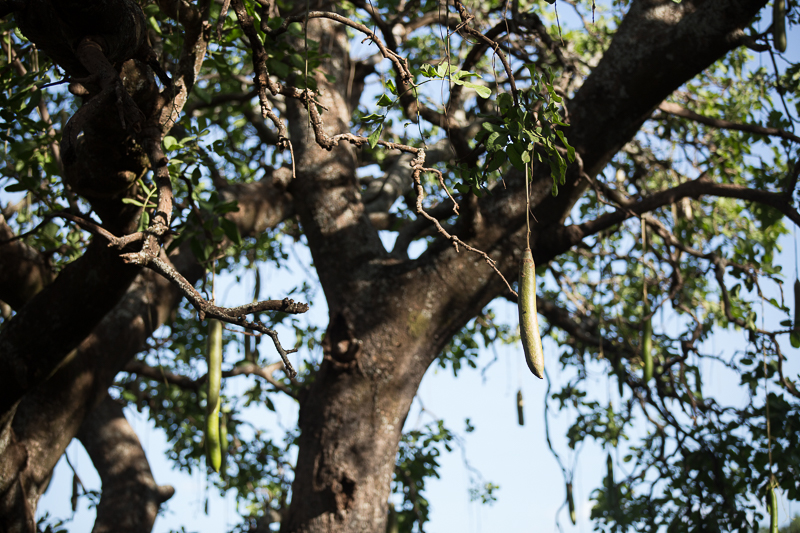 Another awesome tree stretching over our dust trail behind the truck.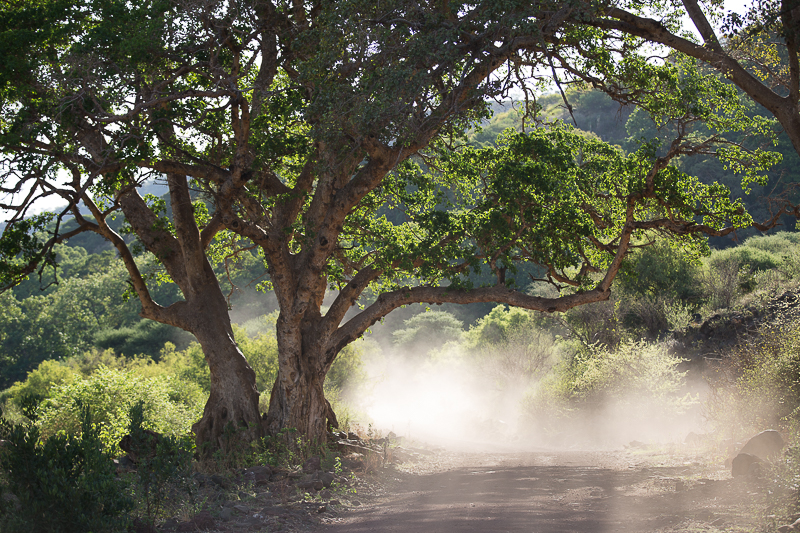 O_O !!!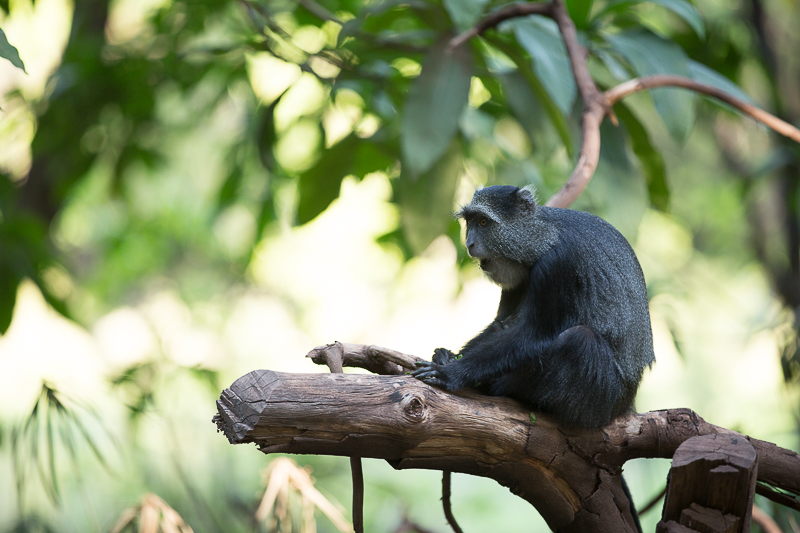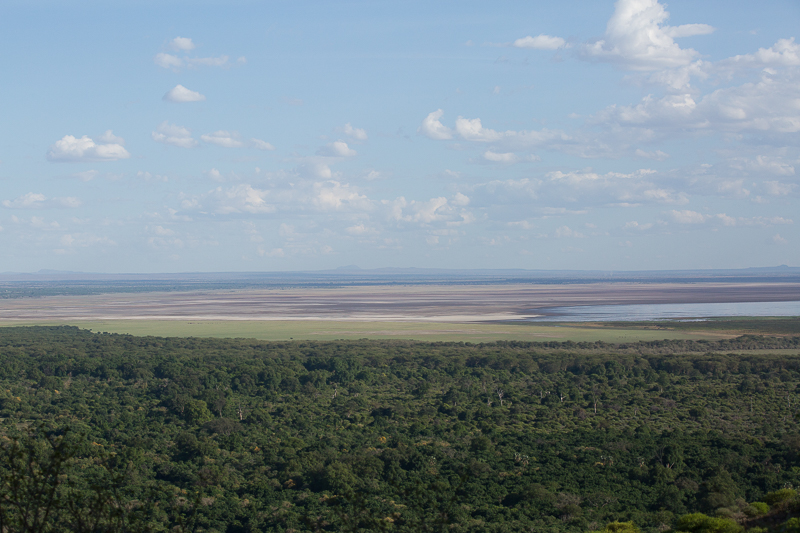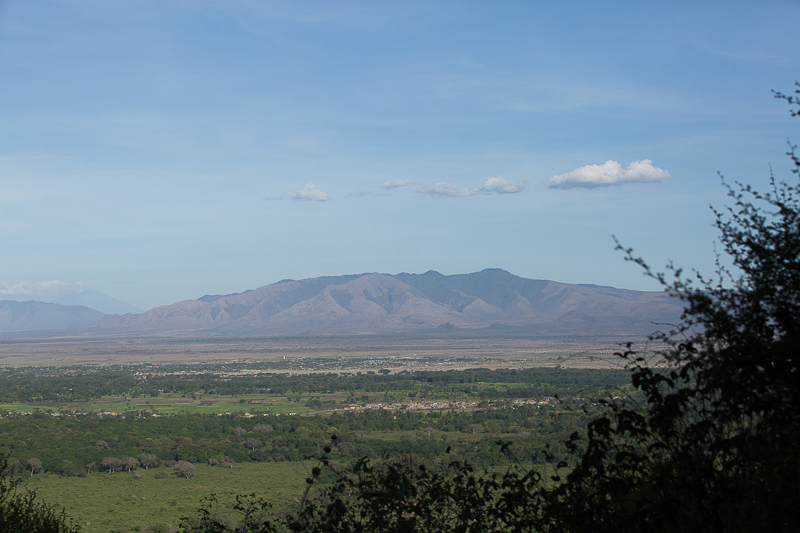 After finishing up our safari in Lake Manyara, it was time to make our way to the top of Ngorongoro Crater to check in at our lodge for the night.  On our way to the lodge, we passed through a few towns, grabbing a few photos on the way.
Seeing furniture shops like this was very common in Tanzania.  They seemed to be all over the place, all with crazy prints and designs on the furniture.  As dusty as it is in Tanzania (just about everywhere), I can't even begin to imagine how dirty those pieces must get sitting around outside all day.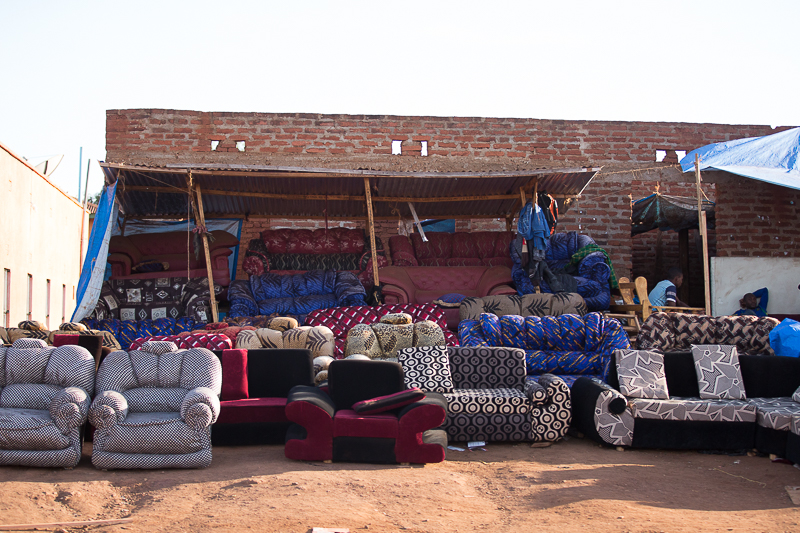 Piki-Piki (motobike taxi) stand.
Apparently this was a pretty common method of transporting goods from one spot to another.  Men, women, children…just about anyone…would push around these carts, carrying all types of various products.  Hefting this this up and over that speed bump must have been a blast…
As we drove along, our driver told about a particular market/festival that is held every month in the town that we were currently passing through.  This market is apparently one of the largest around, as people from all of the neighboring cities, from miles and miles away, all come to sell their goods in one place.  It just so turns out that this was our lucky day, and the market happened to be in progress as we were passing through.  Of course, we had to stop to take a peek!
Here, a boy stands with his goats — either a product for sale, or a purchase he just made.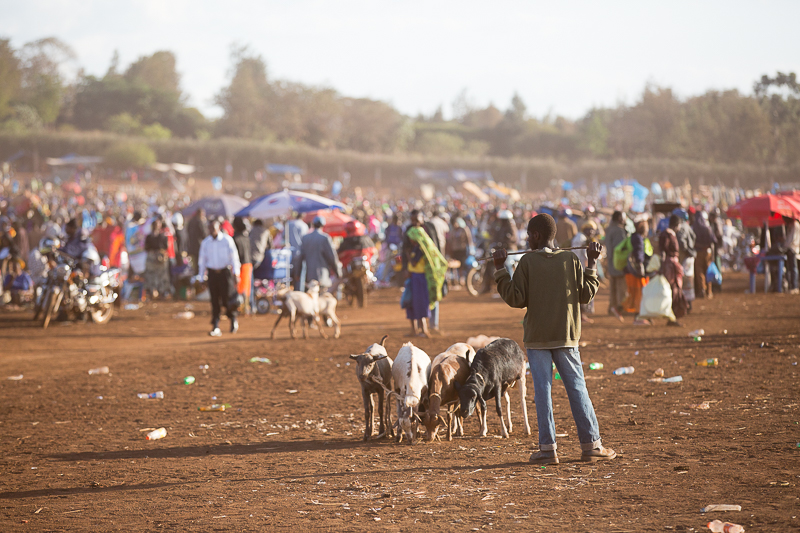 Hi, Steve!!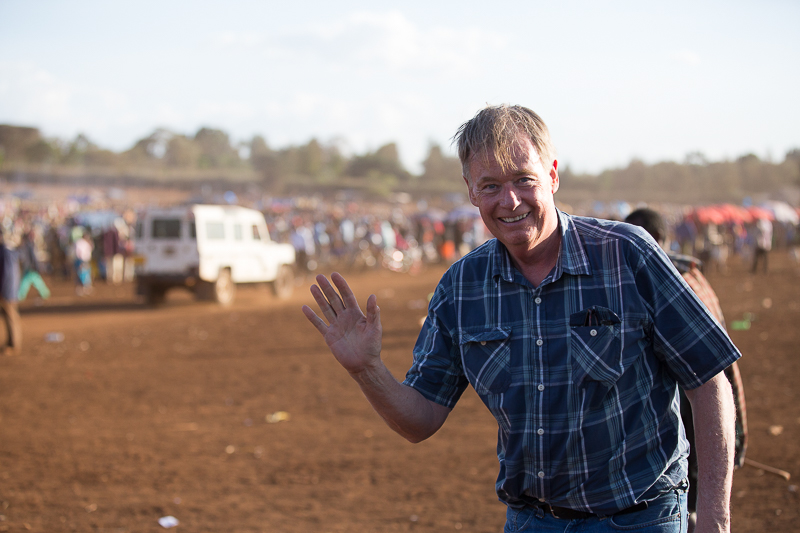 There were vendors of ALL kinds.  All of the vendors were sectioned into different parts of the event based on the types of goods they had to offer.  The types of goods ranged from food to ceramics to jewelry and clothing — just about everything under the sun.  Some even offered livestock.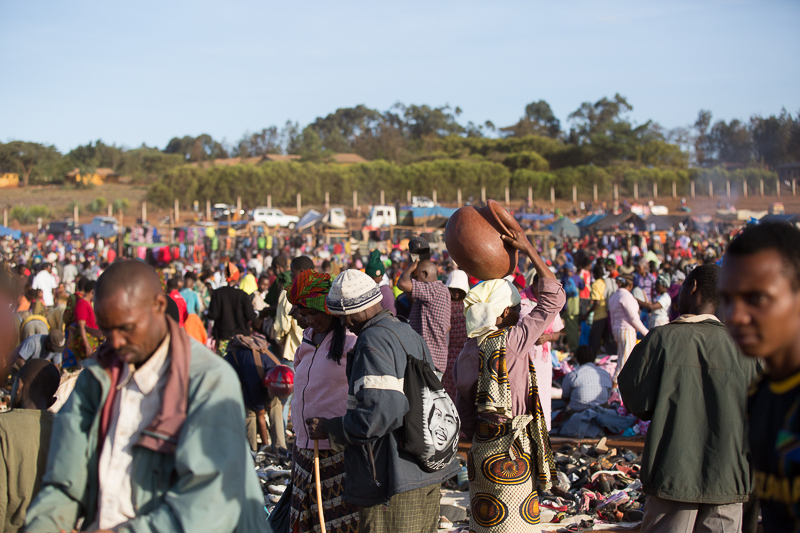 Most of them not having any sort of booth or even tables, their goods for offer were simply tossed in piles on the ground, open for sifting through to find what you wanted.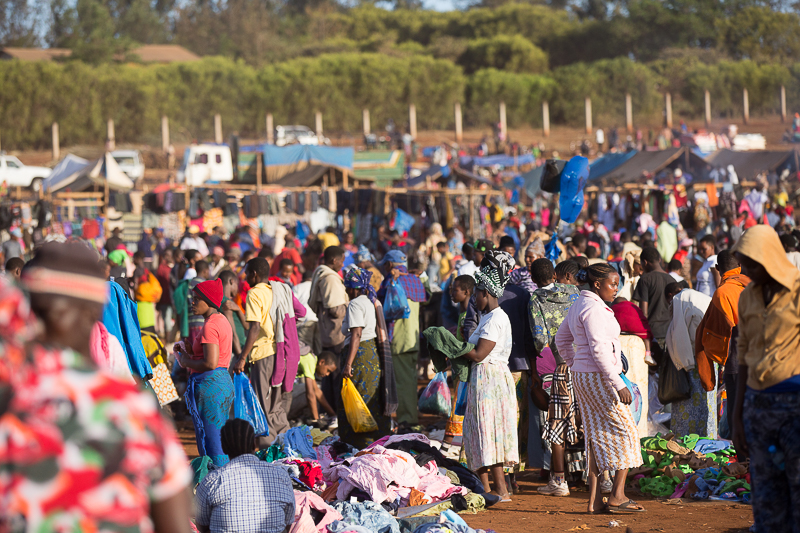 Turns out we didn't actually end up staying very long, but only long enough to make our way down a single row and back.  As you would find with many places in Tanzania, there were always people hawking you to sell you their goods.  Some were polite enough to take no for an answer, while the vast majority of them would follow you until you either purchased something from them, or became stern or even rude (by necessity) in order to get them off your back.  From the moment we stepped out of our safari-mobile, two particular guys followed and nagged us the entire time our feet touched the grounds of the event — literally not leaving our sides until we had to close the car doors on their hands and then shut the windows on their fingers (almost).  Of the entire trip, this was actually the most (and probably only) frustrating experience with the locals.  For the most part, our experience with the people of Tanzania was incredibly welcoming and friendly.
We reached the check-in gate for Ngorongoro Conservation Area…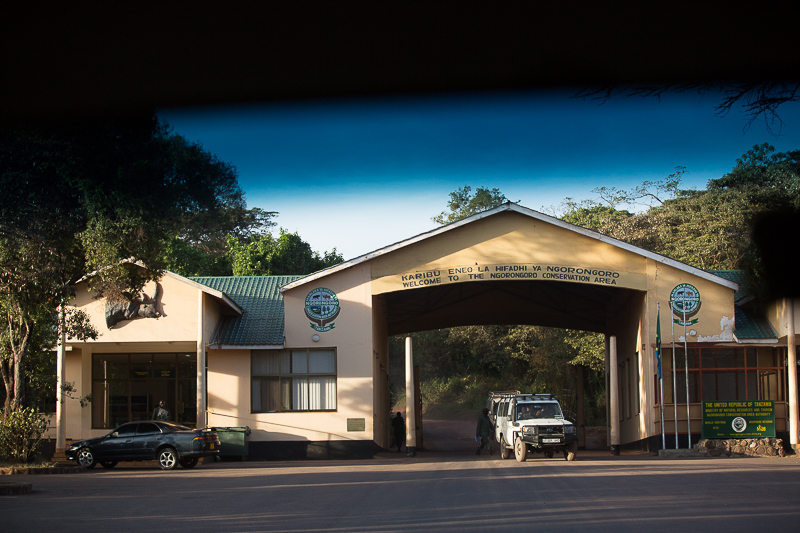 …and begin our climb to the top to find our lodge!
At a pit stop at the lookout point, our guide gives Steve a history lesson on the crater.
We spotted a few water buffalo on the way up!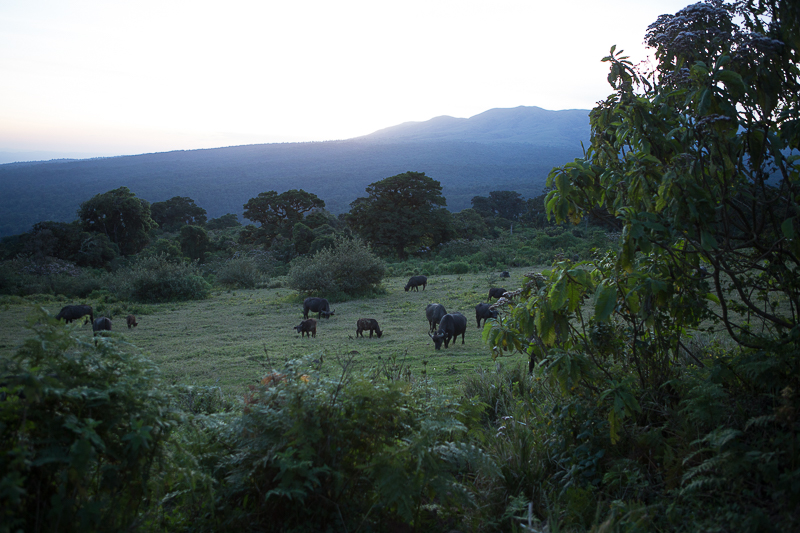 Oh, Hai! (sorry, I had to)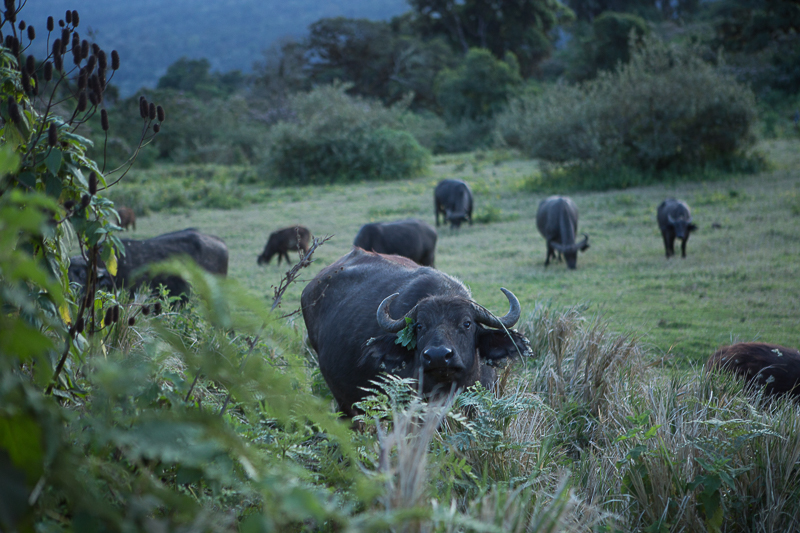 We've reached our final destination for the evening — the Rhino Lodge!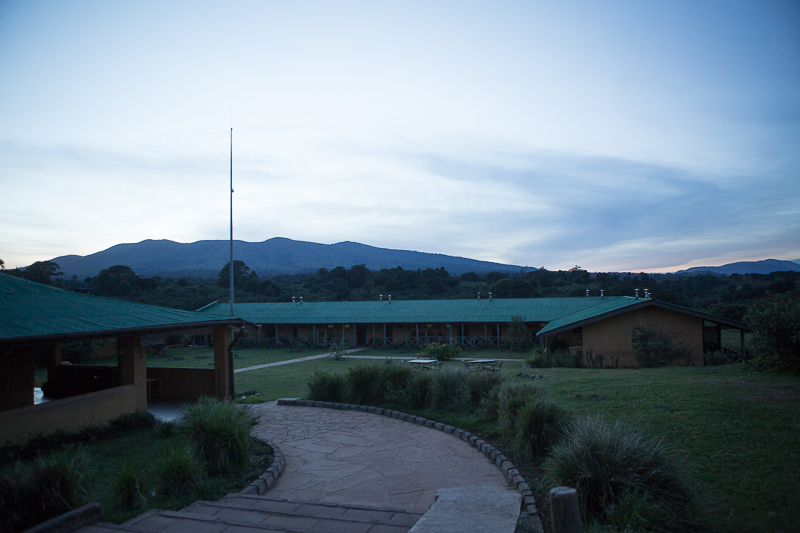 Super cozy place!  Great atmosphere and really great accommodations.  Of all the places we stayed on the trip, this wasn't the "fanciest," but definitely one of our top favorites.
After a great meal, a few cocktails, a few Cuban cigars and a talk about life, science and space…we decided it would be appropriate to try a few long exposures of the African sky.  Of all the nights on the trip, this is one of my most memorable nights.  It wasn't too often that we would have such a moment to sit and take in our surroundings as we did this night.  Sitting on the edge of the wilderness like this was an experience next to nothing.  When we first sat on the balcony, we witnessed a wild bore pass by, right in front of us.  The trip really started to sink in and was finally put into perspective.  We were in the heart of Africa.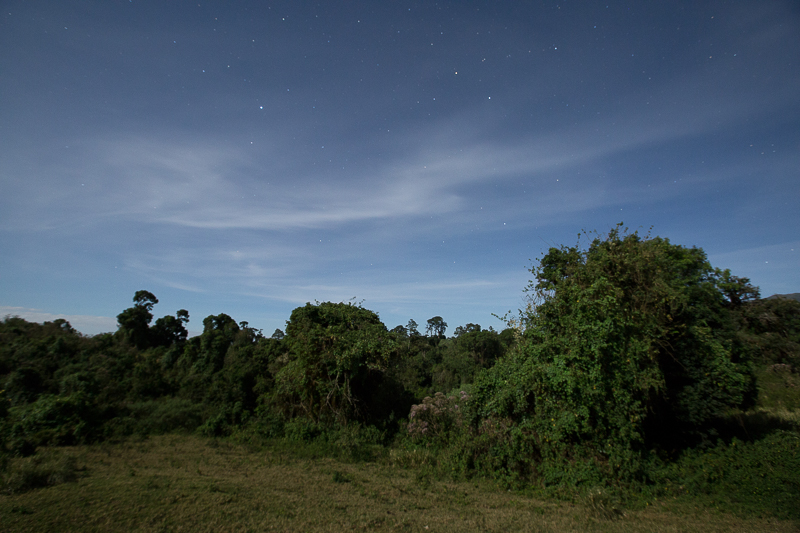 And of course…what's a good long exposure without painting with light?!  We grabbed a flashlight and had a little fun.  Our ode to our good friend, Sune.  Ha!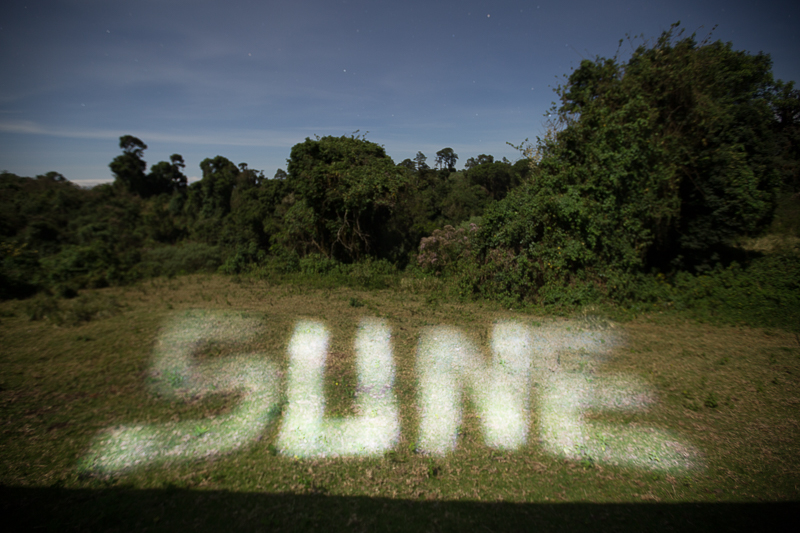 Early the next morning we drove down into Ngorongoro Crater for our second safari of the trip!  Stay tuned for more!!